Cards' tourney run looks familiar
March, 27, 2012
03/27/12
10:54
AM ET
Peyton Siva
is not Kemba Walker.
Never has been. Never will be.
But Louisville is mirroring Connecticut, circa 2011, with its NCAA tournament run.
[+] Enlarge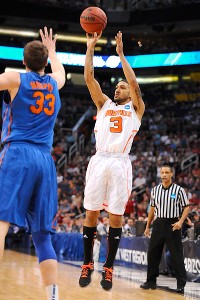 Christopher Hanewickel/US PresswireLike Connecticut, last season's champion, Peyton Siva's Cardinals are peaking at the right time.
The similarities aren't lost on UConn coach Jim Calhoun or this season's Big East tournament runner-up, Cincinnati.
The Huskies lost their last regular-season game last season to Notre Dame and then won 11 straight to win the national title.
Louisville lost its final game of the regular season at Syracuse. The Cards have won eight in a row.
"If you look at the two teams, they both played unbelievable defense during their run," Cincinnati coach Mick Cronin said. "The one glaring difference is that Louisville doesn't have the national player of the year in Kemba Walker [note: BYU's Jimmer Fredette won POY]. They don't have a lottery pick."
Louisville won the Big East tournament with an impressive run through Seton Hall, Marquette, Notre Dame and Cincinnati.
The Cardinals have survived gritty games against upstarts Davidson and New Mexico and then handled Michigan State before an epic comeback/Florida meltdown result in the Elite Eight.
Oh, and now they're in the Final Four and facing rival Kentucky -- the same team, albeit much more formidable than last season's version, that the Huskies had to beat to get to the national title game.
"I see it," Calhoun said in comparing his team from last season to this season's Louisville squad. "We started off great and sagged off during a stretch, but then won 11 in a row. They've won eight in a row. And they have incredible confidence."
Calhoun said the most impressive aspect of the Cardinals is that they haven't stopped doing what they do, which is relying on their defense to win games.
"They just keep playing," Calhoun said. "They keep up the defensive pressure, and they got better and better. Kemba gave us an outlet. He put incredible pressure on teams one-on-one. There are some comparisons. There's no question that they're such a better team than earlier in the year, and they hit their stride in the Big East tournament."
Calhoun said he laughs at the prospect that the Big East tournament is a deterrent to winning the national title. "We won the national title every time we won the Big East tournament," Calhoun said of his three titles. "I really think there are good benefits going back-to-back-to-back against really good teams."
UConn had to win five games to win the Big East tournament title a year ago. Louisville had to win one less.
"For teams that play hard, it's just lace them up and let's go," Calhoun said.
And playing Kentucky to get to the title game makes the two teams' runs seem similar.
"It's a coincidence in many, many ways," Calhoun said. "VCU and Butler were there for us and in many ways, even though they were good basketball teams, there was a feeling that if they got by UConn they [Kentucky] would win their first title since 1998. Not that Ohio State and Kansas can't win the title, but getting by Kentucky for Louisville will be an emotional deal for them."
So can Louisville pull a Connecticut and beat Kentucky, too?
"Peyton Siva has to play the game of his life," said Cronin. "And [center] Gorgui Dieng has to stay out of foul trouble. And Louisville has to make shots with Kyle Kuric, Russ and Chris Smith. [They have to make] perimeter shots, with Kentucky's size around the rim. They have to get Kentucky spread out a bit.
"Kentucky is such an overwhelming favorite to win this game," Cronin said. "But so many of the national champions have won their conference tournament. It's all about getting hot at the right time. Louisville believes it's the underdog, which gives them an edge and they're hanging on every detail Coach [Rick] Pitino is giving them. No team is playing with as much humility as Louisville is right now."
Sound familiar? It should.