Thad Matta succeeds with a different style
March, 28, 2012
03/28/12
9:53
AM ET
NEW ORLEANS -- Ohio State needed this Final Four.
Thad Matta did not.
Matta has never been about self-promotion. The Buckeyes' coach is a fierce competitor but never talks about his need to collect rings, according to his good friend and former assistant Sean Miller of Arizona, even though Matta has piled away a combined eight conference titles in stops at Butler, Xavier and Ohio State.
[+] Enlarge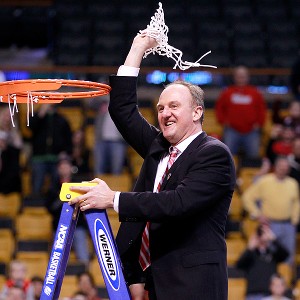 Greg M. Cooper/US PresswireThad Matta eschews individual attention, but his record over the past decade speaks for itself.
Ohio State's athletic department was reeling a year ago as its football program, the crown jewel of Columbus, was embroiled in a scandal. An investigation turned up NCAA violations, which were followed by suspensions and eventually the departure of longtime coach Jim Tressel.
The Buckeyes survived the turmoil and have been rejuvenated by the hiring of Urban Meyer. And while the two sports don't rely on each other, athletic director Gene Smith said the department needed something like the Buckeyes' NCAA tournament run to get everyone back on board.
"This means a great deal," Smith said. "We've gone through quite a bit of challenges, and you're trying to highlight the positives.
"At the end of the day, it's football and basketball where all of the fans' interests are, and when basketball makes a great run like this, it helps remind people what we're all about," Smith said. "It gives people pride. It's significant. It's significant."
Spring football practices start Thursday, which is certain to create additional buzz in Columbus this weekend while the Buckeyes are in New Orleans preparing for Saturday's national semifinal against Kansas. Smith said Meyer will try to fly down to New Orleans on Saturday if his schedule permits.
"With practicing starting Thursday, with the Final Four, and then the spring game on April 21, we have a chance to really continue to help our fans feel positive," Smith said.
Smith said Matta's handling of this squad, especially with the losses of Jon Diebler and David Lighty from last season's team, has been proof of his exceptional leadership.
"I'm proud of the work he's done," Smith said.
So, too, is Miller. Well, he's almost in awe.
"Thad is a very unique coach," said Miller, who replaced Matta at Xavier before he went to Arizona. "It's part of why he's so great at what he does. To me, he thinks differently than a lot of coaches in that he has very little ego.
"I don't know if his big picture is as important to him as it is to others who have won like him. I don't think Thad aspires to be in the Hall of Fame. He isn't counting his rings, and he has quite a few. He's more into coaching and motivating his team. Thad doesn't think about his legacy as much as other great coaches do."
Miller said that Matta should be considered one of the best coaches, if not the best, in the past 12 years.
"I think he's the most successful during that span," Miller said. "He's won the Big Ten regular season five times, won eight conference titles at three different places.
"He was the first coach at Xavier that took that program to the next level in a classic Elite Eight loss to Duke [in 2004] that had us on the doorstep of the Final Four," Miller said. "He was the first guy at Butler to do it and had Wake Forest down 43-10 at the half in the [2001] NCAA tournament. Look what he has done at Ohio State. He doesn't covet and doesn't clearly get enough credit for being one of the very best."
Ohio State is one of the most fertile recruiting grounds in the country. Matta has found some of the best players in the country yet survives early departures on almost a yearly basis.
And he's doing all of this while dealing with a drop foot, a condition that is the consequence of neck/back surgery and requires him to wear a brace to walk.
"I don't know how long he'll coach, since he's doing it with a drop foot," Miller said. "In general, most head coaches and assistants would have called it quits under similar circumstances. He undersells how hard a situation he has. His toughness and resolve and humility is so unique by today's standards in coaching."
Ohio State doesn't need to hold back its effusive praise for something good in the department. And that allows Matta to do what he does best: coach and win without much fanfare or attention.