Kansas survived talk of Big 12 changes
March, 30, 2012
03/30/12
2:05
AM ET
NEW ORLEANS -- Kansas was going to be left out, marginalized in college sports because of the grand realignment of the potential Pac-16.
Remember that nonsense?
It was just a year ago that there was actual talk that Kansas' basketball program, the flagship team in the athletic department and in the Big 12 conference, was not going to have a home.
The Big 12 was going to be divvied up as Texas, Texas Tech, Oklahoma and Oklahoma State would join Colorado and Utah in the new frontier of the Pac-16. The latter two were already on their way, but the first four never left.
Kansas got to exhale. But did it really worry? Was there a chance that Kansas was going to be left out? Sure, this was a football decision and the Jayhawks aren't a marquee program in that sport (although they may have more of a chance now with Charlie Weis as head coach). But did anyone really believe that the Kansas basketball program would be tucked away in a lesser-known league? Seriously?
Kansas says now it wasn't overly anxious, even though at the time it appeared as though the Jayhawks were fretting the uncertainty.
[+] Enlarge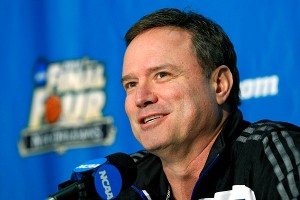 AP Photo/Gerald HerbertDespite all the talk about possible moves by schools to other conferences, KU is stronger than ever and its basketball team, led by Bill Self, is in New Orleans with a shot at the national title.
Now, a little more than a year later, its appearance in the Final Four this weekend in New Orleans should be yet another example of how much KU is a dominant player in the sport.
Big East commissioner John Marinatto said this week that he had had conversations with Kansas. If this great rift had occurred then the Jayhawks would have received an invitation to the Big East. And in an emergency situation the school would have gone. So they would have been fine, competing with Louisville, Connecticut and Georgetown, among others, (under the assumption that Syracuse and Pitt would have still departed for the ACC).
"We were always confident that we were going to end up in the right place,'' Kansas associate athletic director Jim Marchiony said. "There were disappointments. But we were right. We wound up in the right place. We're happy to be where we are, and the Big 12 is a strong, viable conference of the schools that are in it. We were confident we would end up in the right place.''
Missouri and Texas A&M bolted for the SEC. And the Big 12 acted quickly to nab West Virginia and TCU, which allowed the conference to remain at 10 schools. A number of sources fully expect the conference to stay put for the foreseeable future. Television rights aren't an issue. A new commissioner is being sought, with one of the top candidates being current Conference USA commissioner Britton Banowsky.
And Kansas is the flagship program in the league again. Well, it never lost the title. KU coach Bill Self said Thursday at the Louisiana Superdome that it's unbelievable that the Jayhawks are here. They lost four starters, but two key returnees in Thomas Robinson and Tyshawn Taylor turned in phenomenal seasons. Sure, the Jayhawks were fortunate to get a North Carolina team in the Elite Eight sans injured point guard Kendall Marshall.
But it doesn't matter. KU still won.
The program is as strong as ever.
"I don't know what the word is, maybe it's satisfaction,'' Marchiony said. "We knew we would be fine. We're just looking forward. We're excitedly looking forward because we believe the Big 12 is as strong as ever. We're happy to be a part of it.''