What's next? Calipari seeks perfection
April, 3, 2012
04/03/12
9:48
AM ET
NEW ORLEANS -- The questions will stop now about whether John Calipari can win the final game, the national championship.
So what's next for him?
"Before I leave coaching, I would like to coach an undefeated team," Calipari told ESPN after Monday night's 67-59 national championship victory over Kansas at the Mercedes-Benz Superdome.
"I would like to coach an undefeated team before I'm done with this. Why? Because it can't be done, so let's chase that."
Indiana was the last to go undefeated in 1976 at 32-0. UNLV nearly did it in 1991 with 34 straight wins before losing to Duke in the national semifinals.
[+] Enlarge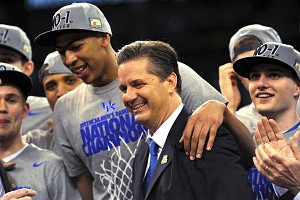 Richard Mackson/US PresswireJohn Calipari and the Kentucky Wildcats celebrate after winning the title Monday night.
Will Calipari stick around Kentucky and the college game to make an attempt?
He coached in the NBA with New Jersey. He was an assistant in Philadelphia. He could still make a play for a job. He could obviously try to get involved with the New York Knicks. But why would he when he continues to get the top players in the country, makes over $3 million a year and now has won a national title at Kentucky?
"We've had the most wins in 2008 and now this year we had 38 wins; no other program has done that," said Calipari of winning 38 games with Memphis in 2008 before losing the title game to Kansas and then winning 38 this season. "Let's go get them all. Let's get seven guys drafted in the first round. I hope we have six this year."
If Calipari is right, that means freshmen Anthony Davis, Michael Kidd-Gilchrist, Marquis Teague and sophomores Terrence Jones and Doron Lamb are all leaving. And maybe he meant senior Darius Miller would slip into the first round.
The decisions shouldn't take too long.
The players don't necessarily have to decide by April 10 -- the NCAA's deadline. They can wait until the real draft deadline of April 29 under NBA rules.
No one made any pronouncements Monday night.
But it's hard to see a scenario in which Davis doesn't declare, since he'll be the No. 1 pick in June.
Kidd-Gilchrist was irritated and denied an ESPN.com story that he would declare when it was reported last week during the regional in Atlanta. But Kidd-Gilchrist would be a top-five pick if he were to declare, so no one could blame him if he were to bolt.
Jones declared last season and returned. He wanted to see his draft status. He's still a first-round pick. Lamb and Teague played exceptionally well when the games mattered most but that doesn't mean they should jump to the league -- yet.
If they do, the Wildcats have another fresh crop to come in quickly behind them.
Kentucky has a stellar class so far with small forward Alex Poythress, center Willie Cauley and shooting guard Archie Goodwin, along with NC State transfer point Ryan Harrow. But it could once again skyrocket to No. 1 if the Wildcats were to land the top two players remaining in the class of 2012, center Nerlens Noel and small forward Shabazz Muhammad. The Wildcats are also involved in top position players Anthony Bennett and Amile Jefferson, both power forwards, as well as center Tony Parker and small forward Devonta Pollard.
Calipari said Monday night that he doesn't have to deal with the question of winning a title anymore. He reached the Final Four in 1996 at UMass. He went in 2008 with Memphis and lost in the title game. He took Kentucky to the Final Four in 2011. And now he has a title in 2012.
"I told my wife I'm glad it's done," Calipari said. "Now I can get about my business of coaching basketball and getting these players to be the best that they can be."
"I can get on with that," he continued. "I don't have to hear the drama. I can just coach now. I don't have to worry. If you want to know the truth, it's almost like, 'Done, let me move on.'"
And the next challenge is apparently an undefeated season.
Wouldn't you expect Calipari to raise the bar on himself and the program?
"What they expect at Kentucky is to be undefeated and win every game by 25," Calipari said. "That's Kentucky fans."
Calipari is feeding the beast now more than ever. He delivered a title in Year 3. Now he wants to top a championship with an undefeated season.
Let the chase begin again.