Weber's patience pays off at KSU
April, 5, 2012
04/05/12
10:39
AM ET
Bruce Weber had quite a week, easily the richest in his life and possibly the most hectic.
[+] Enlarge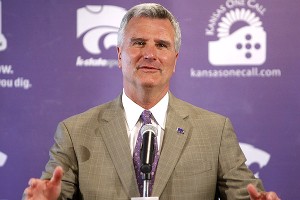 Bo Rader/Wichita Eagle/Getty ImagesBruce Weber was not unemployed for very long, out of a job for less than a month.
How many people can say they got to keep $3.9 million from their previous job (Illinois) and then were hired for a new gig (Kansas State) for $8.5 million over five years?
Well, probably only a handful of coaches in sports and Hollywood actors, among a few select professions.
"I had a good week last week," Weber said.
Weber was fired last month from Illinois. He said he was shocked over the way the season ended. But the Illini had floundered down the stretch and a blowout loss at Nebraska in February seemed to spell doom.
A season ago, he decided against pursuing openings at Oklahoma and Missouri. He wanted to stay as coach of the Illini and Meyers Leonard. His wife, Megan, didn't want to leave Champaign. Daughter Emily was finishing her freshman year at Illinois.
But the season spiraled out of control after a strong start that included wins over Gonzaga and Ohio State. Illinois lost 12 of its last 14 games.
"It was a tough time in my life," Weber said. "We coached our butts off but the team lost its spirit and lost its heart. They were still playing hard and trying. But we couldn't get over the hump. I thought if we won two games in the Big Ten tournament we would have had enough top-100 wins to get in the NCAA tournament.
"Whatever happened with my job, I wanted the kids to have success and the opportunity. I stayed there because of my family and the freshmen and the younger guys. It was hard."
But Weber was in a rare situation for a fired coach. He was a wanted commodity.
He could have gone back to Southern Illinois, where he once coached. Instead, he waited to see if there would be other offers.
And there were.
Weber detailed his week Wednesday night for ESPN.com.
Weber feared that he wouldn't get another job when the phone didn't ring. But suddenly, prior to the Final Four, there was interest. He had visited College of Charleston the week before and seriously considered the job. He has vacationed in South Carolina often.
"I thought this might be the place I end up but then things changed," Weber said. "My wife said 'Are you ready to not be at the highest level? I know you. You spent 27 years in the Big Ten [at Purdue and Illinois] and I want you to be happy and if you are go for it.' And then this came up."
"

It was kind of amazing. I went to New Orleans not expecting to be in Manhattan, Kansas [on Saturday].

"

-- Bruce Weber
It started last Monday and went into Tuesday. Weber was setting up a number of interviews. But then he heard that Kansas State coach Frank Martin was going to South Carolina and Weber could be a dark horse candidate for the Wildcats' job.
He was on the phone for eight or nine hours last Tuesday while his home in Champaign was prepped for a prospective buyer.
"Then all of a sudden, I was asked if I could meet with Kansas State in Chicago on Wednesday [before the Final Four]," Weber said.
He was supposed to meet for one hour, but it lasted three.
He returned home and pulled an all-nighter to get ready for a home inspection at 8 a.m. Thursday. He had to find a place for his dog during the day. And he had a flight to catch for New Orleans, where he had three or four more interviews for other jobs.
Kansas State asked him to meet on Friday, but it turned into another three-hour interview. Later on Friday, K-State president Kirk Schulz traveled to New Orleans to meet with Weber, along with athletic director John Currie. They met again later in the evening.
"And then after 11 p.m. or midnight, they offered me the job and asked if I could be a on a plane at 8 a.m. to pick up my wife [in Champaign] for a press conference at 3 p.m. [in Manhattan, Kan.]," Weber said. "It was kind of amazing. I went to New Orleans not expecting to be in Manhattan, Kansas [on Saturday]."
Weber met with the Kansas State players prior to the news conference.
The first player he met with was Rodney McGruder. Weber wanted to make sure that the junior guard was on board. He went to a reception with boosters Saturday night. By Sunday morning he was at a church in Manhattan for mass and then went out with a real estate agent.
Weber followed that with individual meetings with each returning Kansas State player, a must considering this Wildcats team has the core returning after losing to Syracuse in the third round of the NCAA tournament.
Weber then headed back to Champaign on a private plane for Emily's cheerleading banquet. He packed up enough clothes and returned Monday morning to Manhattan for workouts with the players.
Since Monday, he has worked out the team three times.
"It's been so positive," Weber said. "Everyone has been really receptive. I know they could be wary about the new guy and what he's about, but they've been pretty good."
Weber offered at least one assistant position to a member of Martin's staff but was turned down. He hired former SIU head coach and his former assistant Chris Lowery. He said he will likely mix in some members of his former Illinois staff, but is waiting for answers including from top assistant Jay Price. But he needs to know sooner than later so he can move in another direction if need be. Weber said he will hire an assistant with different recruiting contacts, notably Texas ties.
[+] Enlarge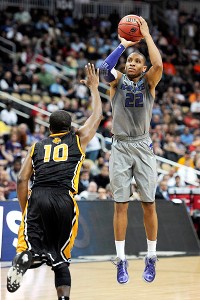 Richard Mackson/US PresswireRodney McGruder was Kansas State's leading scorer last season and its second-leading rebounder.
But so far, less than a week on the job, he is convinced that no one is leaving from the team.
"I would tell you that I feel that everybody is going to stay," Weber said. "McGruder has been the best. I got ahold of him before I took the job ... to see how he would feel about things. He was very positive and that was a good step in making my decision."
Weber said that chatter over Will Spradling leaving is unfounded.
"Frank was great here, there was a great culture here," Weber said. "I figured when I got to Illinois I had to win the players over [that were recruited by Bill Self]. That's what I'm attacking now. I'm making sure the players are happy and if they're happy the fans will come."
Lowery reached out to Martin. Weber will soon. He will also seek out former Kansas State assistant Brad Underwood.
"We've got good athletes, a point guard, McGruder, we just need to mix in a few guys," Weber said. "It's a good group. They can't score or had trouble doing so during the year."
McGruder hasn't worked out yet with Weber due to stress fracture surgery on his foot. But he'll be back soon. Weber is looking for a transfer to fill out the recruiting class.
"Frank did really good things, so did [ex-Kansas State coach Bob Huggins]," Weber said. "I'm replacing a coach that was well liked and did good things. We've got to continue what he's done. That's the biggest thing."