Tom Crean has Hoosiers on the rise
April, 9, 2012
04/09/12
4:46
PM ET
Tom Crean has done his job.
He's prepped Cody Zeller and Christian Watford on their decisions to declare for the NBA draft or return to Indiana for what could be a national-title-chasing season in 2012-13.
[+] Enlarge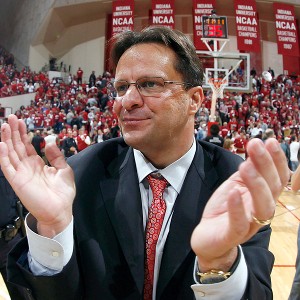 Brian Spurlock/US PresswireThe future is bright for Tom Crean and Indiana.
And if one or both bolt, it won't crush Crean.
He has been through too much in four short seasons in Bloomington to be derailed by early-entry decisions.
Zeller and Watford may make a decision by the NCAA's early-entry deadline of Tuesday, or they could wait until the only date that really matters: the NBA's deadline of April 29.
Regardless, for the first time in more than a decade, the Hoosiers are as stable as any elite program in the country.
With Zeller and Watford returning, ESPN.com tabbed Indiana as the preseason No. 1 next season. If they don't return, the Hoosiers will drop in those rankings. But Crean could care less about the predictions. He's not worrying about what others project for his program.
Indiana reached the NCAA tournament for the first time under Crean and pushed eventual champion Kentucky in the Sweet 16, ultimately losing 102-90. The season was a huge success after IU gave the Wildcats their only regular-season loss in a thrilling last-second win in Assembly Hall and finished 11-7 in the Big Ten and 27-9 overall.
"Expectations mean nothing; what matters are what the players' goals are," said Crean. "It's cool [being picked No. 1], but it doesn't mean how hard our players will work in individuals.
"It's great for our fans; it's fantastic,'' Crean said of the top ranking. "It gives the players the ability to stick their chest out. But the onus is on them. We worked extremely hard in the offseason, and now we have to take it up a few notches.''
The Hoosiers were decimated by the Kelvin Sampson mess. Injuries took a toll on the program, too. But the recruitment of Zeller was a game changer.
And this past season, everything clicked. Indiana was so strong and deep that it survived an ACL injury to Verdell Jones III, the only major contributing senior on the team, during the Big Ten tournament.
The development of Jordan Hulls, Victor Oladipo and Will Sheehey to complement the talented Zeller and Watford is a credit to the players' hard work and to the staff.
"We have a great staff, and we've got great competition inside the program,'' said Crean. "We have real competition. We couldn't withstand the injuries in Year 3. We weren't strong enough.''
Crean hasn't forgotten the people who lost faith in the program. He had to rehash the rebuilding process during his NCAA tournament news conferences. He lived it and talked about it, but now he's over it.
The Hoosiers have another stellar crop of players coming in as Crean follows one top recruiting class with another. The five-person class is led by point guard Yogi Ferrell, who should have an immediate impact. So, too, should power forward Hanner Mosquera-Perea.
Indiana being relevant in college basketball is good for the sport. There's no doubt having one of the nation's storied programs succeed helps ratings and overall interest in the sport.
Crean is at a point now that he has to be selective in his nonconference games.
He said he learned a lot from working for Tom Izzo at Michigan State, with the exception being that Crean won't add too many tough games to the schedule. That's why the annual Kentucky-Indiana series is in jeopardy.
Crean said he has talked to Kentucky athletic director Mitch Barnhart and Wildcats coach John Calipari. The schools' two-year contract ended this past season.
Crean said he isn't sure if the Kentucky game will survive as a series, especially if Indiana begins a series next season with Kansas, which the two schools have discussed.
"We'll have to wait and see," he said. "We're not overscheduling. We're not playing Kentucky if we're playing Kansas.''
"There is interest [in an Indiana-Kansas series] on both sides, and the networks want to do it,'' Crean said.
The Hoosiers will play Butler at a neutral site in Indianapolis, and the Bulldogs are expected to be an NCAA tournament team with the arrival of Arkansas transfer Rotnei Clarke. Indiana is also in the Legends Classic with UCLA, Georgetown and Georgia. And Crean said he fully expects Indiana to draw one of the top teams in the Big Ten-ACC Challenge (that means either UNC or Duke).
"With the RPI in the Big Ten, we're not going to overschedule,'' Crean said. "With the Kentucky game, are we playing it on campus, neutral site or at all? Those are the three questions we've got to get figured out.''
For now, Crean will wait to see what Zeller and Watford decide.
"We've had adversity here, but it's how you respond that separates you,'' Crean said. "What this team learned was no matter what happens in life, you can overcome obstacles and perceptions. If you put in enough time, have enough faith in yourself, you'll get through a lot of things.
"Last Monday [after the Sweet 16 loss to Kentucky in Atlanta], I wasn't in the weight room, but our coaches were buzzing about the level [of intensity],'' Crean said. "We'll have individual workouts Tuesday and Wednesday this week, and we'll be back to advancing everybody's game.''