Kentucky coach John Calipari isn't sweating Tuesday's NCAA deadline to declare for the NBA draft because his players won't decide if they're staying or going by then.
"They're not going to make that date,'' Calipari said Monday. "I'm not pushing these guys. I told them to relax, do schoolwork, finish up and see their families. They've got time to make their decisions.''
[+] Enlarge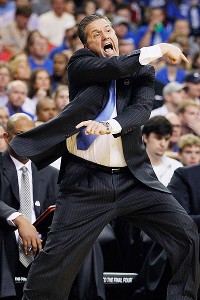 Kevin C. Cox/Getty ImagesThe past few days have been hectic and enjoyable for Kentucky coach John Calipari.
The only deadline the NBA is acknowledging happens on April 29.
Still, the expectation is that Kentucky will lose freshmen Anthony Davis and Michael Kidd-Gilchrist and sophomore Terrence Jones, and will likely lose sophomore Doron Lamb and freshman Marquis Teague. Darius Miller, another possible NBA draft pick from the national champion Wildcats, is a senior.
"All of them have done enough to think about it,'' Calipari said of the five underclassmen. "It's not will they be drafted, but do they want to do it? That's the question for each of them. That's our Kentucky effect, and they've all benefited. It would be one heckuva of night if we had six guys in the first round.''
Calipari has gone on quite a whirlwind since winning the national title on April 2 in New Orleans.
Here are some of his day-to-day highlights since the win over Kansas at the Superdome:
Tuesday: "The highlight was driving on the highway from the airport to Rupp Arena and seeing the emotion of the people [who] were lined up in the streets. It's the first time that I got emotional during this run. I was seeing regular people, elderly, people from nursing homes, jumping up and down with unbelievable joy.''
Wednesday: "I went to Boston to see my daughter Megan, who wasn't able to come to the Final Four since she was sick. It was so good to see her.''
Thursday: "I stayed in Boston and did a home visit.''
(Calipari couldn't confirm the identity of the player he visited -- per NCAA rules -- but it was expected to be Connecticut junior Alex Oriakhi. He is transferring and is considering Kentucky, among other schools.)
Friday: "I flew to Los Angeles for the Wooden Award and ran into [former Wildcat and current Sacramento King] DeMarcus Cousins. I then caught the last quarter of the Houston Rockets-Lakers game and saw [former UK forward] Patrick Patterson and [former UMass center] Marcus Camby. That evening I had dinner with [former UK guard] Eric Bledsoe. Oh, and we also went to the Wooden Award [for Anthony Davis].''
Saturday: "We did a home visit out West, and I headed home for Easter.''
Calipari couldn't comment on this visit, either, but it was likely with Las Vegas wing Shabazz Muhammad.
Sunday: "I was at home with my wife [Ellen] and my son [Bradley] enjoying Easter.''
Monday: "I was running around the office, met with [senior] Eloy Vargas, met with Darius [Miller] and was dealing with mail that was stacked up to the ceiling.''
Calipari's plan is to finish recruiting in the next few weeks and then take off for a secluded vacation with his wife.
"My plan is to throw my phones in the river and just be gone for a few weeks,'' Calipari said. "But we've got to get through recruiting first and these decisions that have to be made.''