A turning point in the transfer process
April, 20, 2012
04/20/12
8:05
PM ET
Michigan coach John Beilein has his own policy on transfers.
If you want to leave his program, you can't go to a school in the same conference or a team on his schedule over the next two seasons.
Fine. As long as that is known to the recruit when he signs and is on campus, that's all good. He has his rules and you know what you're doing when you make a commitment to that program.
The Big Ten has a rule on transfers within the conference. If you leave for another school in the league without a scholarship release, the year you sit out because of NCAA transfer rules is a year you can't get back eligibility-wise. In other words, if you leave after your freshman season at Big Ten School A, you will be a junior before you can start at Big Ten School B.
[+] Enlarge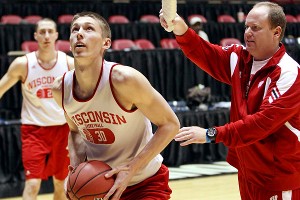 Nelson Chenault/US PresswireThe uproar over the Jarrod Uthoff saga at Wisconsin brought national attention to the transfer process.
That's the only rule that will apply to Wisconsin's Jarrod Uthoff now that he has won an appeal and will have only Big Ten schools blocked from his transfer list. It's the same situation at Ohio State with Jordan Sibert and J.D. Weatherspoon.
In the case of Uthoff, UW coach Bo Ryan didn't have a policy. He told ESPN.com Wednesday night that he was new to transfers and sought advice from his fellow coaches. In the end, he ruled out anyone who could have been on the Badgers' schedule in the ACC/Big Ten Challenge (i.e., the entire ACC), along with Florida and Iowa State.
Bottom line: He included too many schools. And he got burned.
Uthoff didn't really seek out Ryan. He didn't wait to talk to his head coach in person before taking his case to the public. He had someone other than himself drop off his unmarked appeal letter.
But all of that is over now. There is a larger issue here.
There is absolutely no consistency when it comes to transfer rules and waivers, which is becoming a consistent issue in the NCAA. There have been so many different NBA draft rules over the years that it is hard to keep up with the changes. There are just as many changes in transfer rules.
Beilein has his set. Ryan will probably have some for himself now, too.
The Big Ten recently adjusted its aforementioned transfer rule. Previously, the Big Ten didn't even allow an intra-conference transfer to get financial aid. That's no longer the case.
The Big East doesn't allow any transfers within the conference. So a player cannot go from Connecticut to Villanova. Is that fair? Probably not, but if you sign with a Big East school, these are the questions you should be asking.
The SEC leans strictly on the NCAA. If you transfer within the SEC, you only have to sit the one-year in residence. The SEC has had a few in-conference transfers of late, such as David Huertas from Florida to Ole Miss, Gary Ervin from Mississippi State to Arkansas and, of course, Murphy Holloway from Ole Miss to South Carolina and back to Ole Miss.
The ACC and Big 12 mirror the Big Ten. So if a sophomore was to leave, say, Oklahoma for Oklahoma State, it would cost him his junior year of eligibility and he would begin play in Stillwater as a senior.
The Pac-12 rule is that a player would have to lose that year of eligibility and can't receive financial aid for one season. But financial aid restriction can be waived with a three-fourths vote of the faculty representatives.
So that's just a sampling.
Don't get these transfer rules confused with two other waivers.
A player who graduates from one school but wants to keep playing can do so at another school if his graduate school degree is not available. This has been used quite a bit lately in football and men's basketball. Jeremiah Masoli (Oregon to Ole Miss) and Russell Wilson (NC State to Wisconsin) both were rent-a-year quarterbacks.
[+] Enlarge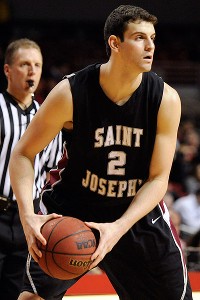 Howard Smith/US PresswireThe Todd O'Brien mess earlier this year also brought attention to the transfer issue.
Brandon Wood went from Valparaiso to Michigan State in men's basketball. Todd O'Brien wasn't allowed to do this when he graduated from Saint Joseph's and went to UAB. His transfer wasn't supported by St. Joe's and the NCAA shot down his appeal multiple times.
And of course, there is another transfer waiver rule that deals with an ill relative. If a player has a family issue with a sick relative and needs to be closer to home, he or she can appeal to play immediately and be closer to the relative. This has happened multiple times in recent years. Some have been denied. Most have not.
Look, players mess up coaches' plans when they leave early for the NBA draft. That's their right.
It can also be said that coaches leave players and schools in a lurch when they break contracts to go to another school, sometimes even within the same conference.
And there are penalties in contracts. Plenty of them have buyouts and others have issues, such as guaranteeing future games on the schedule against that coach's former school (see anyone leaving Western Kentucky of late).
Coaches can't complain when they have to pay a penalty. When Beilein left West Virginia for Michigan, there was a buyout clause in his contract. He fought it -- and lost. He knew what it was when he signed the contract, yet he didn't originally want to pay. He ultimately had to pay the $1.5 million, $1 million less than the $2.5 million buyout for his early departure.
This isn't to pick on Beilein. He has his policy on transfers and that should be honored. He had a contract. And that should be respected, too.
A shift has occurred, though, in which the player is gaining power. He has the ability to take his case publicly to the social media world and build up a following for his cause.
Ultimately, it's not worth it for a coach or a university to get into a public fight over where a player can attend school.
If the player doesn't want to attend your school -- and he hasn't been tampered with -- the best thing is to simply let him leave without a fight.
It's not worth the headache and the public relations nightmare. The coach and the school won't win. Saint Joseph's and Phil Martelli lost in the court of public opinion. Ryan got roasted this week.
And this was over O'Brien and Uthoff, two players who barely anyone had heard of before they made their cases public.
Evan Smotrycz is going from Michigan to Maryland without issue. Trent Lockett is leaving Arizona State for possibly Gonzaga, Marquette or Iowa State. There are scores of others transferring this spring -- well into the hundreds. Khem Birch left at midseason to go from Pitt to UNLV.
Under Lon Kruger and now Dave Rice, UNLV has cornered a market on transfers. Iowa State has also fully embraced them under Fred Hoiberg.
They are all playing the game and trying to find an angle.
The free market is essentially upon us now. The NCAA does ask for medical records to review transfers that involve a sick parent or relative, but does it really want to get into that kind of minutia?
The graduate school exception is also getting abused. But can the NCAA stop that?
The lesson learned from the Wisconsin situation is to be upfront when the player arrives on campus. If you sign with Michigan, you know what the deal is with transferring out.
If you go to a Big Ten, Big East, Big 12 or Pac-12 school, you should know the policy on leaving within the conference.
If you don't, it's on you.
But the coaches need to back off and realize that they have lost the power to pull rank on choosing a school beyond the conference opponents and maybe, maybe, if the schedule is already set with a home-and-home series. And even that may be a reach.
We have entered a new world in which free movement is at hand in college sports. The coaches can either get on board or be prepared to get crushed by an unsympathetic public.