ND waits, hopes with Abromaitis, Martin
April, 24, 2012
04/24/12
11:09
AM ET
If Trevor Mbakwe can get a sixth year to play at Minnesota after knee surgery, then why not Notre Dame's
Scott Martin
or Tim Abromaitis?
That's exactly what Mike Brey thought when he heard about the decision on Mbakwe.
And that's the reason the Notre Dame coach is cautiously optimistic that one or maybe even both will get a chance to continue their careers with the Fighting Irish next season. If it happens, Notre Dame will be in the mix for the Big East title.
"The climate seems to be there, where the NCAA wants to help these kids, and that's great," Brey said. "And it's because of that climate that I have my fingers crossed for both of my guys."
[+] Enlarge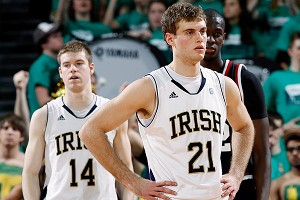 Joe Robbins/Getty ImagesBoth Tim Abromaitis (right) and Scott Martin (left) are hoping to gain another year of eligibility.
Brey said Martin's case should be decided this week. He said Abromaitis' is just beginning so it might take longer.
The case for Martin is that he played only three seasons of college basketball. He started his career at Purdue, redshirted at Notre Dame and then when he arrived in South Bend in the fall tore his knee and was done for the season. He went two full seasons before playing in 2010-11 and 2011-12. Brey said part of Martin's case was the fact that he had to care for his father, who had cancer, early in his college career.
"I feel great about Scott's chances," Brey said. "The committee has been receptive to granting six years, and Scott Martin is someone who should get another year."
Martin averaged 9.5 points and 5.7 rebounds last season, but his importance to the Irish wasn't measured in statistics.
"He really made us go and stirred the drink," Brey said. "He defended a lot of positions. He just wanted to fit in, and he did. He helped us win. We would really miss him if he didn't come back."
Abromaitis did have four seasons of eligibility at his disposal in a five-year period. But his senior year was cut short by a knee injury. He played in two games (he was suspended for the first four) and averaged 15 points and seven rebounds.
The Irish actually turned their season around a few weeks after Abromaitis got hurt, winning nine games in a row at one point. Notre Dame ultimately finished third in the Big East at 13-5, 22-12 overall, losing to Xavier in the NCAA tournament second round in Greensboro, N.C.
"One of the strengths of [the Abromaitis] case is that that I don't know if there is a better example of a true student-athlete in the last 20 years," Brey said. "He's achieved so much in the classroom. He played in two games. I say look what's fair and let the guy finish the right way. The climate is very good."
Brey said he wouldn't expect either one to be drafted, and has talked to Abromaitis about playing in Europe if he doesn't get the sixth year back.
As for the scholarship situation, there is flexibility. The Irish now have two open in case Martin and Abromaitis return.
Mike Broghammer is taking a medical redshirt and would go off scholarship, while Alex Dragicevich is transferring, with Loyola (Ill.), Oregon State, Boston College and Northwestern all interested.
"I've got one guy with a medical waiver, one guy transferring, and two guys could come back for the sixth year," Brey said. "When we had our banquet, we honored the seniors two weeks ago and we honored Abromaitis but not Martin."
And that's because Brey is hopeful Martin will be back. The Abromaitis situation is more up in the air, but Brey said if his sharpshooter is allowed an extra year, he would be cleared to play by the first day of practice in October after his December surgery.
The Irish have their core returning in what should be a preseason top-25 team. The perimeter is set with Jerian Grant, Eric Atkins and Pat Connaughton. Big man Jack Cooley returns for his senior season after a stellar junior campaign.
As for the schedule, Notre Dame is in the Coaches vs. Cancer Classic at Brooklyn's Barclays Arena with Florida State, BYU and Saint Joseph's. The Irish also play Purdue in Indianapolis and will get a home game in the SEC/Big East Challenge. And because of West Virginia leaving the conference, ND will get four repeat Big East opponents instead of three.
So all that's left to wonder is whether two veteran leaders will be back on campus. Either way, "we should be fighting for an NCAA bid again," Brey said.
"I'd love to have one or both of those guys back," he added. "We get both and it's a grand slam."