Dominique Ferguson is glad to move on
April, 26, 2012
04/26/12
9:14
AM ET
Florida International forward
Dominique Ferguson
's plan was to transfer to a school closer to his Indianapolis home. He wanted to be near his family and said he needed smaller classes and more academic attention to succeed.
He said he made his transfer request before Florida International fired third-year coach and NBA Hall of Famer Isiah Thomas on April 6.
[+] Enlarge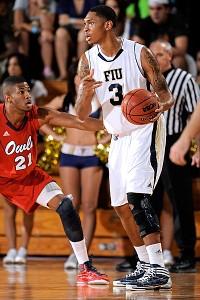 Samuel Lewis/Icon SMIFIU's decision to deny Dominique Ferguson's transfer left him no choice but to declare for the NBA draft.
A three-person academic board heard Ferguson's appeal on April 13 and blocked him from getting a full release that would allow him to receive a scholarship from another institution.
Ferguson said new FIU coach Richard Pitino had nothing to do with the appeal. He said Pitino knew that he was planning on leaving before -- and certainly after -- he met with the new coach. Pitino was hired from his father's staff at Louisville on April 16.
FIU's denial of Ferguson's transfer is another example of a rejected request. This case also happened a week before the nationally scrutinized situation with Wisconsin redshirt freshman Jarrod Uthoff. Wisconsin coach Bo Ryan initially denied Uthoff's request to transfer to any school in the Big Ten, ACC, neighboring states and Marquette. Uthoff won his appeal with the exception of being able to transfer within the Big Ten. The league has a rule that curtails transferring within the conference. It allows grant-in-aid but forces a player to lose a year of eligibility after sitting out.
"I wanted to go to a school close to my family in the Midwest,'' Ferguson told ESPN.com. "I went to Hargrave [Military Academy in Virginia] my senior year in high school and came straight here and had seen my family only a handful of times. It was hard on me and affected how I played.''
Ferguson, who is 6-foot-9, averaged 8.7 points and 6.2 rebounds a game this past season. He had been ineligible as a freshman.
"I wanted to be home and be more comfortable,'' Ferguson said. "I had my meeting with the board, three people [who] had nothing to do with academics. It was supposed to be a nonbiased meeting. It seemed like it went great.
"I told them that I wanted to leave to go to a smaller school, that I needed more one-on-one smaller classes,'' Ferguson said. "Four hours later I got an email on the decision that it was more beneficial for me to stay in Miami, at FIU. It was puzzling. I had never met them. They didn't know me. I wanted to be near my family, a big family that I don't ever see.''
Ferguson provided ESPN.com with the email that he received after the hearing:
HONORS COLLEGE
April 13, 2012
Dear Mr. Ferguson,
After considering your email appealing the decision of the Athletic Department to refuse to grant you permission to speak and transfer to another institution, and after listening to you during the appeal hearing, the appeal panel affirms the Athletic Department and denies your appeal.
We believe it is in your best interest to continue your studies here at FIU. We would particularly encourage you to apply yourself to your courses for the rest of the semester.
We wish you well in the future.
Sincerely, Stephen M. Fain, Ed.D. Professor Emeritus Faculty Athletics Representative to the NCAA
Professor Pete Markowitz, Ph.D. Physics Professor Thomas E. Baker, J.D. Law
CC: Julie Berg-McGraw
Valerie M. Sheley
Emails seeking a comment from Fain, FIU athletic director Pete Garcia and media relations director Paul Dodson weren't returned.
Ferguson said that he felt lost at the academic support center and that he was always on his own. "I told them I wanted to go to a small school known for graduating players,'' Ferguson said. "I wanted to go somewhere where I would get more help. Their response was to stay here. It was a waste of my time. They already knew what they were going to say.''
And that, he said, left him no choice but to declare for the NBA draft in advance of Sunday's early-entry deadline, even though he's unlikely to get selected.
"I couldn't pay for school again and go through all that stress that I went through my freshman year,'' said Ferguson, who added that he didn't have any contact with another school. "I just wanted to better myself in academics and on the court, and they denied me from doing that.''
Ferguson was ineligible as a first-semester freshman when he arrived in the fall of 2010 from Indianapolis.
"I didn't have anywhere to stay. I lived room-to-room and couldn't have any contact with any of the players or coaches,'' Ferguson said. "I wasn't on scholarship. I was always trying to find ways to get money, go to eat or find places to stay, mostly on couches. I didn't want to do that again.
"I do plan on getting my degree,'' Ferguson said. "But it won't be down here from Florida International.''
Ferguson said he formally sent in his paperwork to the NBA, meaning he is no longer an amateur in the eyes of the NCAA. He said he hasn't signed with an agent yet and will finish the semester this week, then continue to work out. He understands he might have to try to play overseas to make it professionally in basketball.
But he said his bitterness lies in the response from FIU's administration. He said he and a number of other players met with the school president the next week and asked whether they could get releases. He said he had heard of other players in other sports receiving them, and when he asked why he couldn't, he was told it was confidential.
Then he was blindsided, he said, when freshman center Gilles Dierickx got a partial release.
Ferguson said the panel asked him why his classes were "up and down," and he explained that he wasn't getting much help.
"I felt like I was on a farm, and we were a bunch of cows being tagged with a number,'' Ferguson said. "You'd be assigned a tutor, and the next day it could be someone else. I don't understand how someone on my team could go through the same process and get a scholarship [with a partial release and some school restrictions], and I have to stay here.
"It was like I was held hostage,'' Ferguson said. "They made me feel like I could never leave here.''
Ferguson said he believes FIU will say the academic progress rate is the reason his appeal was rejected and that the school feared that it could lose an APR point for a player who decided to leave while not in good academic standing.
"They'll try to say that, but it wasn't hurting the APR,'' Ferguson said. "I don't think I got a fair trial at all with my appeal. I didn't get the same treatment as someone else. I just wanted to go back home. I was stressed out the whole season. I think my mother and father came to see me play four times [in a season and a half]. The whole NBA was never on my mind.
"I'm happy now, though, because I feel like I'm free. But I definitely would have been fine sitting out. If I transferred [without a release], I would have had to pay for school and go through all that stress. I've had too much stress already.''