Coaches optimistic Pac-12 can bounce back
May, 4, 2012
05/04/12
7:58
PM ET
UCLA's recent mediocrity hasn't been celebrated or seen by the rest of the Pac-12 as an opportunity.
Instead, the conference desperately needs the Bruins to come back -- and fast. Having Arizona dip, even just for one season, didn't help either.
So when the coaches gathered this week for the annual spring meetings in Phoenix, the mood was upbeat. The Pac-12 -- that ultimate big-boy punching bag in college basketball lately -- has two of the nation's top three recruiting classes. And they're from the league's two most prestigious programs.
[+] Enlarge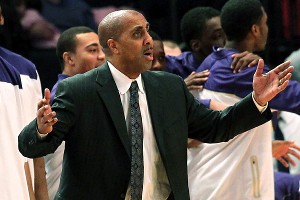 Anthony Gruppuso/US PresswireYou know it's a down year when your regular-season champ doesn't make the NCAA tournament.
"I think any buzz for our league is good for everybody,'' Oregon State coach Craig Robinson said. "As competitors, we would like the buzz to be about us, but as long as it's somebody in our conference and especially a brand name like UCLA, that can only be good for the rest of us.''
The Pac-12 had only two teams make the NCAA tournament in 2012, and one of those (Cal) was in the First Four in Dayton and lost. Regular-season champ Washington didn't get a bid, an embarrassing situation for the conference, which became the first big six league to not have its regular-season winner receive a bid.
Utah arrived in the conference and was abysmal in its first season, finishing 3-15 in the Pac-12 and 6-25 overall. Arizona State fell apart and finished 10-21. USC was decimated by injuries and was the worst of all, finishing a stunning 1-17 in league play and 6-26 overall.
The saving face of the Pac-12 was actually new member Colorado. The Buffaloes won the conference tournament, beat UNLV in the NCAA tourney and hung around with Baylor before losing in the Round of 32.
But perception of the league being down wasn't a reach. It was reality. The numbers and results didn't lie. The Pac-12 was an almost hard-to-fathom 1-25 against the RPI top 40 in nonconference play.
So with Arizona loaded up with four ESPNU 100 recruits in the Class of 2012 and UCLA having secured Kyle Anderson in the fall, the Bruins kept up the momentum in the spring by grabbing another top-five recruit (Shabazz Muhammad) and a four-star big man (Tony Parker).
That's not just good for those two schools, it's welcomed by the rest of the league.
Don't think Pac-12 commissioner Larry Scott didn't take notice of the Bruins' big April.
"It's extremely important,'' Scott said. "The public and media follow big brands, and it doesn't get any bigger than UCLA basketball in our conference.
"Having them have a strong recruiting class [and] a new Pauley Pavilion to move into is great news for our conference. We've got new TV deals. The timing couldn't be better.''
The conference's coaches have long complained about the television package and a general lack of national exposure. A few years ago, first-place Cal was at USC in a critical game and it wasn't even televised.
Well, the Pac-12 finally has a new TV package that will allow every conference game to be televised on one of three networks: ESPN, Fox or the new Pac-12 Network. The league will shift from a straight Thursday-Saturday/Sunday schedule to one that has more flexibility.
[+] Enlarge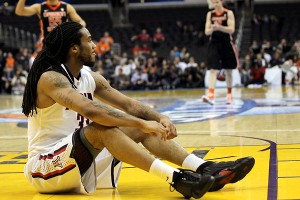 Stephen Dunn/Getty ImagesThe Pac-12 tourney has had some thrillers over the years, but few in L.A. bothered to notice.
In addition, the conference tournament now has a chance to have a sellout with the league choosing Las Vegas as the neutral destination. The Pac-12 had struggled mightily to draw consistent crowds to the Staples Center in Los Angeles. That shouldn't be the case at a destination venue like the MGM Grand, where the Pac-12 will become the fourth conference to play its conference tournament in Vegas, joining the Mountain West (Thomas & Mack Center), WCC and WAC (both at the Orleans Arena).
What will this conference look like by next March, though?
A year ago, the league was gutted by early entrants to the NBA draft at USC, UCLA, Washington, Washington State, Arizona and Stanford.
"Our league wasn't going to be good in the nonconference in November or December because of who left,'' Oregon coach Dana Altman said. "And then UCLA lost Reeves Nelson [dismissed early in the season] and so we weren't in a position to do well.''
Now they must be.
"We need some top-10 teams,'' said Cal coach Mike Montgomery, who has consistently been a Pac-12 title contender at Stanford and Cal. "We didn't have any, and it hurt us. Based on the recruiting, Arizona and UCLA should be in the mix.
"You need good teams going in. It will help us all if we're competing against better teams. Our RPI goes up. One through nine we were pretty good last year.''
The early onus will be on UCLA. The Bruins have to show well at the Legends Classic in Brooklyn, N.Y., with Georgetown and ESPN.com preseason No. 1 Indiana in the four-team field.
"We've had some bad losses out there,'' Montgomery said of the Pac-12's shoddy nonconference record lately. "Typically, everyone looks at UCLA and makes a judgment. It may not be fair or right and they haven't been the best team, but when they [are down], it hurts everybody. It's incumbent on everybody to win the games [you're supposed to win] in the pre-conference.''
Montgomery didn't excuse his own team. The Bears beat no one of significance outside league play last season and were annihilated by Missouri and UNLV.
"We didn't perform well, and that hurt our league,'' Montgomery said. "The impressions start early. We shouldn't lose games we shouldn't lose, because then when the league plays each other, we're screwed. We can't do anything to improve the reputation. That's on all of us to have a better November and December heading into the conference.''
USC coach Kevin O'Neill isn't doubting the Pac-12's ability to bounce back this season with several NCAA tournament teams.
"And we plan on being one of them,'' O'Neill said of the Trojans, led by Jio Fontan, who missed last season with a knee injury. "UCLA and Arizona had top recruiting classes, and that helps everybody improve. I think it's great. We'll see how they react to stressful situations.
"All our teams look good on paper, and we should be one of the top leagues in the country. We lost more pros in this league than the five other power leagues together the last few years. We're producing great players and most are doing well. But all of that is going to change. It's going to be a great year for our league.''