Wildcats look for more neutral-court games
May, 7, 2012
05/07/12
9:24
AM ET
WASHINGTON -- Kentucky coach John Calipari is going to mimic Duke's scheduling philosophy as much as he can over the next few years.
And the reason is that the team's constantly changing roster is filled with a handful of potential one-and-done players every season. That means the Wildcats can't be committed long-term to four-year true home-and-home series.
Duke coach Mike Krzyzewski has had a history of playing neutral-site games against quality opponents. He usually plays games at NCAA tournament sites to gain some sort of familiarity for his team.
[+] Enlarge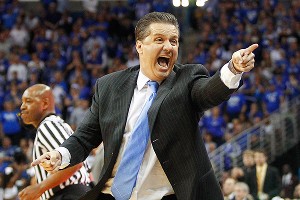 Crystal LoGiudice/US PresswireJohn Calipari wants Kentucky to pursue scheduling opportunities that mimic the NCAA tournament.
There have been the occasional true nonconference road games (at Georgetown), and the Blue Devils play an annual series with St. John's. But they have a large alumni base in New York City.
Duke has the power and influence to set up games against Oregon in Portland or Valparaiso in Chicago or Temple in Philadelphia (but not on the Owls' campus). And it never hesitates to play a game in New York's Madison Square Garden or at the Meadowlands. Don't be surprised to see Duke play in Brooklyn in the future, too.
Kentucky has done similar home-and-home series in which the return game is on a "neutral court."
Calipari wants the Wildcats to pursue scheduling opportunities that mimic the NCAA tournament.
The Indiana-Kentucky game in Assembly Hall in Bloomington was an epic finish last December. Those types of regular-season games are hard to duplicate. Put the same game in a neutral court/stadium, and there is the potential for a more sterile atmosphere.
But that's what Kentucky will pursue in the future.
The Wildcats get a true home-and-home series with rival Louisville every year. If the North Carolina series resumes in 2013-14, it's likely to return to a home-and-home setup. And Kentucky can't do anything about the newly adopted format of the Big East-SEC Challenge last year that calls for home-court games instead of neutral sites (UK is on the road next season).
But the rest of the games will now likely be headed for neutral courts if they're not played at Rupp Arena in Lexington. "The 25-year old model doesn't work for us anymore," Calipari said during Friday's NCAA title celebration White House tour.
"No one seems to be mad about the way Duke does it," Calipari said. "We've got a number of different things going on, and we'll get it done."
Kentucky will play Duke in the Champions Classic in November in Atlanta (Michigan State versus Kansas is the other game). The Wildcats are also playing Maryland in Brooklyn at the new Barclays Center in an exempted event (both teams will get a few home games against lesser competition as part of the deal). Calipari said his team will have to get a number of games to fill out the rest of the schedule.
Kentucky is looking to replace the Indiana and North Carolina games with neutral-site games or at least one home game. Indiana was due to go to Kentucky in 2012-13 had the series continued. The Wildcats would have been on the road at UNC if that series was played next season.
Calipari wanted to play Indiana at Lucas Oil Stadium in Indianapolis instead of a game at Rupp. Indiana wanted a home-and-home series. So the deal is off.
"Tommy [Crean, IU coach] [and I] are good; we talked," Calipari said. "We're not a traditional program. We can't have our games locked in for nine or 10 years. We don't know what our roster is going to look like. We have to go year-to-year.
"I told our people that we won't do anything more than a two-year contract because of that," Calipari said. "Our league is hard, too. We're trying to prepare for the NCAA tournament and that tournament is played in domes. Most people just play the home games and you win those, and then go on the road and you lose. But for this program, it's important to play in big football stadiums because that's where the NCAA plays the Elite Eight and Final Four. Our freshmen have to play in those kinds of buildings. We're a nontraditional program so it makes scheduling a little bit different for us."