ACC coaches deal with schedule changes
May, 11, 2012
05/11/12
6:13
PM ET
NC State coach Mark Gottfried heads to the ACC meetings Sunday in Amelia Island, Fla., looking to question next season's ACC schedule.
"I traded Virginia Tech for Duke twice and Clemson for Florida State twice,'' said Gottfried, who will also play North Carolina twice. "TV looked at our team and thought we'd be good.''
[+] Enlarge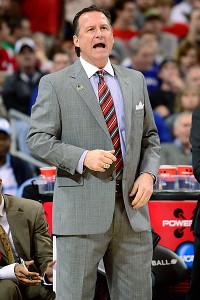 Scott Rovak/US PresswireNC State coach Mark Gottfried sees a heavy road schedule for his team next season.
And he's right. NC State is projected to be an ACC favorite after its Sweet 16 finish. Gottfried's problem is looking at his overall schedule and seeing the weight of the road games. Strip the conference name out, and the Wolfpack will be going to Duke, North Carolina, Florida State, likely Michigan (Gottfried said) for the ACC/Big Ten Challenge, to Puerto Rico for a tournament, and versus Connecticut at the Jimmy V Classic in Madison Square Garden. Of course, the home schedule will include Duke, North Carolina, Florida State and a nonconference game versus Stanford, so that's not too shabby, either.
The problem is the league probably didn't have a choice in scheduling for 2012-13.
The ACC decided to go from 16 to 18 games for the '12-13 season. The decision was made before the league knew if Pitt and Syracuse were joining the conference. Now they're not for next season, but the anticipation is that both schools will be in the ACC in the fall of 2013. But that's not official, and there is still technically a chance the move could be put off for another year if the Big East makes the two schools hold true to the 27-month window, even though Temple, Memphis, Central Florida, SMU and Houston are entering the Big East for all sports, including basketball, in 2013.
As a result, the ACC remains at 12 teams for next season and thus had to hold off on a 14-team rotation schedule. Instead, the league consulted with its TV partner (ESPN) for the best matchups but decided on the final schedule on its own.
ACC associate commissioner Karl Hicks, who is in charge of basketball, sent a mock of the matchups earlier in the season and will go over the schedule at the meetings.
"Television had input in some of the matchups, and I balanced it with competitive equity where we thought our teams would be,'' said Hicks. "It's a one-year off. There is no rotation here. I've balanced it competitively. I've talked to a lot of people. I didn't do it unilaterally. But I know the conference, and the players coming in and the teams, as well as anybody.''
Hicks said the ACC didn't know about Pitt and Syracuse early enough, and the league can't set up a two-year rotation until the two schools arrive from the Big East.
"It's a one-year off [on scheduling] but it could be a two-off, because we don't know exactly when they will come in,'' said Hicks.
Each team will play seven teams twice next season and four teams once. Two of those single games will be at home and two on the road.
Hicks said the conference schedule will start in January with no need to stretch into December.
"I don't know if there's an easy answer,'' said Clemson's Brad Brownell. Brownell's unbalanced schedule has his four single games being Wake Forest and North Carolina at home and Duke and Maryland on the road.
"Everyone wants the true round-robin, but we can't in these big conferences,'' Brownell said. "You're not going to have a true champion.''
Maryland, which should still be young but improved next season, also got a heavy schedule: Duke, Virginia, North Carolina and Florida State twice, according to coach Mark Turgeon.
"Mine's not easy,'' Turgeon said. "But I don't know how else you could do it.''
Hicks said that the 2014 ACC tournament will also be on the agenda, with the expectation that Pitt and Syracuse will be in the conference. The coaches will make suggestions as to whether there should be 14 or 12 teams at the ACC tournament.
The consensus is that the coaches will vote to have all 14 teams at the tournament. The next three ACC tournaments are slated for Greensboro, N.C.
Pitt's Jamie Dixon and Syracuse's Jim Boeheim will be in attendance at the ACC meetings, but not the following weekend at the Big East meetings.