Loaded UNLV primed for special season
May, 23, 2012
05/23/12
3:39
PM ET
If you live outside of the "big six" conferences, scheduling can be an often-frustrating game.
But not at UNLV. The Runnin' Rebels, much like Xavier, Temple, Memphis, Gonzaga and Butler, can get quality nonconference matchups.
Last season, UNLV had games with North Carolina, Wisconsin and Illinois, along with a prime MWC-MVC Challenge game at Wichita State.
Wisconsin is off the schedule this season and the Illinois series is taking a year off before resuming in 2013. But the Rebels, who will likely be the Mountain West favorite or co-favorite with San Diego State, are putting together quite a résumé-building schedule.
The Rebs travel to Cal and UTEP, host Hawaii, and host a tournament with likely at-large candidates Cincinnati, Oregon and Iowa State.
The Valley game next season will be at home against likely league contender Northern Iowa and there is a return game at North Carolina on Dec. 29.
[+] Enlarge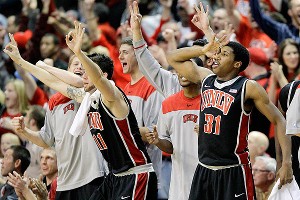 AP Photo/Julie JacobsonUNLV's victory over No. 1 North Carolina gave the nation a hint that Rebels hoops was back.
Ah yes, the Tar Heels. No game on UNLV's schedule last season had as much impact as the win over No. 1 UNC at the Orleans Arena in Vegas. The game positioned the Rebels for a tourney bid, gave Mike Moser a national platform for his talents and -- according to head coach Dave Rice -- played an integral part in securing the transfer of Pitt big man Khem Birch and the signing of Findlay Prep power forward Anthony Bennett, ranked seventh nationally in the ESPN 100.
Birch transferred midseason and will be eligible on Dec. 17, in time for the trip to El Paso and well in advance of the return game in Chapel Hill.
Rice said the Rebels have signed up for a four-year series with Arizona, beginning in 2013, and are going to resume a series with Louisville, likely starting in 2013 as well.
"And we're getting in Maui too in the future," Rice said. "Having a competitive schedule is certainly a priority for us."
No one else in the Mountain West has it quite like UNLV.
San Diego State, which has become a top-25 program under Steve Fisher, is off to the Big West in 2013 while its football goes to the Big East. New Mexico has as passionate a following as any program, but the Lobos do have to be creative to get quality games. UNM coach Steve Alford has been willing to do that and recently signed up for a home-and-home series with Cincinnati. New Mexico has also been willing to play in competitive neutral-site tournaments, which wasn't the case for decades as the Lobos soft scheduled four-team events at the Pit.
New members Nevada and Fresno State can be competitive players in the MWC, and rising Colorado State will continue to be. But none can command quality nonconference games on a regular basis like Vegas.
"I've always said we're very happy with our relationship with the Mountain West, but UNLV transcends conference," Rice said. "You don't talk about Gonzaga's conference and you don't talk about Xavier's conference. We're very happy with our affiliation, but UNLV transcends it."
This isn't about UNLV's history of success under Jerry Tarkanian. It's about the love of Las Vegas by opposing coaches and schools.
"There is something to be said for that," Rice said. "Las Vegas has become the capital of basketball in the United States with all that goes on here with college tournaments, high school and AAU tournaments. The Pac-12, Mountain West, WAC and WCC host their tournaments here and Coach K [Mike Krzyzewski] and Jerry Colangelo have made USA basketball's home here. They use our practice facility. And there are a number of NBA players who come through here [as well as the NBA summer league]."
And now that Lon Kruger and his successor Dave Rice have made the Rebels relevant again, playing UNLV makes even more sense.
And with a team that will have Moser, Birch and Bennett along the front line by late December, there's little doubt the Rebels will be nationally relevant in 2012-13.
Rice said he will move Moser to small forward to play all three together once Birch is eligible. He said one thing he noticed during the end of the season and the loss to Colorado in the NCAA tournament was the lack of length inside.
"To advance you need to be bigger and stronger and longer," Rice said.
Bennett will be counted on to do a variety of things, from scoring to hitting the boards. Birch's potential is untapped after a brief stay at Pitt. Moser is one of the best rebounders in the country and is a double-double machine. USC transfer Bryce Jones is eligible to compete immediately in the backcourt. Freshman shooting guard Katin Reinhardt is expected to jump into the rotation. And don't forget the return of Justin Hawkins and Anthony Marshall on the perimeter, making the Rebels as formidable a team as any in the West.
"We've worked hard and we've had a little bit of luck," Rice said. "Having Stacey Augmon on the staff has been a big deal for us. The kids weren't born when UNLV was winning a national title and competing for them in the '80s and '90s. But that still resonates with AAU coaches and parents."
And so does playing and winning big games in the nonconference, especially with the exciting up-and-down brand of basketball the Rebels play.
"Lon left us 11 returning players who stayed," Rice said. "But it's the style of play that has helped and beating North Carolina on ESPN when they were the No. 1 team in the country helped. They were excited about how we played."