Bob Thomason has one final run for Pacific
May, 24, 2012
05/24/12
10:31
AM ET
All that's left for Bob Thomason to craft the perfect exit is for Pacific to win the Big West conference tournament and earn the league's automatic berth in 2012-13.
Few coaches have been able, regardless of conference, league or level, to put together an exit that is as tidy as this one.
[+] Enlarge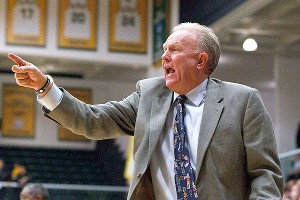 Jason O. Watson/US PresswirePacific coach Bob Thomason will retire after next season, his 25th at his alma mater.
Thomason announced his retirement last week, effective after the upcoming season, his 25th at his alma mater.
The Tigers will leave the Big West for the West Coast Conference after this season. It's the league Thomason said he had been pushing for Pacific, the lone private institution in the Big West, to join for decades.
And to set up this final run, the Tigers are taking a trip to France in August.
"It all turned out perfect,'' said Thomason, who is 64 and one of the most respected coaches on the West Coast even though in national anonymity for years. His fans among coaching colleagues are many, including former Long Beach State, South Florida and Virginia Tech coach Seth Greenberg and former UNLV coach Jerry Tarkanian.
I can remember covering a number of Fresno State-Pacific games and driving through the fog from Fresno to Stockton to find a packed house at the Spanos Center. The Tigers have been consistently good in the Big West, enjoying nine 20-plus-win seasons under Thomason, going to four NCAA tournaments and beating Providence and Pitt in successive NCAA tournament first-round appearances.
And although Thomason may be known for coaching Michael Olowokandi -- a relatively unknown walk-on who recruited the school -- he will be remembered as a coach who was reliable, respected and credible.
"It's an amazing story that he was the No. 1 pick after coming here and playing 12 minutes a game the first year,'' Thomason said Olowokandi, an England native who went No. 1 in the 1998 NBA draft. "I feel very fortunate that I coached players at all levels, and we were able to compete at a consistent level. We developed teams and kids.''
"I'm healthy,'' Thomason said. "But how do you know to get out? I told my wife four years ago when I signed my contract that I wanted to get out at the end of the contract. I knew we had a good team coming back, and I'm hoping Ron [Verlin, his longtime associate head coach], if he's the coach, would have a good team when we go to the West Coast Conference. It didn't seem right for me to coach one year in the WCC.''
Thomason said he advocated for Pacific to get into the all-private WCC four or five times. "It's a perfect fit for Pacific,'' Thomason said. "Gonzaga and BYU are doing great. It's an ideal fit. We'll have great excitement here, sellouts when Gonzaga and BYU come. Season tickets will go up. This is an event town, and this will come at the perfect time.
"I want to win before we go out, and we have a chance to win the league and go to the NCAAs. I'm proud of graduating 90 percent of our guys, of having three teams that won 16 in a row, one that won 22 in a row. That's not easy in any level.''
Thomason said the Big West's decline to a one-bid league amid defections (most notably UNLV) has made it harder to recruit players. "Now we're going to get a breath of fresh air for the program,'' Thomason said. "Now we could beat Santa Barbara with a kid being from the WCC, but before it would be tough.''
The Big West is improving its standing in replacing Pacific with San Diego State, a Top 25 program. If the league adds Boise State, it is, at the very least, gaining a national name, even if the Broncos are still a work in progress in men's basketball.
Thomason said he has played basketball since fourth grade and has coached since he was an adult. His parents, at 87 and 83, are still doing well and live in nearby Lodi, Calif. He wants to be with them and his grandchildren more often. "I'll be around, but I won't be a pest,'' Thomason said.
Staying a quarter century in one place isn't the norm these days. Hall of Fame coaches like Mike Krzyzewski (Duke), Jim Boeheim (Syracuse) and Jim Calhoun (UConn) have done it. Tom Izzo (Michigan State) is on the way to the Hall, and he may do it as well.
"I'm not sure it's great for everybody,'' Thomason said. "Nowadays you should change. The money is so good and the expectations and the pressure make for a change. It's good to have a new start, and moving around isn't so bad. There might be some. I could see Mark Few staying there [Gonzaga] for 30 years.
Pacific finished 11-19 overall and 6-10 in the Big West this past season. Long Beach State may be picked as the favorite again in the conference. But the return of top scorers Lorenzo McCloud and Ross Rivera and top rebounder Travis Fulton gives the Tigers a chance.
Verlin has been a trusted sidekick for 18 -- and soon to be 19 -- seasons, and former player Adam Jacobsen has been on the bench for 11 seasons.
Thomason has crafted a stable, loyal and professional program. That's his legacy. It's one that he should be proud of as he retires in a year.
The trip to France will begin the send-off. He hopes the NCAA tournament will be his curtain call.