Xavier, Cincinnati still sorting out the future
May, 25, 2012
05/25/12
3:46
PM ET
Indiana and Kentucky were at an impasse on the location of their series and couldn't agree on a site.
Indiana wanted the series to be home-and-home. Kentucky wanted it to be on neutral courts.
So they're not playing next season.
Could the Xavier-Cincinnati rivalry be headed for a similar impasse?
The Cincinnati Enquirer reported Tuesday that the rivalry game was moving to the neutral U.S. Bank Arena for the first time in 25 years. The Enquirer reported that the game would be Dec. 18, 19 or 20, according to multiple sources.
[+] Enlarge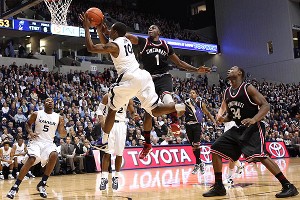 Frank Victores/US PresswireThe Dec. 10 brawl cast a cloud over the rivalry and affected the teams differently.
Soon after the story came out the presidents of Xavier (the Rev. Michael J. Graham, S.J.) and Cincinnati (Gregory H. Williams) issued a joint statement saying that they were surprised to read about the announcement of the Crosstown Shootout and that although both schools are committed to the rivalry, "specific discussions are ongoing and no details have been finalized.''
On Friday, Xavier athletic director Mike Bobinski took it one step further. He agreed that nothing has been set and that the neutral site is a possibility.
"But it's been no secret,'' Bobinski said. "From the get-go, I've been in favor of playing it on campus. That's me. It's not a unilateral decision. I'm in favor of playing the game.''
The Dec. 10 brawl cast a cloud over the rivalry and affected both teams in different ways. It was a month before Xavier corrected itself in the A-10. Cincinnati cooled a bit after going strong after the fight, even with multiple suspensions. Ultimately, both teams made the Sweet 16. Xavier lost to Baylor; Cincinnati fell to Ohio State.
The game would be at Cincinnati next season and the Bearcats could clearly use another quality home game. Cincinnati is hosting top 25-30 program New Mexico. The Bearcats are still awaiting word on a possible home game in the SEC-Big East Challenge. Cincinnati is in a tournament at UNLV with Oregon and Iowa State. Adding a home game against Xavier would increase the home slate even more.
The game should be played next season and the series shouldn't be interrupted. Putting it at U.S. Bank Arena would be a way to neuter the atmosphere a bit with the teams splitting the tickets. Student attendance would probably be down a bit if it is at U.S. Bank Arena.
It appears that the game will be played but the location, Bobinski said, has yet to be decided.
The hope is that, unlike IU-UK, this rivalry won't be stuck on a site.
Bobinski said Xavier and Cincinnati haven't gone to U.S. Bank Arena with a proposal.
"We've not jointly gone to them with anything yet,'' Bobinski said. "Maybe U.S. Bank Arena has held dates, but none of that is done.''
If the game moves to U.S. Bank, then it appears to be Cincinnati's call. Cincinnati coach Mick Cronin said this is not his decision and didn't offer any comment. Athletic director Whit Babcock was unavailable for comment Friday.
There is no question that it would be good for the game, the city and the sport to continue to have true home-and-home nonconference games on campus.
Does the rivalry need to be cooled at a neutral site for a year or two? No. The more appropriate thing might be to have the teams do something together in the community, with students from both campuses, in advance of the game.
Civil behavior leading up to the game is the most important thing, regardless of the location.
Bobinski, who is chairman of the men's basketball selection committee for the 2013 tournament, said that nonconference home-and-home series aren't fading. But they're not a widely held practice either.
Several rivalries have continued the practice of alternating campus sites on a regular basis: Kentucky-Louisville; New Mexico-New Mexico State; Tennessee-Memphis; Georgia Tech-Georgia; Clemson-South Carolina; Providence-Rhode Island; Marquette-Wisconsin; Iowa State-Iowa; Nebraska-Creighton; Washington State-Gonzaga. BYU, Utah and Utah State all play home-and-home series, and now so do Villanova-Saint Joseph's and Nova-Temple.
Losing Xavier-Cincinnati from this list would be a shame.
Bobinski said that nonconference scheduling is one of the more interesting exercises in the game, with so much posturing and positioning and, at times, over-analyzing.
This may be an instance where being proactive and creative on the front end would make more sense than changing the locale of the rivalry. Taking it off campus may start a trend that neither school wants to begin.
Xavier clearly wants it on campus, even if it means going to Cincinnati next season. Now the onus is on Cincinnati to see if it wants the series to continue in a traditional format.