Wildcats search for the next Damian Lillard
June, 5, 2012
06/05/12
4:53
PM ET
Weber State coach Randy Rahe will be at the Chicago pre-draft camp this week to support
Damian Lillard
in a public forum, and to also show his gratitude for what Lillard has done for the Wildcats.
Lillard ensured that Weber State was a Big Sky contender every season. And while the Wildcats didn't make the NCAA tournament during his four seasons at the school, he was a dominant performer, a headline act in the Big Sky and a drawing card to Ogden, Utah.
[+] Enlarge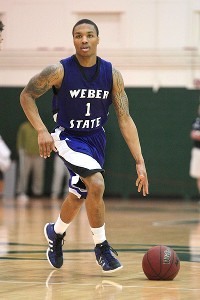 Kelley L Cox/US Presswire Damian Lillard's success at Weber State will help the Wildcats for years to come.
Rahe is convinced his 6-foot-3 star has left his mark with the program, as a trail of recruits will follow his lead.
Rahe isn't naive enough to think he'll find another hidden gem like Lillard, a lock for the NBA lottery and quite likely the first lead guard selected in the June 28 draft. But he is convinced that the dynamics of Weber State's recruiting has changed.
Eastern Washington wasn't able to capitalize on the attention that its first-round pick (Rodney Stuckey) gained in 2007. Rahe is determined to not let this opportunity slide.
"We feel like he has already helped us [get] in with some kids that we shouldn't have,'' said Rahe. "We've gotten in with kids that were above us.''
Rahe said that Lillard's presence helped land 6-foot-7 Keller (Texas) Central High School power forward Joel Bolomboy.
"New Mexico, Clemson, Auburn and Texas Tech were all recruiting him,'' Rahe said of the November signee. "Damian is getting us in the door, and now it's up to us to close.''
Rahe is selling the fact that Lillard was loyal to the first school that recruited him. He worked consistently on his game and became a star at a Big Sky school. Lillard didn't bolt on the Wildcats, either, after his freshman season.
Rahe said that Lillard was pursued by other schools after a 2008-09 freshman season in which he averaged 11.5 points a game.
"There were people in his ear about leaving,'' Rahe said. "But he wouldn't do it. He was loyal. Thank God for it. We could have lost him.''
Weber State was fortunate to land Lillard. He was under-recruited out of Oakland. Rahe said he knew Lillard's AAU program well, and he was in hot pursuit of the guard during the summer between his junior and senior seasons.
"I went and watched him that spring, [and] saw that he was really good while he was playing for the Oakland Rebels,'' Rahe said. "It wasn't a big-time AAU program like the Oakland Soldiers. But there were others who saw it too, like San Diego State, Washington State, SMU, Saint Mary's and some Pac-10 schools. But none were that serious.
"He didn't care about going to the highest level. He wanted to win games. He wanted to be with people [who] he trusted. I knew he was a damn good player.''
Rahe said Lillard grew up with two parents who instilled a strong work ethic in him, saying they "did a great job of putting the values in with him. He works his ass off, and he knows right from wrong. He treats people the way he wants to be treated. He's a self-made player.''
Lillard's progression was exactly what a player and coach want to see: The Wildcats won 21 games when he was a freshman (and reached the NIT), 20 as a sophomore (and another NIT berth after a second straight Big Sky regular-season title), 18 as a junior (and a CBI berth, even though he was hurt for all but nine games) and 25 as a senior (CIT berth). Lillard's production went from 11.5 to 19.9 to 17.7 (injured) to 24.5 points a game.
Throughout the past month, a number of NBA personnel people have told ESPN.com that Lillard has been one of the top players they have seen, and they have nothing but glowing reviews. Lillard is expected to interview extremely well during the Chicago pre-draft camp and in the weeks that follow when he visits individual teams.
Rahe said that Portland, which has the Nos. 6 and 11 picks, has been calling quite often. Utah, which doesn't have a first-round selection, would love to find a way to get involved. Rahe said he has talked to Cleveland, although the Cavaliers already have Kyrie Irving, so selecting Lillard may not make as much sense at No. 4, which is also deemed too high for Lillard to get drafted. Golden State, which has the No. 7 pick, has also called Rahe. That might be a starting point for him, but the latest team that Rahe has heard from is Toronto, which picks at No. 8.
Lillard, listed as a junior athletically, redshirted during his normal junior year after playing in only nine games. He technically was an early entry, but was in his fourth year of school.
"The thing about Damian is that he's obsessed with improving his weaknesses,'' Rahe said. "He's got such a great sense of his maturity. Every year, he would be in the gym and work on what his weaknesses were.
"He was a scorer when we got him, and he couldn't run off a stagger screen to catch and shoot it,'' Rahe said. "Then it was his middle game. That was important to him and [he] worked on that, too, as well as his pick-and-roll offense. He worked on all of that. He takes the weaknesses and becomes obsessed with it. He never thinks he's good enough. It drives him crazy.''
Lillard is a prime example of how a player can go to a school off the main basketball grid, develop his game and become a lottery pick. Lillard did this while winning at Weber State, but he couldn't get to the NCAA tournament to entertain the masses and build on his credibility. Norfolk State's Kyle O'Quinn is a hot name because of his performance (26 points, 14 rebounds) in an upset of Missouri in the opening round of the NCAA tournament
Rahe is convinced that if Weber State didn't lose two starters to injuries, it would have been a tournament team. Still, the Wildcats were able to get to the Big Sky championship game at Montana, losing to the Grizzlies, 85-66. Lillard played in two CIT postseason games and scored a combined 48 points.
"He handled everything as well as anyone could,'' Rahe said. "There were NBA scouts coming through here, but all he cared about was winning.''
But can Rahe find another Lillard?
"It's really hard,'' Rahe said. "It's not going to happen often. We were very lucky. We did our work. We got the right kid to come and do it. Finding the kids that will pass up a Pac-12 or Mountain West scholarship for one in the Big Sky is rare. It will happen, but it's rare. It was the perfect storm for us. Our next test is to find another one like him.''