Jones, White, Lamb have a point to prove
June, 8, 2012
06/08/12
12:57
PM ET
CHICAGO -- The constraints of the college season are over.
The pressure to make or advance in the NCAA tournament is no more.
[+] Enlarge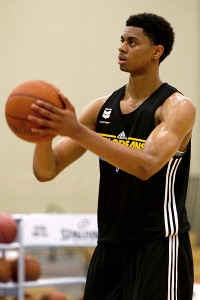 Derick E. Hingle/US PresswireFormer UConn sophomore Jeremy Lamb wants to prove to NBA scouts that he has the desire to play at the highest level.
Three of the more enigmatic players in college basketball shared their insights on their seasons and the draft process during Thursday's NBA pre-draft combine at the UIC practice gym.
Perry Jones: The Baylor sophomore had moments where he disappeared on the court. He had others where he was the most dominant player per possession.
No one would have been surprised if he skipped out on participating at the combine. He is a projected lottery pick. But Jones said he wanted to play.
And he did.
"It's a once-in-a-lifetime opportunity," Jones said. "I wanted to show that it wasn't the same Perry Jones in college."
Who was that Perry Jones?
"Very modest and laid-back," Jones said of himself. "[He] didn't have a motor and got down on himself if he missed shots."
How about that? Jones said he didn't have a "motor" in college. That would explain a number of things. Jones was clearly not as aggressive on every play like teammate Quincy Acy. The key for any team that will be investing millions of dollars in Jones will be to see if he has found his motor in the two months since the season ended.
Jones almost made himself out to be a bit like the Tin Man, who was searching for a heart in the Wizard of Oz. He didn't get down on himself once during the combine.
"My confidence rose if I missed or made the shot," Jones said.
If that Perry Jones is the one that continues to work out for teams over the next few weeks, then he'll be worth the gamble. He's a high-risk but a high-reward player. He helped lead Baylor to the Elite Eight, so it's not as if the Bears fell short of expectations. But Jones may turn out to be a more consistent player in the professional ranks than he was in college if he maintains this attitude.
Royce White: The Iowa State forward put plenty of numbers on the stat sheet and led the Cyclones to the NCAA tournament under Fred Hoiberg.
But he's one of the toughest players to place in the first round. He has top-10 talent, but will teams deal with his personal issues? ESPN.com's Myron Medcalf detailed White's anxiety issues this past season.
And White isn't shying away from talking about any of it.
"I've just got to be 100 percent honest in the interviews and everywhere this week and in the process," White said. "It's hard to keep up with the lies, and it's harder with anxiety. It's a stress-booster. I've got to be 100 percent honest."
White said support from his doctor and family and son have kept him focused.
White's honesty will help him quite a bit. The more you talk to White, the more you're drawn to him. He's a unique individual, but doesn't appear reckless.
And having Hoiberg, a former NBA player and NBA administrator, on his side will help.
"[Hoiberg's] word means a lot to me," White said. "He knows me. My time in Ames was mostly good, and I did good things on the court, and we had a great relationship."
And the beard that he was sporting on Thursday had nothing to do with James Harden of Oklahoma City, whose facial hair has become a hit during the NBA playoffs.
What was the inspiration for the beard? This may come as a shock: John Lennon.
Apparently, White is a huge Beatles fan.
"I love John -- philosophically and musically," said White.
White's uniqueness and individuality will be missed in college basketball next season.
Jeremy Lamb: Lamb didn't disguise his own shortcomings: the perception of his effort.
"I think sometimes I'm not as aggressive as I should [be]," said Lamb, the former UConn sophomore. "There were times when I would get going, and it gets competitive, and I'm against good players -- I think then I have a real good motor. A lot of teams want to see my motor and see me compete, and it will depend on the workouts."
Lamb didn't participate in Thursday's drills but planned on participating on Friday. What was interesting is that he said that teams had to see how competitive he is on the court. Yet, unlike Perry Jones, he declined to participate on Thursday.
"A lot of people knock me saying I'm not playing hard," said Lamb. "I want to show people I can play hard and that I want it."
Lamb has the talent. But he can't coast. He needs to be on every time he goes through drills and at any individual team workout to make an impression on NBA scouts.