Departures don't make it easy for Hokies
June, 14, 2012
06/14/12
9:25
AM ET
Virginia Tech is in the news -- but only because of decisions from two of its high-profile departures.
Incoming freshman Montrezl Harrell got out of his national letter of intent and landed at Louisville.
And Dorian Finney-Smith, one of the top freshman forwards in the ACC last season, visited Memphis and is also seriously considering transferring to Florida, Louisville or Iowa State.
[+] Enlarge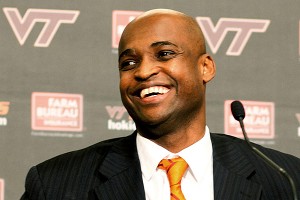 Kyle LaFerriere/US PresswireJames Johnson understands the challenges he faces as Virginia Tech's new coach.
New coach James Johnson would have liked to make his own headlines with the arrival of significant newcomers.
But there isn't much to discover at this late date.
"I'm trying to find something,'' said Johnson, who has been on the job for six weeks. "I'm not going to rush anything. I need to find the right fit for the team and the right fit for Virginia Tech. We've got room to take another guy or two, and we are still looking.''
The Hokies are down to nine scholarship players, eight who are eligible for next season since Adam Smith will sit out after leaving UNC Wilmington after his freshman season.
The Hokies do return starters Erick Green, one of the top guards in the ACC, a healthy Cadarian Raines and Jarell Eddie. C.J. Barksdale and newcomer Marshall Wood will also have an impact. But the team will lack depth and won't be projected to finish high in the ACC.
"We can't afford any injuries,'' Johnson said.
This wasn't the plan Johnson or Seth Greenberg envisioned. The latter was convinced the Hokies would be a player in the ACC next season. But he was abruptly fired by athletic director Jim Weaver after a late offseason review of recent mediocre seasons. Greenberg was so blindsided by the firing that the topic of the news conference was unknown to him until an hour before it began on April 23. He compiled a 170-123 record in nine seasons, but reached the NCAA tournament just once during that stretch. The Hokies finished 15-16 this past season, including 4-12 in the ACC.
Johnson wasn't planning on taking the job. He left a few weeks earlier to go to Clemson and spent a weekend recruiting for Tigers coach Brad Brownell. A week after Greenberg was fired, Johnson was hired at Virginia Tech.
Johnson never moved from Blacksburg, since he wasn't at Clemson long enough to even pay a deposit on a rental property.
He is now looking to upgrade his home near the Virginia Tech campus, so he has a larger space to entertain players and recruits.
His head is spinning. He didn't seek this job. He was nestled into his new gig at Clemson when he said he received a phone call from Virginia Tech to see if he was interested in replacing his former boss Greenberg.
"I had some other opportunities during my five years [at Virginia Tech],'' Johnson said. "But never as close as this one.''
"I was at Clemson getting my feet on the ground and getting started as to how they do things there,'' said Johnson. "Then I got a phone call. It was odd, leaving and then having the opportunity to come back. I worked for [Greenberg], and we had a great relationship and success during five years. But it was an opportunity to be a head coach in the ACC. I couldn't turn that down.''
Johnson said he believes he was chosen because of his familiarity with the program, the players and the timing.
But losing Harrell and Finney-Smith on the heels of seniors Dorenzo Hudson and Victor Davila finishing their eligibility and JT Thompson's transfer to Charlotte means Johnson will be in a tough spot in his inaugural ACC season.
North Carolina and Duke are the benchmarks for the league, but NC State is ready to join them next season to compete for the title. Florida State has now established itself as a consistent NCAA team. And Maryland is poised to make a turn upward. Virginia is on the climb, too. In a year, Pitt and Syracuse should be in the league and crowd the top half even more.
That's why this July evaluation period is critical for Johnson to stay afloat in 2013-14. He can't afford to fall behind, nor hand out scholarships in June to players who can't help him long term.
"It's going to be a challenge,'' Johnson said. "There are some of the best coaches in the country in the ACC. But we have a special place with great academics. We just have to get the kids on campus for them to see what we have. Virginia Tech is perceived as a football school with not much to do in the area, but once you get here the perception isn't the reality. It will continue to be a challenge, but we can sell Virginia Tech and our brand.''