Peers say Mike Dunlap is ready for NBA
June, 19, 2012
06/19/12
4:08
PM ET
Mike Dunlap saved a season at Arizona.
He did something similar at St. John's.
Now he faces his toughest challenge yet with the NBA's Charlotte Bobcats.
[+] Enlarge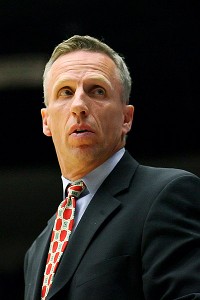 Chris Morrison/US PresswireMike Dunlap's ability to handle adversity should help in his new gig with the Charlotte Bobcats.
A revered basketball savant among his coaching peers, Dunlap has become the "fix-it man."
One of Dunlap's disciples in the NBA said Monday night upon learning the Bobcats hired him: "He has the most organized approach to player development ever. He makes players better. He's brutally honest and extremely loyal. He will not stop working. He gets through obstacles with unbelievable problem-solving lenses. He's very thorough."
He'll need to be with the Bobcats, who finished with the worst record (7-59) in the NBA's lockout-shortened season.
Of course, he'll need players to succeed. But his ability to handle adversity has been on display at two high-profile stops in college.
Dunlap was not the face of Arizona when he served as interim coach in 2008, when Lute Olson retured. Russ Pennell was the one who stood up on the sideline and handled the postgame and weekly media responsibilities.
But it was Dunlap who was the conductor of a team that somehow managed to go 21-14 in 2008-09 and reach the NCAA Sweet 16.
Former Oregon coach Ernie Kent, who knew his job was on the line, tabbed Dunlap to help with the tactical aspect of the game in 2009-10. Kent didn't survive a 16-16 season, but Dunlap was one of the most sought-after assistants again.
When Steve Lavin got the St. John's job, he pursued two people -- Dunlap and his mentor Gene Keady. He knew he needed both to be successful in his return to coaching.
Dunlap has his quirks. He is much more at home on the court and watching tape than he is promoting himself or a program/franchise.
Yet he was in the spotlight again this past season, his second at St. John's. He pursued a few head coaching jobs a year ago, getting deep in the interview process at Wyoming before going back to the Red Storm when the Cowboys chose former coach Larry Shyatt.
His decision to stay put was a blessing to Lavin, who had major prostate cancer surgery in the fall and lasted only four games on the bench before retreating to a suite at Madison Square Garden or his home to watch games and avoid stress. The strain of coaching was too much for Lavin's battered body to handle during the recovery stage.
The team was young and took a number of hits during the season, but still finished 13-19 overall and 6-12 in the Big East.
Sure, Keady was on the bench in an emeritus, sage-like role. But Dunlap was the reason Lavin believed he could take his time recovering. If someone with less experience had to handle the day-to-day operations, Lavin may not have stayed away as long to focus on recruiting and rehabilitation.
"During this past season, Coach Dunlap and the rest of the staff held it down on campus, which allowed me to better focus on a full recuperation from surgery while simultaneously hauling in another stellar recruiting class,'' Lavin said Monday night.
Last week, St. John's added the No. 77-ranked player to the 2012 class in 6-foot-8 Chris Obekpa, a defender and shot-blocker the Red Storm desperately needed. They had already recommitted Jakarr Sampson after he had to go to prep school for a year and nabbed junior college scorer Orlando Sanchez.
Lavin crisscrossed the country, New England and New York to recruit while Dunlap ran the day-to-day operations.
Dunlap helped develop NBA talent at Arizona and St. John's, including Moe Harkless, a certain first-round pick in next week's NBA draft.
His connections to Charlotte's brass are strong. He worked under George Raveling at USC and Iowa. Raveling is extremely close with Charlotte owner Michael Jordan through Nike. The respect Dunlap has in Denver hasn't withered, as George Karl and Tim Grgurich are known to be fans. If Grgurich joins Dunlap in Charlotte, it would give the Bobcats two recognizable development coaches on one bench.
Bobcats general manager Rich Cho said Monday night that getting a coach with a "strong emphasis in player development was extremely high on our priority list."
The roster, with Kemba Walker and the No. 2 pick, demands this. They are the new faces and future of the franchise. Bismack Biyombo is a potential rising talent, too.
"Mike is more than prepared for this job," said Wake Forest coach Jeff Bzdelik, a former Denver Nuggets coach who got to know Dunlap when he was the head coach at Metro State.
"He's simply a basketball junkie,'' Bzdelik said. "He has traveled the world -- literally -- to study the game. Everyone needs talent. No one is a genius of the game. But he'll do a great job with the X's and O's and the preparation and the motivation and teaching and developing.
"They'll need to be patient, so he can develop a team that obviously needs an injection of talent," Bzdelik said.
Lavin said Dunlap was in the picture throughout the search process, even though his name wasn't mentioned with Jerry Sloan, Brian Shaw or Quin Snyder.
And that's exactly how Dunlap has operated in his career -- never front and center.
He had no choice at Arizona or at St. John's. He had to take over a significant role and stabilize two critical seasons. The Arizona situation set up the program for Sean Miller's arrival. He gave Lavin the freedom to recruit and recover, knowing he didn't have to rush back.
Lavin and St. John's owe Dunlap are in debt for his service.
Now, Charlotte will receive the benefits. The hire may seem odd to the mainstream public. The talent level is low by NBA standards, so he will have a hard time winning. But he won't shirk his responsibilities as a teacher of the game. And he won't give anything less than his best.
His departure is a major hit to the St. John's staff. But to NBA personnel, it was a sign that the Red Storm had a well-respected, hidden gem who needed a chance to succeed where others have failed.