UConn backcourt will have to lead the way
June, 20, 2012
06/20/12
8:33
PM ET
STORRS, Conn. -- While Connecticut isn't eligible to compete in the Big East tournament, NCAA or NIT, Jim Calhoun is confident the Huskies have a shot to be major factors in the Big East regular-season race.
Whether that happens, there's no doubt what this team will look like on the court.
The departure of four big men, one to the NBA draft and three others to transfers, means UConn will have a guard-oriented look this season.
The Huskies return a stellar backcourt with two players who both handle the ball well and are threats to score in Ryan Boatright (10.4 ppg, 4.0 apg) and Shabazz Napier (13 ppg, 5.8 apg).
[+] Enlarge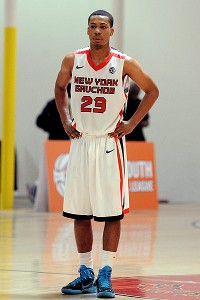 Chris Williams/Icon SMIFreshman Omar Calhoun will be expected to contribute right away.
The addition of heralded newcomer Omar Calhoun, a freshman who will replace Jeremy Lamb in the starting lineup, gives the Huskies three quality guards who could challenge any backcourt rotation in the Big East. The Huskies also added Holy Cross transfer R.J. Evans, who will be eligible immediately because he is in graduate school. Calhoun said Evans can shoot well and will be an instant hit.
So don't be surprised if you see Boatright, Napier, Calhoun and Evans on the court at the same time.
"We can play four out and one in," the coach said. "R.J. Evans is a tough, physical player who was a rookie of the year in the Patriot League. He's a very good basketball player. Omar Calhoun is one of the top 30 players in the country and he's a big, strong, physical guard. He has to improve his shooting."
It's a solid foursome, but the Huskies have a huge void in the middle after the departures of Alex Oriakhi (to Missouri), Roscoe Smith (UNLV), Michael Bradley (Western Kentucky) and of course Andre Drummond (NBA draft).
So if you see Connecticut predicted to finish 10th or lower in the Big East, you shouldn't be surprised. It's a fair projection. But it's also exactly the type of prognostication Calhoun relishes.
Of course, winning a national title -- he's got three of those -- can't be understated. But Calhoun isn't sweating the players who bolted and said the ones who stayed "are UConn kids and want to be at UConn."
"Roscoe was a terrific player for us," Calhoun said. "Alex had a terrific career and was as valuable as any other player, including Kemba [Walker], when we won the title [in 2011]. We had Andre Drummond for a year and he had an incredibly unique opportunity. We'll miss those kids and miss Andre Drummond because he could have had an incredible year. We can't match the opportunity he's facing as a lottery selection. Jeremy Lamb had a good year, and both kids will have great pro careers."
That means the onus will be on DeAndre Daniels (3.0 ppg, 2.1 rpg), Tyler Olander (4.2 ppg, 3.9 rpg) and Enosch Wolf (0.3 ppg, 0.8 rpg), with Niels Giffey (2.6 ppg, 1.5 rpg) working as a swing player.
But the key to the Huskies will be whether the two newcomers deliver on expectations. Calhoun said that 6-foot-8 German Leon Tolksdorf, whom he jokingly calls Leo Tolstoy, is the most accomplished of the three German players on the team (Wolf and Giffey are the other two). Calhoun said 6-10 Phillip Nolan, a freshman from Milwaukee the Huskies added in the late period, also will be a significant contributor.
"Tolstoy, I mean Tolksdorf, can really shoot the ball at 6-8, 220," Calhoun said. "Phil Nolan is a nice young prospect. With that being said, they're young. And there's no doubt in my mind that DeAndre Daniels, who didn't get the opportunity last year, will be fine."
Calhoun said Olander is an extremely important factor for the team and will need to use his 6-9, 240-pound frame to be physical around the basket. He also mentioned the 7-footer Wolf as a key and said he could see Olander at the 4 with Wolf, Tolksdorf or Nolan at the 5. He said Tolksdorf can play the 4 as well.
"We don't have the same caliber of player this season, but it doesn't make that much difference," Calhoun said. "Last year, we had two lottery selections on the court and it didn't help us much. We didn't have the type of chemistry we needed as a team. The year before we had the most chemistry we've had in an awful long time. We have to be a team that is a lot more mistake-free because we won't have a big margin for error."