FSU's James hopes to hear his name called
June, 25, 2012
06/25/12
9:06
PM ET
Bernard James
already bought seven tickets for his family to the NBA draft Thursday in Newark, N.J. He said his ticket was paid for, but he's not on any official NBA draft list and won't be invited to sit in the green room.
[+] Enlarge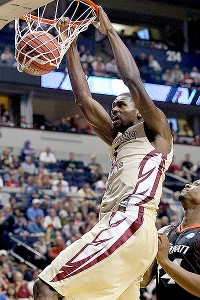 Kevin C. Cox/Getty ImagesHis time in the Air Force delayed his college career, but Bernard James hopes his age (27) doesn't prevent an NBA team from taking a chance on him.
Yet when James' name is announced, and it should be somewhere in the second round, he will proudly walk up on stage and shake deputy commissioner Adam Silver's hand.
There won't be a salute in return, but someone from the military should be on hand to do the honors.
"Being at the draft is a symbol of how far I've come," said James, 27, who played at Florida State for two seasons and helped the Seminoles win their first ACC tournament title in school history and earn consecutive NCAA tournament berths. "It shows the journey I've taken and how far I've come in basketball in the past 10 years."
If James is drafted, the symbolism of his selection could do wonders for military recruitment as an avenue that doesn't prohibit pursuing a professional basketball career. It could show prospective college players and NBA hopefuls that it's never too late to pursue a dream.
"He represents an awful lot," said Florida State coach Leonard Hamilton. "So many kids may drop out of school that don't handle things properly. This is a tremendous lesson that can be taught. He took care of his responsibilities, grew up in the service, and his parents exercised great patience with him, instead of panicking, by encouraging him to go into the service to try to find his way."
James joined the Air Force in 2003 and rose to the rank of staff sergeant. He completed three tours in the Middle East -- one in Iraq, one in Kuwait and one in Qatar -- and performed three different jobs in each. He worked base security in Qatar, was a customs official in Kuwait and essentially worked as a prison guard at a detainment facility in Iraq, he said.
After James left the Air Force, he went to Tallahassee Community College, where he first made contact with Florida State. After earning his associate's degree, he signed with the Seminoles in 2010.
He was a shot-blocker (164) and a high-percentage field-goal shooter (62.7 percent) during his two seasons at Florida State. He was also a lock for Hamilton in the locker room, adding maturity and leadership without being patronizing to his younger teammates. James averaged 8.6 points a game as a junior and 10.8 as a senior and saw his rebounding numbers climb from 5.9 to 8.1 during that span.
"He made a tremendous effort to be one of the boys, even though they weren't his age," said Hamilton. "He might have been older, but he was young in basketball. He stayed extremely humble and allowed himself to be taught. He would step up when he needed to make comments."
James wasn't sure he was NBA caliber after his first season at Florida State. He said he considered finishing his career with the Seminoles and then getting back into the Air Force as a commissioned officer.
"But then things kind of shifted, and I started to see an opportunity with basketball, so I wanted to chase it," said James.
Yet, amazingly, James said that in every interview he has had with NBA teams, his age comes up as a possible red flag. He said some teams weren't even aware that he served in the military.
"They kept saying that they weren't sure how they feel about it," said James of his age. "But then I make a few good points. I haven't been playing basketball that long [four years] and don't have the wear and tear on my body that other guys in the draft have had. I'm healthy. I don't have any injuries. I didn't miss any games in college. That should speak for the condition my body is in right now. I feel I could play well into my 30s since I started later."
James said his professionalism and maturity he gained from being in the military should also be a plus.
He has worked out for New York, Boston, Cleveland, Detroit, Houston, Charlotte, Washington, Golden State, Denver, Miami and Orlando, he said.
"Most of the guys in the room during the interviews don't even know [about being in the military]," said James. "But I bring it up to show the military service and values that were instilled in me that all transfer over."
Hamilton said James is not even close to his ceiling as a player.
"Anybody who uses his age as an issue needs to have themselves checked," said Hamilton, who coached the Washington Wizards before arriving at Florida State. "He has had a limited pounding on his body. I would love to see an athletic contest with someone 21 and see who wins. Line them all up and see who has the best body, is the strongest and quickest. He never missed a practice, never had an injury that caused him to miss a practice or a game in two years."
At 6-foot-10, James can be a defensive specialist, a rebounder and shot-blocker. Hamilton drew an analogy to Ben Wallace but said James is more skilled offensively.
"I can defend, rebound and block shots at the NBA level," said James. "My offense is improving, and I'm learning how to create my own shot. I was also a big help to my team with leadership in the locker room. A lot of times it wasn't what I said but in the way I carried myself. Other players saw that and fed off it."
James was honored with the Most Courageous Award by the United States Basketball Writers Association at the Final Four in New Orleans for his courage in uniform and the way he handled himself as a college player.
He may be 27, but he said he isn't even close to his prime.
"I can show that if you believe in something, you can work hard, chase it, and later in life you won't regret it," said James. "All of my military service, the values that have been instilled in me and my regimented lifestyle all transfer over to the NBA."