News and notes from the NBA draft
June, 27, 2012
06/27/12
11:02
PM ET
NEWARK, N.J. -- A few nuggets from my interviews with a number of draft prospects Wednesday:
• Presumed No. 1 pick Anthony Davis said the suggestion to trademark his unibrow was made my his agent and his parents. "I know I'm going to keep it, so I didn't want anyone else to have it,'' Davis said. "This is me. Only I can rock it this way.''
• Former Kansas forward Thomas Robinson said Wednesday that he should go No. 2 behind Davis. "I'm the best available player,'' he said. "I bring energy, can rebound and things you can't teach.''
• Former Syracuse guard Dion Waiters was in Chicago for the pre-draft camp but never even appeared at the UIC practice gym -- instead taking part in interviews with Boston, San Antonio and Phoenix.
[+] Enlarge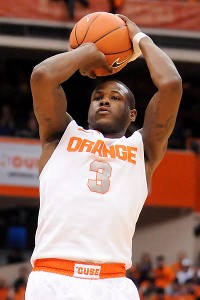 Mark Konezny/US PresswireDion Waiters reportedly has been given a guarantee, but he claims he has no idea who will pick him.
Waiters hasn't worked out for any team and said he doesn't know where he's going to go Thursday night, even though a proposed promise is being reported. He said his agent, Rob Pelinka, might know but hasn't told him.
"I have no idea,'' Waiters said. "I haven't talked to nobody, honestly. He doesn't tell me nothing. He said he talked to a couple of teams. He said to keep working. He did not tell me. I don't know nothing. I'm just walking into the fire. We'll see.''
Waiters could go to Portland at No. 6 or Toronto at No. 8. After Chicago, he returned to his hometown of Philadelphia, where he has remained to work out.
• Austin Rivers would love to play in New Orleans with Anthony Davis and wants to be the No. 10 pick.
"That would be amazing,'' Rivers said. "I had a great workout there. I love [coach] Monty Williams and [GM] Dell Demps, everyone there. It's a great city. I'm actually really good friends with Anthony. We've already created a little chemistry. It would be really neat to play there with a team on the rise. Eric Gordon is going to be an All-Star in a couple of years. I'd be really excited if that happens.''
• Rivers worked out for Washington, Portland and New Orleans. He didn't go to Phoenix, but the Suns -- who draft 13th -- did interview him. Rivers said he's better suited to play in the NBA than in college, a point he said Duke coach Mike Krzyzewski echoed.
"I can create with the ball and, with my ballhandling, I can get past my defender and create shots for myself,'' Rivers said. "I'm a good point guard with length.''
• Rivers said he trademarked the tattoo on his left wrist that he got a few days ago that reads "M.O.A.M.'' He said that it stands for Man On A Mission and that there are already T-shirts created. He also got tattoos on two fingers with one saying "Dedicated" and the other "Determined.''
• Boston Celtics coach Doc Rivers came to Austin's first 15 games of the season, thanks in large part to the lockout. That's not a luxury Doc ever had while Austin was playing high school ball. Father and son will be together in the green room Thursday night.
• Weber State's own Damian Lillard said he had to work out for teams and in Chicago because of his relative anonymity. Lillard didn't play in the NCAA tournament or against a top-25 team last season.
He worked out for Toronto (No. 8) twice, Sacramento (No. 5), Portland (No. 6) and his hometown Golden State (No. 7).
Lillard said teams will find out that, "I belong in the NBA coming from a small school. They'll see that, from a mid-major school, you can play at this level. I think I missed a big opportunity to show I belong at this level. That's why I had to play in Chicago. I had to prove a lot in the workouts. I didn't get a chance to play against Kentucky or North Carolina in the NCAA tournament. It was definitely a missed opportunity.''
• Harrison Barnes said North Carolina coach Roy Williams will sit at his table in the green room. He wasn't sure whether Williams would then get up and move over to visit with Tyler Zeller or John Henson. Michael Kidd-Gilchrist wasn't sure where Kentucky coach John Calipari was sitting -- with him or with Davis?
• Jared Cunningham has become a coveted player at the back end of the first round to early second. The former Oregon State guard shut down his workouts but was in Atlanta for an interview Tuesday. Atlanta, Charlotte and Golden State have a lot of interest. But so does Boston and the Celtics even have interest in acquiring a third first-round pick to possibly get Cunningham.