Saint Louis the team to beat in A-10
July, 2, 2012
07/02/12
9:42
PM ET
The Atlantic 10 officially added VCU and Butler for the 2012-13 season on Sunday.
But both programs will be chasing one school in their first year in the conference: Saint Louis.
[+] Enlarge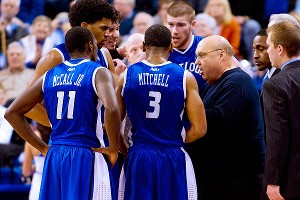 Scott Rovak/US PresswireWith several top contributors returning, Saint Louis figures to be a player in the A-10 race and in position to return to the NCAA tournament.
The Billikens are peaking at the right time, as Xavier goes through a bit of retooling with a new backcourt and Temple prepares for its final season in the A-10 before leaving for the Big East.
SLU coach Rick Majerus has the program exactly where he wants it. The Billikens earned an NCAA tournament at-large berth last season, beating Memphis before losing to Michigan State in the second game of the NCAA tournament.
Expect the Billikens to be back in the tournament in 2013 after being tabbed as the preseason A-10 favorite and a top 25 team.
Why is Majerus so bullish on this team?
"We've got really good guards," Majerus said. He is referencing a returning trio of Kwamain Mitchell, Jordair Jett and Mike McCall Jr., three of the Billikens' top six scorers from last season's team.
But there's more. Majerus said incoming freshman Keith Carter out of Proviso East High in Illinois is "the second best point guard I've had." No. 1 for Majerus is Andre Miller, a longtime NBA player who helped lead Utah to the national title game in 1998. That's some heady company for Carter.
If Majerus pairs Carter with Mitchell as starters in the backcourt and brings Jett and McCall Jr. off the bench, he'll have quite a foursome that will be tough to match.
Majerus picked up Central Michigan transfer Austin McBroom, who averaged 10.9 points a game last season as one of the top freshmen in the MAC. Majerus and McBroom could attempt to seek a waiver to allow him to play immediately -- former CMU transfer Trey Zeigler received such a waiver to play at Pitt once his father Ernie was fired -- but no one is going to push the issue since McBroom would have a hard time getting minutes as it is next season on a loaded perimeter.
Leading scorer Brian Conklin is gone up front but the return of Cody Ellis gives the Billikens an anchor inside. And Majerus is already touting 6-foot-6 Grandy Glaze and 6-11 Rob Loe as possessing the necessary big-man skills to run his system.
Majerus was quick to point out that Ellis led the team in charges, which may be Majerus' favorite stat.
"I really like this team," Majerus said. "I'm looking forward to the season."
And he should be, with a solid slate of games on tap. Majerus said he called Duke and wanted to play a one-way guarantee game to make up for getting blown out two years ago when he brought a depleted team to Durham, N.C., but he didn't get an answer. He also said he wanted to play UCLA, Pitt and Creighton, as well as his constant badgering to get Missouri on the schedule, but all to no avail.
Still, the Billikens have a shot at playing Kansas in the CBE Classic in Kansas City if the pairings work out as planned, with SLU playing Texas A&M and Washington State playing Kansas in the semifinals. The Billikens host a top-three MWC team in New Mexico in a return game, as well as a two-game swing to Washington and Stanford. Loyola Marymount, a stinging loss last season on the road, returns a game, too.
The Billikens also got the hardest repeat travel partner in the 16-game A-10 schedule formed for this season. The A-10 will play this one-year schedule because of the additions of Butler and VCU and with Temple and Charlotte still in the league for one more season. SLU will play every team once, but Butler twice.
"It was already a great league and now we've had two teams that were in the Final Four in two of the last three years," Majerus said. "We've added nationally-ranked teams. We've got a good league. Saint Joe's is going to be really good, too. Everywhere you look, there's a good team from top to bottom.
"I've said that with 16 teams this season, if you don't know what league a team is in they're probably in our league. We added two great venues in Butler and VCU. Everyone says we're the favorite in the A-10 and the team to beat."
He's right. Was there ever any doubt, once Majerus had settled in at SLU, that the Billikens would be a team to beat in the A-10? Nope. And now the onus is on the players to produce during what should be an A-10 title season.