The Olympic effect continues at Duke
July, 5, 2012
07/05/12
8:15
PM ET
As Duke coach Mike Krzyzewski begins his final Olympic campaign with Team USA, it's still hard to find any negative effect on the Duke program.
Remember when it was popular to assume the Blue Devils would take a hit with Coach K so involved in international basketball after taking the assignment in 2006?
Well, that fear never really materialized. Duke associate head coach Chris Collins is one of three assistant coaches with the team, along with fellow Blue Devils associate head coach Steve Wojciechowski and Syracuse assistant/coach-in-waiting Mike Hopkins.
Prior to beginning the first meeting Thursday before Friday's start of the Olympic team's minicamp in Las Vegas, Collins answered five key questions relating to Krzyzewski's involvement with the national team.
1. What has it done to Krzyzewski's career?
"It has invigorated him,'' Collins said. "Everyone thought it would wear him out. But the reverse occurred. It was a new challenge and to chase world championships and Olympic titles refreshed him. Initially everyone thought that having to coach two jobs would be difficult, but it has allowed him -- as he hits the last part of his career -- to be invigorated.''
2. What kind of impact has it had on Duke?
On the court, the Blue Devils won a national title in 2010 and Krzyzewski became Division I's all-time winningest coach in 2011, passing mentor Bob Knight. Sure, Duke was stunned by 15-seed Lehigh this March, but this program still contends for ACC regular-season and tournament titles -- in addition to a top-two NCAA seed -- each and every year.
On the bench, the national team experience has had a tremendous impact on the staff.
"We've been around the USA staff and learned so much more about the game, especially internationally,'' Collins said. "It's the little things, and it has helped us run our offense, and also how we handle certain situations. We've learned from coach [Jim] Boeheim, [Mike] D'Antoni and [Nate] McMillan, as well as the Argentinian and Spanish teams. We've seen things around the world and in international competition that we may not have seen.''
[+] Enlarge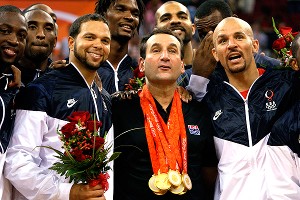 AP Photo/Dusan VraniFor Duke, pictures like this -- from the 2008 Olympics -- can't hurt on the recruiting trail.
3. How has it affected recruiting?
Duke hasn't dominated the recruiting scene, but the Devils aren't hurting for talent, either. Miles Plumlee was a first-round draft pick last month, and Austin Rivers went in the lottery. Duke just landed the top transfer guard in the country in Rodney Hood of Mississippi State, along with freshman guard Rasheed Sulaimon, ranked 12th nationally in the Class of 2012.
"You can't say we've gotten one or two guys based on this, but it doesn't hurt to have the young guys see a connection with Coach and a player like Kobe or LeBron or Chris Paul or Kevin Durant. All of the young players want to reach that level. It's all been positive.''
4. How will having the Duke staff gone this month affect the current players, who can, under NCAA rules, now work out with the coaching staff if they're in summer school?
Not at all. Krzyzewski said Monday that he was going to watch and conduct a workout before he left. But his hiring of former VCU and Oklahoma head coach Jeff Capel gives Duke an experienced hand running the program in Krzyzewski's absence. Collins and Wojciechowski won't be in Durham either, but Capel is more than capable of handling this by himself.
"Having a veteran team really helps a lot,'' Collins said. "Mason Plumlee, Seth Curry and Ryan Kelly are seniors. Tyler Thornton and Josh Hairston are juniors, so we have five upperclassmen. Jeff Capel and the rest of the staff there have great experience. They're all in good hands and it makes all of this a lot easier.''
5. What's the most significant aspect of the Duke coaches being involved in the Olympics?
Well, the easy answer would be that it helps increase Coach K's legacy with a world championship and a gold medal, with the chance for a second gold.
But there was a significant occurrence that came out of the Beijing Olympics -- one not discussed all that much. The gold medal in 2008 allowed the Collins family to finally have a gold medal in its home after one was taken away in 1972 by a controversial ending in the infamous Soviet Union-U.S. game in Munich.
One of the stars of that game was Chris' dad, Doug Collins, who buried two free throws with 3 seconds left on the clock to give the Americans a 50-49 lead. Chaos then ensued as the Soviet Union complained about a timeout that was called and ended up with multiple inbounds plays, and on the third inbounds the Soviets scored at the buzzer for the win.
Collins was back courtside for the Americans' gold-winning title in Beijing, but as a broadcaster for NBC Sports.
The IOC only gives Olympians gold medals, but the younger Collins said USA executive director Jerry Colangelo made gold-medal replicas for everyone on the staff.
"To me, it's the greatest gift of being involved,'' Collins said. "I gave the gold medal from 2008 to my dad. It's one of the proudest things I've done in my life because of what happened in '72.''
Collins said he was moved by the gesture of the team putting their gold medals around his father's neck in Beijing as a gesture. But he wanted to do it for keeps.
"They went through so much hurt, going through with such a commitment and then having the game swiped away from you,'' Collins said. "I've always said that if it weren't for all the funny stuff at the end of the game, my dad might be one of the greatest Olympic heroes for making those two free throws. You'd be hard-pressed to find someone who made two pressure-packed free throws in that moment.
"He was robbed of that moment, and for us as a family not to have that medal in our house for this many years, it meant a lot to help him get it. I wasn't an elite player where I was going to be considered. The only chance was to be a part of the staff and I have for two Olympics and two world championships. It's been incredible and I owe it all to [Coach K] to be associated with him, making the decision to play for him and to see how it all turned out. It's been once in a lifetime.''