Coaches share what they like and don't like
July, 10, 2012
07/10/12
10:07
AM ET
College coaches are set to embark on yet another revision to the summer evaluation period.
The new recruiting plan calls for coaches to be out from 5 p.m. Wednesday to 5 p.m. Sunday this week. The same 5 p.m. start and end times occur for July 18-22 and July 25-29 as well.
This schedule contrasts with the previous two 10-day periods coaches had during July.
The events have been tweaked, but the destinations, for the most part, have remained the same -- save LeBron James and Nike moving his camp from Akron, Ohio, to Las Vegas to prepare for the Olympics this week.
But there are a number of other changes that have occurred on the recruiting calendar. Here is a sample from some coaches on what they like and don't like about the tweaks:
1. Getting to work out players for two hours a week has been a huge plus.
This has been the most popular idea. If the players are in summer school, coaches have access to them during the week for a limited amount of time.
[+] Enlarge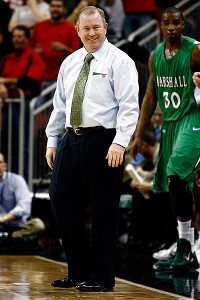 Icon SMICount Tom Herrion among the many fans of the NCAA's new rule on summer school workouts.
"The ability to work out your players is a tremendous tool for evaluation and improvement," UIC coach Howard Moore said.
"Access to our own players is a tremendous rule change," added Marshall's Tom Herrion. "It's the best rule passed in modern memory."
Wisconsin coach Bo Ryan said the Wednesday-Sunday recruiting calendar is perfect for the Badgers' coaching staff since it can schedule workouts on Tuesdays and not disrupt the spring-through-summer routine before heading into the fall and the official start of practice.
"Knowing which days we'll be out from Wednesday to Sunday helps the college coaches," Ryan said. "We can set up our summer workout schedule without breaking our routine since we know coaches will be on campus."
Cincinnati's Mick Cronin called it "the best rule change in 15 years. It also helps in recruiting because you have a better feel for what your team lacks and what you need to recruit."
2. The weekend schedule sounds great in principle but could cause some travel issues.
If a coach has a private plane, there are no issues. Getting into a city for a 5 p.m. start won't be a problem. But for a coach who has to fly commercially -- which the majority do -- relying on an unreliable airline industry can be costly. At least that's the fear heading into the evaluation period.
"This will increase private jets for coaches, especially head coaches, because you can't take a chance commercially with delays and miss a whole day of recruiting," Ryan said.
Long Beach State coach Dan Monson cautioned about the weekend plan with no long break in the middle.
"The new calendar has very little break in it," Monson said. "You probably will have to travel on the dead days."
Towson coach Pat Skerry shared the same concern.
"The three periods in July will make travel difficult for any school that does not have usage of a private plane, which is almost everyone," Skerry said. "It will be tough to miss part of a day."
Herrion said the new schedule will allow coaches to get back to campus -- for at least the first few days of the week -- and work out with players.
"And coaches can't forget that we got two valuable weekends back in April," he said.
3. There are mixed concerns on shorter periods for the high school players.
Cronin points out that the shorter periods will lead to better play, which in turn will help coaches evaluate more effectively. But there were concerns about whether the time periods between events is too tight and might lead to the players staying on the road since there wouldn't be enough days to get from a Sunday night conclusion of an event to a Wednesday start time depending on the next locale.
Ryan said it should help with costs since the windows are tight over a four-day period and coaches will probably stay at one site more than they have in the past.
"But I think there will be some AAU teams that won't see home from July 11 until the end of the month since they have to get to the next city," he said.
Herrion doesn't expect coaches to attend all events due to the schedule.
"I don't think you'll have coaches bouncing from event to event like we've seen as much," Herrion said. "Travel between events will be more challenging. After the first weekend, your staff will have to know which guys you liked so that you go to the next stop. Organization will be imperative."
4. Allowing unlimited text messaging has been a plus -- so far.
Talking on the phone for teenagers -- and adults -- had been the norm. But communicating via text message, Facebook or Twitter is the new trend.
That's why the archaic NCAA finally adjusted to the new medium of communication.
"Unlimited calls and texts allows coaches and recruits to see who really likes who on both ends," Cronin said.
"Kids are more responsive to texting as opposed to talking," Moore said. "And unlimited phone calls to prospects means no more phone logs."
NC State coach Mark Gottfried said the new communication rules reward hard work.
But Skerry said caution needs to be shown so the recruit won't be burdened.
"Unlimited phone calls and texts to rising seniors is probably a positive, but it's too early to tell," he said. "But unlimited calls and texts to 2014 guys is a negative, in my mind. Too many kids will get over-recruited too early."
5. The NCAA missed out on a few other tweaks, apparently.
Gottfried said coaches should have been able to attend LeBron's camp. That's where some of the top players in the country were participating.
He added that unofficial visits should be allowed in July until the first day of recruiting on July 10 and on the final two days of the month after recruiting is over.
Gottfried would also like to see all four coaches on the staff out on the road for the days allowed, which would save money. Only three coaches can be out at one time, so teams wouldn't have one flying back just to send the other coach out.
Coaching staffs handle some aspect of the coaching even if they're not technically allowed to do so.
Do you think in his director of basketball operations position (under Kansas' Bill Self) that Barry Hinson, now the Southern Illinois coach, did not coach? Does anyone believe Karl Hobbs, who held the same position as Hinson at UConn, doesn't do any coaching for the Huskies? The answer is no for both.
Having all coaches treated as equals in recruiting makes the most sense.
Editor's Note: For recruiting guru Dave Telep's take on some of these issues, click here.