While other coaches are preparing to evaluate high school talent at 5 p.m. on Wednesday, Lehigh coach Brett Reed is in Los Angeles for the ESPYS.
He got to L.A. on Tuesday and went out with local alumni who wanted to talk basketball, specifically Mountain Hawks basketball.
This probably wouldn't have occurred had Lehigh not beaten Duke in the NCAA tournament's second round last March in one of the two most significant upsets of the tournament (the other being Norfolk State over Missouri).
Lehigh, a small, private school in Pennsylvania, is drawing some buzz for the upcoming season.
Here are five ways the win over the Blue Devils affected the program:
[+] Enlarge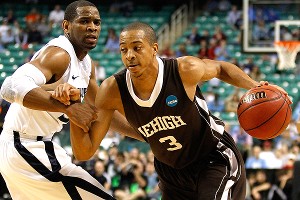 Streeter Lecka/Getty ImagesC.J. McCollum returns to Lehigh after averaging 21.9 ppg in 2011-12.
1. C.J. McCollum is a coveted player. McCollum, who scored 30 points and dished out six assists versus Duke, is one of the top returning guards in the nation. He quietly declared for the NBA draft, but was never seriously going to stay in the draft. Reed said McCollum simply wanted to find out where he stood from the NBA's Advisory Committee.
"We got a lot of feedback,'' said Reed. "He would have been a valued draft pick in one form or another. He didn't do any workouts. He didn't get specific feedback from an organization but from the NBA.''
McCollum, a 6-foot-3 rising senior, then spent time at the Chris Paul, Kevin Durant and LeBron James camps. And in each of those stops, he faced great competition. "His confidence level is naturally high, but it continued to be positive,'' Reed said. "C.J. can play the point at the next level.''
2. The schedule nightmare Schools like Lehigh, from lesser-known conferences, struggle to get high-profile nonconference games after a successful season. And if most of their players return and they have a potential All-American (McCollum), the schedule is even tougher to fill.
"A lot of people are shying away from us, even when they need a game in July,'' said Reed. "They don't want to address the need in playing us.''
Reed said he still needs four games, but he has a few potential power-rating matchups. Lehigh will be in the Pitt pod for the NIT Season Tip-Off. The NIT is the one November/December neutral site-bound tournament in which the semifinalists aren't set. So, Lehigh could get to New York if it beats Pitt (the other teams are Fordham and Robert Morris). The other three "host pods" are at Kansas State, Virginia and Michigan.
Lehigh will open the season at Baylor in an attempt to give New Orleans/Houston transplant Mackey McKnight a "home" game. And just prior to the Patriot League season, the Mountain Hawks will play at VCU.
Games at Pitt, Baylor and VCU that should help bump up the RPI. Winning at least one would help.
3. Improvement of McKnight McKnight has spent the summer working on his shooting mechanics. He has increased his percentage in each of his two previous seasons, from 34 to 44 percent overall and 32 to 36 percent on 3-pointers. The 6-foot sophomore guard, who plays next to McCollum in a small backcourt, has already seen improvement this summer. Lehigh is also banking on Jesse Chuku, a 6-foot-7 forward from London, to make an impact. He tried out with the Great Britain national team which earned a host bid for the Olympics.
4. Interest in the program Reed doesn't go to L.A. without the victory over Duke. And the alumni certainly wouldn't be requesting to see him without that win. The overall buzz doesn't exist on campus if it weren't for the team's run in March.
"Promotion of basketball has grown,'' Reed said. "We have significantly improved our visibility. There is an alumni pride that is evident. We are using different metrics to look at it in terms of the alumni connections. This has been a good year for Lehigh athletics.''
5. Motivation for not winning the league The Duke win and subsequent loss to Xavier shouldn't cloud the fact that Lehigh didn't win the Patriot League's regular-season title. It had to beat league champ Bucknell on the road to earn the NCAA automatic berth.
"We didn't win the league, and we have respect for our other opponents in the league, and that will help drive us and stop us from being entitled,'' Reed said. "We want to win the regular season. Hopefully once we step back from this notoriety, it will fuel us to stay grounded and stay ultra-competitive in our league. We will be in for a dogfight to win and that should motivate us.''