Georgia Tech tries to keep pace in ACC
July, 16, 2012
07/16/12
8:02
PM ET
Any ACC team that is stuck at the bottom of the league better be on an upward trend
when Syracuse and Pitt arrive
, or they could be banished to the cellar for a number of years.
That's why this is a critical transition year for Georgia Tech.
The once-proud Yellow Jackets have been mired in mediocrity for a few seasons over two coaches, from former coach Paul Hewitt to current one Brian Gregory.
[+] Enlarge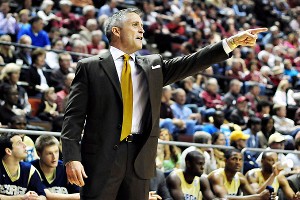 Melina Vastola/US PresswireGeorgia Tech coach Brian Gregory is hoping to improve upon an 11-20 debut season as Yellow Jackets' head coach.
Gregory was dealt a few hurdles in year one, having to play games in suburban Atlanta and downtown to limited audiences.
But now the Yellow Jackets can finally move into permanent digs, as the newly-remodeled McCamish Pavilion will be open for business when they play Tulane on Nov. 9.
How much of a difference will a new home mean to Georgia Tech?
"There is obviously going to be excitement surrounding the games," said Gregory. "It was hard to create a good atmosphere. It was difficult. We will have enough of the tradition with the Dome and the support beams, so people will recognize the old [Alexander] Memorial Coliseum.
Here are three questions for Georgia Tech heading into the 2012-13 season:
1. How much of an impact will freshman Corey Heyward's ACL injury have on the team?
"It will hurt us," said Gregory. "We return Mfon [Udofia] and Pierre Jordan, but the opportunity was there to play another guard and get him experience. He was going to be important to us this year. He has great toughness and really defends. Anytime there is an injury like that you feel crappy."
Gregory said Heyward, who will likely miss the season, was the only freshman on campus during the first summer session. So there was an early connection.
Gregory said the other three freshmen -- 6-8 Robert Carter, 6-6 Marcus Hunt and 6-3 Chris Bolden -- will have a huge impact. Considering the Yellow Jackets finished 4-12 in the league, 11-20 overall, there's no reason they shouldn't.
"They're all going to bring us something that we struggled with last year," said Gregory. "Bolden brings an exceptional perimeter shooter. Hunt brings us good toughness on the perimeter, and he can score the basketball. He's a very good perimeter rebounder. Carter can give us the post position inside and has a high skill level. They are all going to play."
2. Which returnees need to have breakout seasons?
Gregory dismissed leading scorer Glen Rice Jr. last season with six games remaining. Gregory said so far no team has picked up Rice as a transfer for his final season.
"For us to take another step, our guard play has to improve," said Gregory. "We were at the bottom in the ACC in assist-to-turnover ratio, and we need to shoot a better percentage and guard. We need to make better decisions. Mfon, Brandon Reed and [Daniel] Miller have to elevate their game to make us a better team. Mfon averaged a 3-to-1 assist-to-turnover ratio in the last seven games, so he has made great improvement."
3. How far away is Gregory from having Georgia Tech playing as his teams did at Dayton?
Don't expect it next season. The Flyers had quick guards and could push the basketball during Gregory's final seasons.
That's not happening yet at Georgia Tech.
"We're a full season away from doing it for 40 minutes," said Gregory. "We can maybe do it for stretches and play at a faster pace and defend with more pressure. I still think we won't be able to extend our defense as much. We have to adjust. Our big guys are good interior defenders. I still think our defensive field goal percentage was too high.
"We can't play the way we did at Dayton, but I still want us to push the ball offensively in the open court," said Gregory. "We can still make plays out of our defense and rebound and get out in the open court."
The additions of Pitt and Syracuse put even more pressure on a school like Georgia Tech that has to separate itself from Boston College, Wake Forest and, now probably, Virginia Tech at the bottom of the league. There is room for growth but with NC State and Maryland on the rise, Georgia Tech can't stand idle.
"We can't just take one step," said Gregory. "We've got to take two or three steps. We have to get to the point where in the ACC, like the Big East, there are seven or eight or nine teams that can get in the tournament. The Big East did it. We can too."