Still plenty of talent on hand at New Mexico
July, 18, 2012
07/18/12
11:41
AM ET
It's only July, but Steve Alford isn't holding back one bit about the Mountain West Conference race.
Pick UNLV or perhaps San Diego State. Go ahead. Most will.
But before you do, Alford would like to remind you of what the Lobos have done in the past four seasons.
"If you're going to list the other favorites," he said, "make sure that you mention three of the last four [titles] have gone to New Mexico in 2009, 2010 and 2012."
[+] Enlarge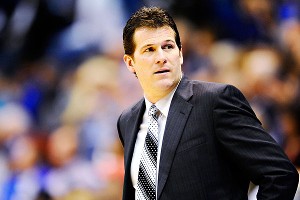 Ron Chenoy/US PresswireEven without Drew Gordon, Steve Alford doesn't sound too concerned about a drop-off at UNM.
Alford has never been one to lack confidence -- as a player or as a coach.
And there's nothing wrong with that. There needs to be more of that in the business. He's confident, yet not too cocky.
He knows the Lobos have their deficiencies, notably inside after the departure of Drew Gordon and the knee injury that will sideline 7-foot incoming freshman center Obij Aget for the season.
That means the onus will be on 6-11 Alex Kirk and 6-9 Cameron Bairstow to suddenly become contributors as the lone post players. Kirk missed last season with a herniated disc in his back, while Bairstow played just 15.4 minutes a game last season with seniors Gordon and A.J. Hardeman in front of him.
"We've been one or two in the league for five straight years and to lose a guy like Gordon, that's going to be an issue,'' Alford said.
But the guards? Well, the guards are the most talented in the Mountain West and will allow Alford to go with a quicker, four-out and one-in lineup next season.
Kendall Williams, Tony Snell, Demetrius Walker and Australian Hugh Greenwood, who was a late cut by his country's Olympic team, are the reasons for Alford's optimism.
"Our guard play is as good as anybody,'' said Alford, who's been able to watch the fourssome work out this summer. "I think it's second to none in our league. That's always going to keep us alive and well. If we stay healthy in the front line, then we'll sustain what we're doing.''
Last season, UNM shared the regular-season title with San Diego State at 10-4, beat Long Beach State in the NCAA tournament and then lost to Louisville by three to finish 28-7.
The Lobos won't be picked to win the league this time around. UNLV will likely be the favorite, with San Diego State and Colorado State pushing the Rebels. But New Mexico should be in the mix with league newcomer Nevada as a real threat for a top-four finish and an NCAA tourney bid.
"Colorado State returns all five starters plus [Colton] Iverson from Minnesota,'' Alford said. "Vegas will be very good. San Diego State, too. Nevada won 28 games last season. Once you start looking at all of them, it's hard to pick a favorite.''
Alford will get a chance to coach his son Kory, who redshirted last season (his second son, Bryce, has committed for the fall of 2013). Alford is familiar with this arrangement, having played for his father Sam in high school.
"It will be fun," he said. "It was fun last year when he was a part of practice. It's got its challenges. I played for my dad and I remember those days and how rewarding it was for me.''
And Alford will give Kory and the rest of the Lobos another shot at a challenging schedule, something that previous UNM coaches weren't able to do. In the past, New Mexico was so restricted by needing to play upwards of 20-plus home games that it limited the scheduling for previous head coaches. But Alford has been given more flexibility and is taking advantage.
The Lobos and the Mountain West sold the rights to a home game to ESPN so it could televise the Davidson game as part of the network's Tip-Off Marathon. New Mexico will also take a two-game road trip against likely NCAA-bound teams Saint Louis and Cincinnati after Christmas.
USC plays at the Pit and the Lobos are continuing their two-games-a-season series with rival New Mexico State. New Mexico will also travel to the U.S. Virgin Islands in November for a Paradise Jam field that includes Connecticut, George Mason, Iona, Mercer, Quinnipiac, UIC and Wake Forest.
And the Lobos are bringing in South Dakota State for a guarantee game after SDSU played at the Pit in the NCAA tournament in March once it won the Summit League conference tournament. The Jackrabbits will be picked to win the Summit again with the return of 21-point scorer Nate Wolters.
"The landscape has changed in the past 20 years here,'' Alford said. "You have to be creative. The magic number used to be 20 wins [to get a bid], but now we're all RPI-driven. You have to be creative and get in exempt tournaments and neutral-site games. On paper, and an RPI standpoint, we've had as hard a schedule as anybody at New Mexico.''