There's optimism at Northwestern, but …
July, 20, 2012
07/20/12
6:40
PM ET
Everything that could go right has gone right for Bill Carmody since another heartbreaking ending to the elusive NCAA tournament quest.
Carmody got a vote of confidence from athletic director Jim Phillips and has multiple seasons left on his contract. The announcement on March 22 meant he would return for his 13th season. Carmody could have easily been sacked after the Wildcats finished 8-10 in the Big Ten, 19-14 overall.
Then, as if a gift had been placed at their Evanston doorstep, 6-8 Louisville senior Jared Swopshire (3.4 ppg, 3 rpg in 13.1 mpg) decided to transfer and play for the Wildcats immediately since he could seek a waiver as a graduating senior with a year left of eligibility.
The addition of Swopshire gave Carmody a much-needed replacement for John Shurna on the roster. He's not a better scorer, but a much more reliable defender who has the length needed to hang in the Big Ten.
The buzz over the arrival of 7-foot freshman center Alex Olah is real, to add even more size to the physically challenged frontcourt (see: trying to guard Jared Sullinger or Draymond Green last season). And the addition of 6-9 TCU transfer Nikola Cerina means the Wildcats actually have depth inside to go along with five returning key players -- Drew Crawford, Dave Sobolewski, Alex Marcotullio, JerShon Cobb and Tre Demps.
Oh, and the recruiting has been sensational by Northwestern standards, with the 2013 commitment from Jaren Sina, a 6-2 point guard from Lake Hopatcong, N.J., with the credit going to assistant Fred Hill, a Jersey native and former Rutgers head coach. Last Sunday, the Wildcats picked up a commitment from in-state forward Nate Taphorn, who is another lanky, offensive-minded fit for Carmody facing the basket.
"I feel so much better,'' Carmody said. "Everything seems to be on the upswing.''
[+] Enlarge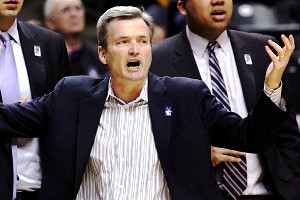 AP Photo/Kiichiro SatoNorthwestern has slowly made progress under Bill Carmody, but not enough to make the school's first NCAA appearance.
Northwestern has never been to the NCAA tournament. This has become common knowledge and a lingering storyline, partly because Carmody has put the Wildcats in position as a bubble team the past two seasons. According to Northwestern, only five schools in the nation -- Kansas, Duke, Ohio State, Georgetown and Northwestern -- haven't lost to a team with an RPI lower than 100 over the last two seasons.
And yet, Carmody hasn't had a winning season in the Big Ten in his 12 years at the school. In two of the past four, he has won eight league games, and 20 overall. But he has also lost at least 14 games overall in each of the past four years.
Now here we are, on the brink of another season in Evanston. Will the drought finally end for the long-suffering Wildcat fans?
"It's going to happen,'' Carmody said. "The level of talent is up and better than it's been. We're shooting to make it this year, but I think we're solid for the next three or four years.''
Carmody has built a program in which the Wildcats are a pain to play, according to almost any coach you talk to in the Big Ten.
"I think we're more like everyone else now,'' Carmody said. "Guys want to come here. Swopshire plays in the Final Four, and he and his father call us up because they like the way we're playing. They like the style, the way we have freedom out there.
"We're just involved with better kids now. I feel really jacked up a bit. We're looking forward and closing out this [2013] class. We're a viable alternative.''
Carmody insists he is not focused on being the one who finally gets the Wildcats to the NCAAs. He has poured everything into making this work.
"I want to get this done, but I don't think in those terms,'' Carmody said. "I'm happy that the program is so solid right now. It could happen this year or next year. It could happen this year and not next year. We're a part of the discussion now at the beginning of the season.''
The problem for the Wildcats has been their inability to close.
Five of NU's 10 league losses last season came by a combined total of 12 points. Throw in the Big Ten tourney and the Cats had three overtime losses. The hardest one to take was losing to Ohio State at home by two on a layup by Sullinger, who was left open on a terrific lead pass.
"I think about a lot of it,'' Carmody said. "We certainly could have won. We needed a guy to beat someone off the dribble. We hadn't had that, and that's really important, and we're working on that. If you don't have that, then you have to come through with perfect plays and everything has to go right.
"Other teams have a guy that can set a high-ball screen and go one-four low and go. I think we're going to remedy those things.''
Carmody said his focus in the offseason and during summer workouts has been on the offensive end.
"So we don't have those situations again,'' he said. "Swopshire is going to play. He does everything pretty well. He can get six or seven rebounds and nine or 13 points. He'll guard. He understands how to do things. He's smaller than Shurna but plays bigger on the glass. He'll help us.''
The Wildcats have tended to put too much pressure on winning in the Big Ten. The good news is that they get more opportunities than most. But Northwestern can't afford to come into conference play without a stable of wins to impress the selection committee.
That will put even more pressure on the Cats to win in South Padre Island (where MVC contender Illinois State is in the field) and then clean up with two high-profile home games against Butler and Stanford and attempt to steal a road win at Baylor.
Regardless, once again, Northwestern is in the preseason discussion as a possible tournament team. The Wildcats won't be picked ahead of Indiana, Ohio State, Michigan, Michigan State, Wisconsin and/or Minnesota. But the Wildcats have the talent to be as high as fifth or sixth, and even finishing as low as seventh wouldn't preclude them from a bid.
That's what Carmody has done -- elevate Northwestern at least into the discussion.
But can the Cats finally take that next step? Finally break through?
Stay tuned.