Donnie Tyndall has another tough task
July, 25, 2012
07/25/12
11:57
AM ET
Southern Miss and Conference USA are a step up from Morehead State and the Ohio Valley Conference, but there are still inherent struggles at a program that is off the national grid.
At the latter, Donnie Tyndall took the Eagles to the NCAA tournament twice and produced a first-round pick, Kenneth Faried, who helped upset Louisville in the Big Dance. At the former, Tyndall looks to continue the momentum built by Larry Eustachy, who took USM to the NCAA tourney for the first time in 20 years before heading off to Colorado State.
[+] Enlarge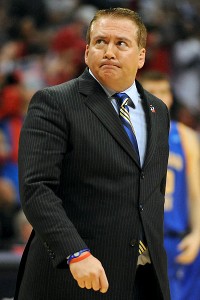 Andrew Carpenean/US PresswireAfter turning around Morehead State, Donnie Tyndall sets his aim at Southern Miss.
Neither stop is along the main road. Like he had to do at Morehead, Tyndall has to be creative to make Southern Miss relevant. He had a number of issues to tackle when he took over in Hattiesburg and discussed them in detail with ESPN.com this week.
Transfers: There are four on the roster for 2013-14, but two really stand out. Johnny Zuppardo (Arkansas State) and Stefon Johnson (Gardner-Webb) are lesser known, but Aaron Brown (Temple) and Chip Armelin (Minnesota) played at big-time programs and should contribute once they're eligible.
Tyndall said it was critical to add players like Armelin and Brown, who played significant minutes at big six schools. Incoming freshman Davon Hayes will be a contributor, but there simply wasn't enough firepower in the Class of 2012 to make much impact.
"We felt like it was really hard at our level to find four or five players who could play right away and eligible this late," Tyndall said.
At a school that has thrived by picking up second-chance players, transfers are sometimes a means of survival.
Retaining Neil Watson: Tyndall had to re-recruit the junior guard who led the Golden Eagles with 12.3 points and 4.4 assists a game last season.
"Guard play is so important, and he's one of the best guards in the league," Tyndall said. "They won 25 games last season. We lost a lot, but there is residue from a team that now expects to win."
Create an identity: Tyndall wants to impress upon his players that he will be pushing them in the fall. He hammered home some tough offseason workouts, especially in this new era of being able to work out with the players.
"We wanted tough conditioning practices and the tempo in which we're going to practice and play," Tyndall said.
Scheduling: Southern Miss is a program that will always struggle to get games. Hattiesburg isn't a destination for a home-and-home series. That's why Tyndall had to scramble to find quality games, even if the series starts on the road. He landed a road game at Wichita State and signed off on Southern Miss being in the Georgia pod for the Legends Classic. Georgia will move on to the semifinals in Brooklyn, N.Y., against Indiana (UCLA-Georgetown is the other matchup), while USM simply gets neutral-site games.
Patience: Eustachy eventually established a winning culture at Southern Miss. The makeup of Conference USA is changing now that Memphis, Houston, SMU and Central Florida will depart for the Big East in 2013. C-USA is adding a traditional postseason team in Old Dominion as well as two programs with the potential to be competitors for Southern Miss in Louisiana Tech and Texas-San Antonio. Also in the fray are solid programs such as Marshall, Tulsa, UTEP and UAB.
"I think when we took over Morehead State six years ago, it was one of the bottom five programs in America," Tyndall said. "We had four wins, and the program hadn't been to the NCAAs in 25 years. Then we had three 20-win seasons and two NCAA tournaments. That's a pretty good program. We had a first-round draft pick in Kenneth Faried. We didn't have much tradition or success. I was the first guy to move to a better or lateral job from Morehead State.
"It was thought to be a dead-end job, but I graduated and played there. There was a great deal of passion, and that is at Southern Miss too. It's got a great football program, baseball program, and Larry had a great team last year that won 25 games. We can sell a lot about Southern Miss and Conference USA."