Rick Ray starts rebuilding process
July, 26, 2012
07/26/12
9:01
AM ET
LAKE BUENA VISTA, Fla. -- Mississippi State was featured in two headlines on ESPN.com's college basketball page as of Thursday morning.
Neither was good for the upcoming season, especially for new head coach Rick Ray who is starting from scratch after Rick Stansbury "retired" after 14 seasons.
Stansbury had plenty of player movement during his tenure, including a high-turnover roster and a slew of players who went to the NBA, sometimes before they even arrived in Starkville under the previous NBA draft rule. But one thing Stansbury continued to do, in what's arguably one of the toughest recruiting spots in the SEC, was win.
He reached six NCAA tournaments and claimed five SEC West divisional titles. But he left a roster that imploded upon his departure.
[+] Enlarge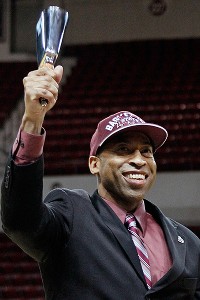 AP Photo/Rogelio V. SolisReplacing numerous key players will be just one of the challenges that awaits Rick Ray in his first season at Mississippi State.
The Bulldogs lost two seniors (Dee Bost and Brian Bryant) and two players who left a year early for the NBA draft. Arnett Moultrie, a four-year player after transferring from UTEP, was an expected departure. Moultrie was selected in the first round (27th overall) by Miami and traded to Philadelphia. He was a double-double machine for the Bulldogs at times. Renardo Sidney wasn't selected and probably would have been a headache for Ray had he stayed in school. Sidney consistently failed to get in shape, stay eligible and remain interested on the court.
The best player on the team was freshman guard Rodney Hood. Ray, a relatively unknown assistant from Clemson when he was hired, thought he had a chance to keep Hood when he got the job.
It didn't happen.
Once Hood said he was looking for another school, he became a coveted transfer who seriously considered Duke, Ohio State, Baylor and Memphis. He chose Duke.
"It was 50-50,'' Ray said.
How much time did Ray spend trying to woo Hood? "A lot,'' Ray said. "And you can't get that time back. I thought it was a really good chance. I wanted Rodney to get a chance to see what we could do on the court. But I was 0-0 and didn't have a coaching record, and the places he was considering transferring to, those places had records.''
So, Ray had to find guards with the loss of Bost, Bryant and Hood. He ultimately found five newcomers at the position in Andre Applewhite, Trivante Bloodman, Fred Thomas, Jacoby Davis and Craig Sword to go along with one junior college forward in Colin Borchert. The Bulldogs, hoping for some semblance of experience on the roster, held onto Jalen Steele, a 3-point shooter, and forward Wendell Lewis.
"We had nobody who could dribble the ball up the court,'' Ray said. "Nobody. I wanted to make sure we weren't mortgaging our future to plug holes so that now you don't have quality guys who can compete in the SEC. You walk a fine line if you're able to find guys who can come in and win games who are also good kids.''
Now back to the headlines on our college hoops page. Davis suffered a torn ACL during individual workouts on Monday and is out for the year.
Sword had a BB gun in his dorm room and didn't know that wasn't allowed, according to the school. He was subsequently arrested in what was deemed a misdemeanor. Ray issued a statement to the Jackson Clarion-Ledger and others. Some sort of disciplinary action is pending. But Ray will need Sword this season.
He has to patient and so does the fan base.
"All the media attention that comes with being an assistant coach, I never had to deal with that,'' said Ray. "Nobody cares about you or wants to talk to you. I had to deal with all that media attention.''
Ray wasn't the first choice, either. He knew that, and so did the boosters. "There were boosters and donors [who] I had to introduce myself to, especially those [who] wanted this candidate or that candidate, guys who didn't feel quite connected to the process who wanted someone else to be the head coach,'' said Ray.
How many times did he have to make those introductions?
"A lot,'' said Ray. "People in the South like to talk. But it was good.''
Ray is personable once you spend time with him. He has an infectious smile and an engaging personality. But he wasn't one of these self-promoting assistants. And while Clemson head coach Brad Brownell is loyal, he isn't a coach who draws attention to himself or shines the light on his assistants to get jobs. Ray wasn't the visible assistant at his previous spots (Purdue, Northern Illinois or Indiana State), either.
Athletic director Scott Stricklin had to find a coach who was long on character and discipline after Stansbury's final two seasons had its share of issues, notably when former player Elgin Bailey was involved in a fight in the stands with Sidney.
"I had to get guys to buy into what I was selling,'' said Ray. "I wasn't a name. The only way I could get them to buy in was to get them on the court and work with them. That was good, and we've had two weeks with them on the court that has been really good.''
Ray also had to tackle a problem he wasn't anticipating: altering the schedule.
Stansbury seemed to love putting his teams in difficult situations on the road. The team and program nearly imploded after a ridiculous road swing two seasons ago that took them to the Bahamas to Hawaii to Las Vegas in two weeks.
The Bulldogs were originally slated to play at Utah State on the way to the Maui Invitational. On the way back from Hawaii, they would visit Baylor. Oh, and the Bulldogs had to open the season in Troy's new facility.
"We still have to open up at Troy,'' said Ray. "But I pushed back the Utah State trip to the next year, and we got out of the series with Baylor. I didn't want to deprive our guys the chance to play in Maui.''
The depleted Bulldogs open up that tournament against North Carolina, which reloaded yet again.
"We'll still field a team,'' Ray said.
For Ray's sake, he hopes that he can slide back into anonymity while he rebuilds. And it would be nice to do it without any negative headlines.