Ed DeChellis on his Freeh Report interview
July, 31, 2012
07/31/12
3:20
PM ET
Ed DeChellis graduated from Penn State in 1982, spent 10 seasons there as an assistant, then returned as head coach in 2003 following a stint at East Tennessee State.
Instead of batting job insecurity at PSU, he bolted last year and took an opportunity to coach the Naval Academy -- but that doesn't mean he's escaped the tragic mess that has ripped apart his alma mater.
DeChellis said he had no idea of the sexual molestation scandal until he picked up the Harrisburg (Pa.) Patriot News in March 2011 and read the first of many groundbreaking stories from Pulitzer Prize-winning reporter Sara Ganim.
"I knew the man, not in a social setting, but our paths crossed as assistants," said DeChellis of convicted sexual predator and former Penn State defensive coordinator Jerry Sandusky. "When I read it, I couldn't believe it. That was the first I had heard of it."
[+] Enlarge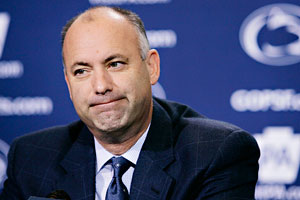 AP Photo/Carolyn KasterEd DeChellis left Penn State last year, but was interviewed at length for the Freeh Report.
Yet DeChellis experienced the thorough nature of the Freeh Report which ultimately led to the dismantling of the Joe Paterno statue in front of Beaver Stadium and which was used exclusively by the NCAA to authorize a historic set of penalties handed down by NCAA president Mark Emmert on the football program.
DeChellis was one of hundreds interviewed for the Freeh Report. He was at his office in Annapolis last January when he was questioned at length.
"They went through every facet of the program," DeChellis said. "It was quite lengthy. 'Tell me about compliance.' There weren't many questions about Jerry Sandusky for me. 'Tell me about the sports camps. How did you run yours? What was the compliance, the budget, the recruiting, the administration. Tell me about the housing.' They hit every aspect of the university. 'Tell me about dealing with public safety.' There was a checklist.
"'Were there any run-ins? Explain the process. If you had a kid in trouble, how did it happen and what did you do? Who was your liaison with the athletic department. Tell me more about the camps. Who ran them? What was the process. At night time, who stayed in the dorms? How many coaches?'"
DeChellis said he wasn't asked specific questions about former Penn State president Graham Spanier. But he was asked about all his direct reports and how the chain of command worked for him in the school's other high-profile sport.
"How many times did you meet? It was nuts and bolts from A to Z in all aspects of the university," DeChellis said. "It went on for four hours."
DeChellis said he was asked about his relationship with Paterno, but there wasn't much to say. He said he didn't see him often outside of traveling together to Big Ten meetings and occasionally when he would stop by practice.
"He was good to me and my family," DeChellis said. "But I didn't see him too often."
As DeChellis watched the sanctions levied last week, he said he immediately thought of the victims, not his school.
"For me as an alum, I think about the kids and the victims," he said."That's what I'm thinking. How it affects the football team isn't the issue. It's how did this affect these young boys. How did it affect their life? Where are they in their lives? No one is investigating that part. What have they done and how difficult has it been for them and been able to overcome these atrocities?
"That's the part I don't know. We don't know who they are. But that's where my heart is. It's embarrassing for me at times as a graduate. We talk about losing money and scholarships, but these kids lost [something] more precious than that stuff. That's embarrassing."
DeChellis said he thought several football players would leave within the week, but that hasn't happened. He thought recruits wouldn't come, but that isn't the case, either. New football coach Bill O'Brien appears to have kept most of the team together, but it remains to be seen if that's possible in two or three years.
DeChellis said his successor in men's basketball, Pat Chambers, has a difficult job even without the current state of the school.
"It's a hard job even without this stuff," he said. "Now you add the perception of the athletic department and university in general and it's more challenging. I know they lost a kid last week [in recruiting].
"We had Trey Burke committed to us before the summer period and he de-committed [and went to Michigan, where he starred last year as a freshman]," DeChellis said. "It was a huge blow to us. We were on the verge of being pretty good and it didn't happen. We would have had really good guards with Tim Frazier and Trey Burke together. We would have been able to contend. I wish Pat all the best, but it will be challenging."
Penn State finished 4-14 in the Big Ten in Chambers' first season, 12-20 overall. DeChellis coached Navy to a 3-26 record, 0-14 in the Patriot League.