Mixed feelings on scheduling arrangement
August, 1, 2012
08/01/12
9:15
PM ET
The Big East couldn't afford to lose Boise State and San Diego State in football for 2013, so it didn't hesitate to help out their men's basketball programs with marquee nonconference opponents.
When the two schools agreed to become football-only members, there was a promise made about four guaranteed nonconference games in hoops in their first four years as members.
It was never publicly announced, but two of those games will come against new all-sport members Memphis and Temple, the last two programs added to the Big East. The schools for the two other home-and-home series are to be determined with the help of the league office.
The biggest winner in this deal is Boise State, but San Diego State, Memphis and Temple may not be as pleased with the forced partnership.
The Broncos are playing their last season in the Mountain West and are expected (like the Aztecs) to join the Big West in all non-football sports, although that won't be known until that league's presidents vote at the end of the month.
To get two home-and-home series over a two-year period against Memphis and Temple is a coup for Boise, which struggles to get nonconference games regardless of league affiliation.
"I don't care who you are, it's really tough to get home games," Boise State coach Leon Rice said. "Memphis is a perennial top 25 program, and in the last eight years, Fran [Dunphy] has Temple rolling. You can't get those type of teams into Taco Bell Arena. That's terrific."
[+] Enlarge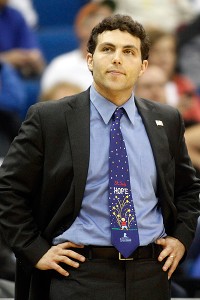 AP Staff PhotoSafe to say Memphis coach Josh Pastner isn't thrilled with two mandated nonconference games.
For some.
Memphis coach Josh Pastner isn't exactly gung-ho about the arrangement. He's wondering if the Tigers should be getting into guaranteed nonconference games against Boise State and San Diego State or anyone else without knowing how many Big East games the league will play in 2013-14.
"Will it be 20 or 18 or 16?" said Pastner of the future 18-team Big East, which will lose Syracuse and Pitt after this season but is adding Memphis, Temple, SMU, UCF and Houston for men's basketball.
"We have some commitments prior to joining the Big East with other events," added Pastner, who has Memphis in the 2013 Old Spice Classic in Orlando. "We've got a lot of balls we're juggling in our schedule starting next year. We need to have some concrete decisions before we move forward."
In addition, the Tigers' series with Tennessee ends after this season. There will be public pressure to continue the annual rivalry, but it's not a lock. Pastner said he wanted to hold off on renewing the in-state series so he has a clean slate to review the commitments from the Big East.
"Is there going to be an SEC/Big East Challenge? Then you add Boise State and San Diego State? There isn't a lot of room for error," Pastner said.
San Diego State coach Steve Fisher didn't want to publicly comment on the subject yet. He has heard about Temple and Memphis being locked in, but Fisher wants scheduling flexibility -- and anticipates being able to lure top 25-type teams to San Diego, even as a member of the Big West.
Of course, Temple and Memphis would fit that criteria quite well as both have been perennially successful programs over the years.
As for the Owls, they do have some recent experience with football-related scheduling mandates. As the school's football team competed in the Mid-American Conference, the men's basketball team was saddled with four MAC games last season, two home and two away.
But Temple could adjust to playing San Diego State and Boise State without having to worry about the MAC games. In conference play, the Owls are swapping two Big 5 teams (Saint Joseph's and La Salle) for one (Villanova), but they will still have to play St. Joe's and La Salle outside the league, along with Penn.
Still, the Owls, Tigers and Aztecs don't even come close to the scheduling problems of Boise State.
Rice said this has been the most challenging year scheduling-wise for him, even going back to his time as a Gonzaga assistant. The Broncos were in conference limbo for so long that it couldn't really schedule any Mountain West, WAC or Big West teams in nonconference games. Boise did commit to a tournament at UNLV in 2013, taking a chance that they wouldn't be conference members at the time.
The Broncos have a return game this season against Big West member UC Santa Barbara, but no Big West teams for 2013-14. They have a four-year deal with Utah and host LSU in a return game of a home-and-home series. They also play at Creighton in the MWC/MVC Challenge and at Michigan State in an exempt one-game event.
"And we have the MWC schedule this year, which will have some top-15 teams," Rice said. "We're trying to build a high-quality non-league schedule. Next year would be one of our veteran teams as we move into the Big West. I wanted to stack the scheduling going into the league, but that hasn't happened yet."
But Rice said he saw "in writing" that Memphis and Temple were locked in for 2013-14. So if they do indeed get in the Big West alongside San Diego State, they suddenly have quality games on the schedule for that season.
Boise State is also expected to get financial help from the Big East to offset any travel costs with the Big West, since all the schools are in California and Hawaii.
For a move that was made strictly for football purposes, it sure seems as if the Boise State men's basketball program will reap the benefits.