Washington's journey of a lifetime
August, 3, 2012
08/03/12
10:03
PM ET
Washington could have done what the majority of teams heading out of the country are doing: Practice at home for 10 days, then go on a foreign excursion with a few exhibition games and return home an improved team.
But UW coach Lorenzo Romar didn't want to miss a potential once-in-a-lifetime opportunity for him, his team and senior Aziz N'Diaye.
So Romar raised the price of the trip (a number that he didn't offer up) to include a trip to N'Diaye's home country of Senegal from Sept. 5-8, after the Huskies compete and sightsee in Spain, France and Monaco, Aug. 25-Sept. 4.
The team will not play games in Senegal. This is all about a cultural experience and a chance for N'Diaye to go home and share his nation with his teammates and coaches.
Romar said his impetus was the documentary "Elevate," about basketball players coming out of West Africa.
[+] Enlarge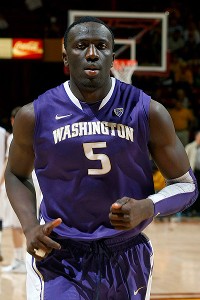 Rick Scuteri/US PresswireUW center Aziz N'Diaye is getting the chance to go home to Senegal.
"I was overwhelmed watching how these kids are trying to come to America,'' Romar said. "They are trying to get an education and get to the next level. I looked at their surroundings. I thought it would be great for all of us to see that.''
This trip isn't quite the same as the missionary work being done by Georgia State coach Ron Hunter, who is presently in South Africa distributing shoes to children, along with his team and representatives from Samaritan's Feet.
Nevertheless, this is a chance for the players to experience something they would not normally as a college basketball player.
"It means a lot and I appreciate it,'' said N'Diaye, a 7-foot center who averaged 7.8 points and 7.3 rebounds a game last season.
N'Diaye's father and brother now live in Rhode Island, but his mother and two sisters are still in Senegal, and he hasn't been home to see them in two years. That visit, along with the experience for his teammates, is what N'Diaye is anticipating the most.
"It will be an experience for them,'' N'Diaye said of his teammates and coaches. "They'll see how the lifestyle is different than here. It's a chance to give back. It will mean a lot to our community and to me. I was fortunate to come here to prep school and play basketball.''
Romar said getting N'Diaye home was the added bonus of the trip.
"He hasn't been home in a long time,'' Romar said. "His family doesn't know us. They don't know his teammates and the guys he's living with. Our guys don't understand how he grew up and where he came from. And it's the chance to bring the two together for our guys culturally.''
The players and coaches, who will stay at a hotel in Dakar, received five to six shots in advance of the trip. There will be trips to see the landscape, animals, and possibly a basketball clinic.
Romar is hoping to get a chance to take the group to Goree Island off the coast of Dakar. Goree Island was the departure spot for the West African slave trade. There is a house, built by the Dutch in 1776, that is still standing and serves as a museum. The Huskies will take a UW professor with them on the trip to put things in an educational context.
"For our guys, for everyone involved, it will be an eye-opening experience,'' Romar said. "Aziz is a special, great, great human being and he's one of the most low maintenance I've ever coached. It's good to reward him for trusting us and coming here and letting us come to his home, so we can see the world he lives in and understand him better.''
Before Senegal, there will be basketball of course. And the Huskies certainly need the practices and trip prior to Dakar to improve.
Washington won the Pac-12 by one game last season, but didn't earn an NCAA tournament berth after losing in the conference tournament, a stunning development for a "big six" conference.
The Huskies then lost two key underclassmen to the NBA in Terrence Ross and Tony Wroten.
"This is a new group, and there are a lot of players in supporting roles who will have to step up and being identified,'' Romar said. "People forget that we do return Scott Suggs, who had a knee injury, for his fifth year. C.J. Wilcox will be one of the best shooters in the country. We have a talented guard in Abdul Gaddy, and this year he'll show exactly why he was so highly thought of out of high school. He will emerge and do a great job for us.''
The Huskies will continue jet-setting during the season with two trips east to play in the Hall of Fame Classic in Connecticut against Seton Hall and then either Ohio State or Rhode Island, before a return trip to the Nutmeg State Dec. 29 to play at UConn.
Washington also hosts three potential NCAA tournament teams in Colorado State, Saint Louis and Nevada -- all before a conference schedule in what is expected to be an improved Pac-12.
The Huskies will have perhaps the most unique foreign trip this month, but they'll have plenty of company overseas.
Here is a list of programs going on foreign trips in the month of August:
America East
Boston University: Canada, Aug. 16-21
ACC
Boston College: Spain, Aug. 26-Sept. 3
NC State: Spain, Aug. 5-15
Virginia: Belgium, France, Netherlands, Aug. 8-14
Atlantic Sun
Florida Gulf Coast: Bahamas, Aug. 8-12
Jacksonville: Dominican Republic, Aug. 11-17
Atlantic 10
Charlotte: Bahamas, Aug. 13-17
George Washington: Italy, Aug. 15-26
Richmond: Italy, Aug. 10-25
VCU: Italy, Aug. 5-15
Big East
Seton Hall: Spain, Aug. 13-23
Big Sky
Northern Colorado: Australia, Aug. 6-16
Eastern Washington: Canada, Sept. 6-13

Big South
Charleston Southern: Dominican Republic, Aug. 4-9
Big Ten
Purdue: Italy, Aug. 7-17
Big 12
Kansas: France, Switzerland, Aug. 5-14
Kansas State: Brazil, Aug. 8-17
Oklahoma State: Spain, Aug. 8-18
Big West
Cal State-Northridge: Canada, Aug. 21-26
Pacific: France, Aug. 10-20
UC Davis: Italy, Aug. 26-Sept. 5
Colonial
Georgia State: South Africa, July 31-Aug. 9 (humanitarian trip) Old Dominion: Italy, Greece, Aug. 14-24
Northeastern: Canada, Aug. 17-24
Conference USA
Tulane: Bahamas, Aug. 11-15
Tulsa: Canada, Aug. 14-19
Horizon
Loyola (Ill.): Italy, Aug. 9-23
Independents
Cal State Bakersfield: Bahamas, Sept. 1-7
Ivy
Harvard: Italy, Aug. 19-29
Princeton: Spain, Aug. 29-Sept. 9
MEAC
Morgan State: Bahamas, Aug. 13-18
Norfolk State: Bahamas, Aug. 8-13
MAC
Buffalo: Canada, Aug. 10-16
Central Michigan: Bahamas, Aug. 16-21
Western Michigan: Italy, Aug. 17-27
Missouri Valley
Indiana State: Bahamas, Aug. 12-14
Missouri State: Costa Rica, Aug. 7-13
Mountain West
Colorado State: Bahamas, Aug. 5-8
UNLV: Canada, Aug. 16-22
Wyoming: Canada, Aug. 5-11
Northeast
Bryant: Italy, Aug. 20-30
Ohio Valley
Austin Peay: Canada, Aug. 17-23
Pac-12
Arizona: Bahamas, Aug. 9-14
Colorado: France, Belgium, Netherlands, Aug. 13-22
Oregon State: France, Spain, Aug. 18-28
UCLA: China, Aug. 22-29
Utah: Brazil, Aug. 4-15
Washington: Spain, France, Monaco, Senegal, Aug. 25-Sept. 8
Washington State: Australia, Aug. 3-16
SEC
Arkansas: Italy, Aug. 10-19
Georgia: Italy, Aug. 1-11
Missouri: Netherlands, Belgium, France, Aug. 8-18
Tennessee: Italy, Aug. 5-15
Southern
College of Charleston: Canada, Aug. 8-11
Southland
Nicholls State: Australia, Aug. 1-12
Northwestern State: Canada, Aug. 12-17
Sun Belt
South Alabama: Canada, Aug. 12-17
WAC
Seattle: China, Aug. 21-Sept. 3
Texas State: Costa Rica, Aug. 13-18
West Coast
San Francisco: Mexico, Aug. 12-16