Jim Calhoun eager to return to Huskies
August, 16, 2012
08/16/12
4:12
PM ET
If UConn coach Jim Calhoun has his way, and if his left hip cooperates, he'll be back on campus Aug. 27 to greet his team.
"If it's possible, I want to be there on the first day of school," the Hall of Fame coach said.
Doubting him at this stage of his career and life would be a mistake. Nothing Calhoun has done in the past would indicate he's ready to fold.
Instead, the latest health setback has him motivated to return to the bench this fall.
"I'm fighting my way through it," Calhoun said. "I'll find a way."
[+] Enlarge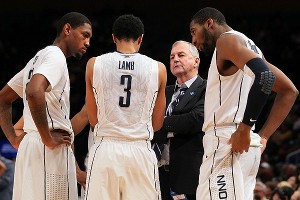 Jim McIsaac/Getty Images Jim Calhoun, who's recovering from hip surgery, hopes to be in Storrs for the start of school Aug. 27.
Calhoun fell off his bike on Aug. 4 and fractured his left hip, requiring surgery. It was just last season that he had to have back surgery to relieve pain caused by a disc pushing on a nerve.
Calhoun said he traveled a similar route the day before but had altered it to cut down on the mileage so he could get from his summer home on the Connecticut shore in Madison to the Mohegan Sun in nearby Uncasville early for his charity UConn alumni all-star game. He said he went down a side street when a car turned onto it as well. He said he misjudged the angle and his bike hit a patch of sand. Calhoun said he got his right foot out of the bike shoe clip but couldn't release his left foot in time.
He said the pain has eased since the surgery, and he continues to feel stronger. He has been using a walker to get around. He has been working on quad squeezes, raising his toes and working on as many exercises for his left leg as prescribed.
"I would love to be back up there a week from Monday," Calhoun said.
In the interim, Calhoun said he's been on the phone quite a bit. The Huskies secured a top commitment in 6-foot-9 power forward Kentan Facey out of Long Island Lutheran High School. If the commitment turns into a signed letter of intent, Facey would play for Calhoun in what would be the final year of his contract. That would also be the next time the Huskies could play in the postseason, thanks to the 2013 ban because of a poor APR score.
Calhoun said recruiting "is going well." He said he's not going anywhere in the immediate future so that he can be on the phone.
Meanwhile, Calhoun has been in touch with his coaching staff -- Kevin Ollie, George Blaney, Karl Hobbs and Glen Miller -- quite a bit. The reports he's getting on the current players are good, notably the numbers put up in summer league by returning big man Tyler Olander and incoming power forward Phillip Nolan. The three German players -- newcomer Leon Tolksdorf and returnees Niels Giffey and Enosch Wolf -- spent the summer at home.
No one is worried about perimeter players Shabazz Napier, Ryan Boatright, Omar Calhoun and wing DeAndre Daniels. That foursome should be the strength of this team.
Prior to the bike accident, Calhoun was gone during the three evaluation weekends in July.
"I was out and enjoyed being out," said Calhoun, 70. "All is going well with UConn going forward. We're finding kids who are receptive; they were never not receptive. "
Calhoun doesn't have to scream that he's coming back this season. He has said nothing, nor is he showing any signs that retirement is close. Could he change his mind in the fall? Of course. But he could have done that after the 2011 national title, too.
The bike accident was a freak occurrence and the latest hurdle he's had to clear.
Calhoun is recruiting. He's plotting a rotation for this season's team. And he's fully engaged in planning the two significant trips in November -- Ramstein Air Base in Germany on Nov. 9 versus Michigan State and the U.S. Virgin Islands for the Paradise Jam.
"I'm trying to get back as quick as I can," he said.
Anyone who has covered Calhoun has learned that there's no reason to doubt his fight.