Fond memories of Rick Majerus
August, 27, 2012
08/27/12
1:54
PM ET
What we know as of Monday morning is that Rick Majerus is facing a serious heart issue.
He will not coach Saint Louis this season. Those close to him aren't even talking about when -- or if -- he will coach again.
Just last month, Majerus told me about how much he wanted to coach this Saint Louis team, finally getting a chance to see this program as the favorite in the Atlantic 10 and with a realistic chance to make a deep run in the NCAA tournament.
[+] Enlarge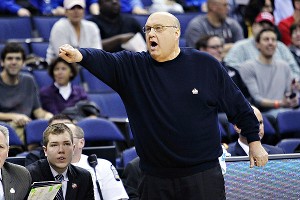 Greg Bartram/US PresswireIt's a shame to think that health issues will prevent Rick Majerus from coaching ball" just as he assembled a strong team in Saint Louis.
He hadn't talked like this since he was at Utah in the late 1990s. He had no idea that he would put together this type of team, one that reminded him of his squads in Salt Lake City that were some of the stingiest defensive units in the country. He had NBA-level players on those Utah teams, multiple first-round picks who brought the Utes to within five minutes of a national title in 1998.
This SLU team doesn't have NBA-level talent, but it is a team that appreciates screening, taking a charge and smart shot selection. And it still has a chance to be a special team, thanks in part to a decision made by Majerus.
Maybe he knew something wasn't right. Maybe he just wanted trusted friends on his staff. But when former Utah player and SLU assistant Alex Jensen abruptly left for the Cleveland Cavaliers just prior to the start of the 2011-12 season, Majerus hired an experienced assistant in former Army and Evansville coach Jim Crews.
Crews, who wasn't sure then whether he would even stay beyond one season, is now the interim head coach for 2012-13. All things considered, having someone in charge who's had 24 years of head coaching experience at the Division I level is at least comforting for the Billikens.
But there's no getting around it: The timing of Majerus' latest health setback -- possibly his most serious to date -- is especially cruel, coming at a time when he was ready to put himself back in the national spotlight.
The SLU gig allowed him to get back to his love, "coaching ball," as he always says. He wasn't the gregarious Majerus, always good for an outrageous quote or a rambling conversation about non-basketball matters. He was more subdued, much of that because of the ongoing health issues of his mother, Alyce, who succumbed to cancer last year.
Last season, Majerus had the Billikens relevant again, beating Memphis in the NCAA tournament before nearly upsetting top-seeded Michigan State.
Still, Majerus hasn't drawn the same attention in the A-10 as he did in the WAC in the 1990s. Back then, he had an easy rival in Roger Reid at BYU. He loved to irritate Reid and the Cougars' fan base and at times had his athletic director, Chris Hill, highly anxious about what he would do next.
He was disciplined and controlling at Utah, and that alienated plenty of people. It took a special sort of person to deal with his demanding style. He got what he wanted and on his schedule. And he was so detailed on his scouting report that he wasn't against having each opposing player's strengths and weaknesses written out on huge poster boards lining a hotel banquet room for the players to see during their pregame meal.
All of that has made Majerus a complex individual.
Those who know him have wildly different opinions. Some are fans. Some are not. He has plenty of former players and coaches who remain loyal. But there are plenty of others who couldn't stand to work or play for him.
He has had his detractors in the media. But everyone has a view of someone through a different prism.
I didn't play for him. I didn't work for him. I didn't cover him as a local beat reporter. But I've been fortunate enough to have with him a unique relationship throughout his coaching career and then as a colleague at ESPN, where he worked as a game and studio analyst.
There were countless phone calls, mostly late at night when I was working on the West Coast, talking basketball and at times politics or national news of the day. They still come, although not as frequently -- and almost always about family before basketball.
There were also a number of meals over the years, in Salt Lake City, Albuquerque, Fresno, and in Las Vegas during summer recruiting. The food ordering was epic and memorable. But it wasn't a joke. His obsession with food canceled out his desire to stay in shape.
When he worked for ESPN, game producers had to make sure they found a place for him to swim. Schools weren't immune either, as Louisville SID Kenny Klein can attest after desperately helping Majerus search for his goggles prior to a swim.
There are always stories with Majerus.
My favorite was when he called me at the 1997 Final Four in Indianapolis and said he needed a fourth for a 2-on-2 game. He said to show up at the IUPUI gym, so I did. I walked in and suddenly was in a 2-on-2 game with Majerus as a teammate against actors Kevin Costner and Jaleel White, who played Urkel on the TV show "Family Matters." It was an odd foursome, to say the least, and Majerus wasn't pleased when I had two unforced errors. He was coaching even then -- and was definitely earning his college nickname as Rick the Pick.
But the recent health struggles have been constant, ranging from problems with his heart and knee to odd injuries that included a gash to his leg on a rental car shuttle and another cut when he was run into during a game.
Now Majerus is facing an extremely serious health issue, one that doesn't have a known outcome.
His circle is keeping the exact details of his condition private. The hope is that he can get through this like he has every other health scare.
His teams' style of play wasn't always celebrated, but his intricate knowledge of the game is as deep as any of his peers'. And if he has coached his last game, the sport has lost one of its best tacticians and characters.
Saint Louis has been resurrected by Majerus, but that's just basketball. Yes, that has been his life, but he can contribute more than just teaching the game.
Hopefully he still will have that chance to make those calls, entertain, engage, challenge and offer up his opinions, always worth hearing, regardless of what side you're on in the particular debate. The man is far from perfect, but he is good for the game.
But Majerus will not be in public for the immediate future. His fight now becomes private.
The universal hope now is that he will emerge sooner than later with the ability to look back on his latest fight and continue to contribute to the game he so dearly loves.