Alford and Neal keep producing at UNM
August, 28, 2012
08/28/12
12:25
PM ET
ALBUQUERQUE, N.M. -- Craig Neal knew the pasta Steve Alford would like for lunch at this particular Nob Hill area restaurant a mile or so from New Mexico's campus.
Alford took Neal's recommendation, and after a few bites knew it was a good call.
Throughout lunch, and on the car ride back to campus, it became obvious how much Alford and Neal are alike. Finishing each other's sentences isn't an uncommon thing.
They are all about basketball and family, with the two interwoven throughout the past five seasons -- a period in which a sense of stability has returned to New Mexico.
The Lobos have been to the NCAA tournament twice in the past three seasons, winning a game in each of those two appearances. UNM has also won or shared the Mountain West Conference title in three of Alford's five seasons and won a combined 58 games in the two NCAA seasons.
New Mexico is expected to challenge for a tourney bid again, pushing league favorites UNLV and San Diego State along with Colorado State and Nevada in a top-heavy MWC.
[+] Enlarge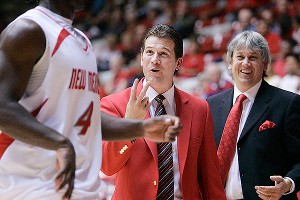 AP Photo/Jake SchoellkopfCraig Neal has been by Steve Alford's side for eight seasons, first at Iowa and now at New Mexico.
Part of the reason for UNM's success is Alford's ability to keep Neal. He could've easily returned to the NBA as an assistant coach by now. He's been a finalist for several college head-coaching jobs.
But Alford has made Neal one of the top-paid assistant coaches (an estimated $250,000 salary), with plenty of perks. And their friendship has made it extremely difficult to leave.
"It's easy when you get along and you're best friends," said Neal, who was with Alford for the latter part of his eight-year tenure at Iowa.
"[Also] I pay him too much," Alford interjected with a laugh. "He gets a country club membership and he's got Harleys."
"He does pay me too much and it makes it hard for me to leave," Neal said. "I get to play golf with my boss. I've got a good gig. It's not always easier somewhere else. I found a place where my family is happy and I'm raising them in a good place.
"It's been very helpful for both of us here that it's a place that reminds us of home with the enthusiasm of basketball. It's not always greener on the other side. We have a great thing going and it's hard to leave. It would have to be a special situation. He'll let me know what that is."
The two former Indiana high school stars competed against each other in the early 1980s. They went to two high-profile colleges -- Alford to Indiana and Neal to Georgia Tech -- and then both had stints in the NBA, with Neal enjoying a 16-year professional career as a player and coach.
Alford was an Olympian. Neal stayed in the pros longer. Alford has been a head coach at multiple levels of basketball. Neal has been a trusted assistant in the pros and in college, lately for Alford.
They played for their fathers in high school, Steve in New Castle, Ind., and Craig in Washington, Ind.
"We grew up in basketball families and then Steve and I went our separate ways," Neal said. "But we kind of always viewed things the same way."
"We were both coaches' kids and played at a high level," Alford said. "We've been around a lot of good programs -- him in the NBA and me in college. He played for [Bobby] Cremins and I played for Coach [Bob] Knight. We played for our dads. If you can't figure out a blueprint then you should be doing something different. We've been together for eight years and averaged 25 wins a season with six championships of some sort in those eight years. They gave us the opportunity to really do the things we want to do with that blueprint here."
And in an interesting twist, for the past few seasons they have watched their sons compete against each other in Albuquerque, last spring playing for the 5-A state title.
Eldorado, where Saint Mary's-bound senior Cullen Neal plays, beat La Cueva, where UNM-bound senior Bryce Alford plays, in the state title game at the Pit. Bryce will join his brother Kory on the Lobos' roster in 2013 as Kory begins playing this season after redshirting in 2011-12.
The state final in March between Eldorado and La Cueva tipped off after the Lobos beat San Diego State in the Mountain West Conference tournament in Las Vegas. Soon after the net cutting and postgame news conference, Alford hustled to his hotel room and Neal to his and they watched the state title game online, on their respective laptops.
Neal said they were texting each other throughout the game. Neal had the final say, as Cullen scored 34 points for the Eagles' first state championship since 2005. The two teams will be favorites to meet again in the state final this school year.
"It's been fun with the kids growing up together the last eight years from the end of elementary to middle school to high school," Alford said. "We've watched them grow and mature from boys into young men. Our families are very close. Kory is here. Bryce is coming here. Cullen is going to Saint Mary's and [younger brother] Dalton is looking around. We've got four boys that are here instead of New Castle and Washington."
Added Neal: "It's been fun, even though they're at different schools. The most satisfying thing is when they work out with our guys and spend time with us."
New Mexico helped Alford and Neal quite a bit by upgrading the famed Pit and producing a quality practice facility with basketball-only weight and training rooms, as well as plush locker and meeting rooms.
The departure of San Diego State to the Big West in 2013 means UNM and UNLV will be the clear leaders in facilities and coaching salaries in the Mountain West.
On the court, the Lobos lost Drew Gordon off last season's NCAA third-round and MWC champion team, but they should challenge again.
The return of 7-foot center Alex Kirk from a back injury will help. The backcourt is as good as any in the West with Kendall Williams, Demetrius Walker, Tony Snell and Hugh Greenwood all back.
The schedule is improving under Alford with road games against Cincinnati and Saint Louis, an appearance at the Paradise Jam in the Virgin Islands (which includes UConn, among others), home games against likely SoCon favorite Davidson, possible Pac-12 sleeper USC, co-Horizon favorite Valparaiso, Summit League champ South Dakota State and the annual home-and-home rivalry games against New Mexico State.
Tack on a round-robin slate against possible NCAA teams UNLV, San Diego State, Colorado State and Nevada and the Lobos have plenty of power-rating points to be back in position for a bid again.
"This year we have a chance to be really good," Alford said. "Alex Kirk is back and should be one of the best big men out West. Our guards are back and we have really good guards. Anytime you have good guard play you can make things happen. We've got that. Next year we should be even better with the majority of our team back."
UNM basketball is the state's pro team. The fan base expects NCAA bids. And under Alford and Neal there is no reason to believe the Lobos won't be in the hunt for a bid every season going forward.
Lose Neal and the Lobos would take a hit.
But for now he's sticking with his best friend.
They look out for each other -- and the Lobos program and its passionate fan base has been the beneficiary.