Saint Louis players aim for resilience
August, 29, 2012
08/29/12
3:24
PM ET
Saint Louis captains
Cody Ellis
and
Dwayne Evans
were called in last Friday by the coaching staff and athletic director Chris May.
Fellow captain Kwamain Mitchell was at home in Milwaukee and had to get the news on the phone.
Their coach, Rick Majerus -- the guy who recruited them and led them to a NCAA tournament victory last season -- would not coach the Billikens in 2012-13 because of a serious heart condition.
They weren't told any specifics of his condition and weren't able to speak to him. They were told that he was in a California hospital and receiving quality care. That's about it.
"We don't really know a whole lot," Ellis said. "He's not going to be able to coach. And we were told that last season might have been his last coaching. He finally had all his recruits here. This was definitely his team and all the players he wanted.
"He taught us an unbelievable amount the past couple of years. We've bought into his system and we all respect him so highly as a coach and as a person in general. It's not as much fun without him."
Ellis and Evans said there was initial silence when the news was delivered. Then there was sadness. But soon after they left the room, there was a conviction that this won't one bit change their stated goal: to win the Atlantic 10 and make a deep run in the NCAA tournament.
"I was pretty destroyed," said Ellis, who was recruited to Saint Louis from Australia by Majerus. "He was the reason I came to SLU. He's an unbelievable coach. He knows the game like no other."
Standing in front of Ellis and Evans were May, new interim coach Jim Crews and assistants Jim Whitesell, Tanner Bronson and Mike Lepore.
"It was silent," Evans said. "They asked if we had any questions and we just stared at each other. There wasn't anything to say. It wasn't something we expected. There was just shock."
[+] Enlarge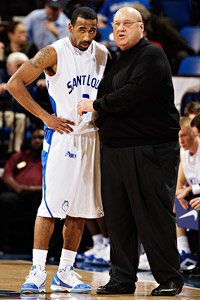 AP Photo/Jeff RobersonKwamain Mitchell is especially shaken by Rick Majerus' health issues.
The entire team was told next. But the senior Mitchell, who has a close relationship with his fellow Wisconsin native -- a man who helped Mitchell during a yearlong suspension two seasons ago -- had to hear the news alone.
"For me, it was very emotional," Mitchell said. "It was more personal. He came to my house to recruit me. He was there for me during my bumps on the road. There was no one around when they called me. I had to go through it alone. Coach is like a father figure to me. I could talk to him about anything. We would grab lunch and just talk about life. He is like a father, a friend, a best friend."
Mitchell said that Majerus stayed on top of his situation during the suspension, with care and tough love.
"He cared so much," Mitchell said. "He made sure I did everything I had to do before I could come back."
Majerus has always kept his distance from his teams in the offseason, regardless of where he coached. He rarely stays in the same city, opting to travel mostly in the spring and summer. So it wasn't out of the norm for the players not to see him much after the season.
But Mitchell said he had lunch with Majerus earlier in the summer and later caught up with him on the phone a few times to discuss workouts.
Evans said he hadn't seen Majerus in person since the Billikens lost to Michigan State in the NCAA tournament to conclude a 26-8 season (12-4 in the A-10). But the two did talk on the phone at the beginning of the summer.
"He was optimistic and excited about this year," Evans said. "He was just talking ball and so excited. I wouldn't have guessed that this would be a condition that would occur."
Ellis said that Crews' voice will be different but didn't hesitate to praise his coaching ability.
"He's an unbelievable coach," Ellis said. "He played and coached for Bobby Knight. He is a close friend of coach [Majerus]. He'll have a different perspective on things, but we all know the system so well and we're an older team now. We've matured a lot the past year."
Ellis said the Billikens didn't have to do as much learning in practice last season. And that should be the same expectation in 2012-13, although SLU is integrating key new pieces such as point guard Keith Carter out of Chicago (Majerus compared him to former Utah playmaker and NBA veteran Andre Miller) and forward Jared Drew from Indianapolis. The Billikens return plenty of upperclassmen to join Evans, Ellis and Mitchell, including juniors Jordair Jett and Rob Loe.
"At the end of the day, it's our team but I still think [Majerus] is going to be a big part of it, even in his absence," Ellis said.
"Coach always told me that coaches don't win games, players do," Mitchell said. "I've talked to Coach Crews. And the one thing he said is we have to communicate on and off the court. How we guard and how we run certain plays, that won't change."
Nevertheless, Evans said it's hard to sum up how much Majerus has meant to this team and to their individual careers.
"None of the guys on the team would be as good a player as they are [without Majerus]," Evans said. "We wouldn't have had as good a year last year. He's a huge voice on and off the court. He's a great guy who sincerely cares about us."
And while it seems trivial since there are serious heart health issues for the 64-year-old Majerus, the normalcy of a season can continue for the players because of the timing of the announcement and the easy transition to a familiar assistant coach.
"We will use this as motivation," Evans said. "We won't let this get us down. We have the same mission we had a week ago -- an A-10 championship and an NCAA berth. The older guys on the team have been under him for two or three or four years. We can pass on his knowledge even if he's not on the sidelines. He will still resonate through us.
"It's all in the details with Coach Majerus. He doesn't allow any slippage. That's his biggest attribute. We will miss him on the sideline. He is a great leader and motivator. Our expectations have changed from last year to this year [because of him]. He laid out a foundation for us to be a part of something special this year."