USC loses Maurice Jones for season
September, 2, 2012
09/02/12
2:52
PM ET
USC can't get to the start of the season fast enough.
If nothing else occurs between now and its Nov. 9 opener against Coppin State, then head coach Kevin O'Neill is convinced he has a team that could upset the Pac-12 order.
But that is a big if, especially considering the events of the past week.
[+] Enlarge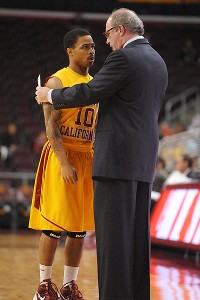 Kirby Lee/Image of Sport/US PresswireGuard Maurice Jones won't return to USC, Trojans coach Kevin O'Neill (right) confirmed Wednesday.
The latest hurdle for the Trojans occurred late Saturday night when USC announced that starting guard and leading returning scorer Maurice Jones was declared academically ineligible and would miss the 2012-13 season. O'Neill said Sunday that Jones would stay at USC and return for his final two seasons of eligibility.
"It hurts our guard depth a bit," O'Neill said. "We still have J.T. Terrell, Jio Fontan; Chass Bryan, a walk-on freshman guard; Ari Stewart and Byron Wesley. We have quite a bit of depth at those spots but we're not as good without Mo. But we still have a chance to be a good team."
Jones averaged 13 points and 3.5 assists last season.
"My concern is for Mo to use this year to get better as a player and to have two great years when he comes back," O'Neill said. "There's no question that we have a plan for him to be successful and graduate and we want to make sure that happens."
The news of Jones' absence this season came just hours after the Los Angeles Times reported that former basketball player Davon Jefferson (along with former football player Joe McKnight) allegedly received extra benefits in the form of financial payments, a car and an airline ticket from former L.A. County assessor's office employee Scott Schenter.
Jefferson played one season for the Trojans under former coach Tim Floyd in 2007-08 and was not selected in the NBA draft.
"That was four years ago and passed the statute of limitations in basketball," O'Neill said about any further sanctions levied against the program, which has already been dealt a postseason ban in 2010 due to extra benefits for former Jefferson teammate and current NBA guard O.J. Mayo. "I haven't given it [the Jefferson story] another thought. This is just the fallout from investigations over a period of time. That's the way it is."
USC already vacated the 21 wins the Trojans recorded during the 2007-08 season when Mayo played, which is the same year Jefferson played.
Floyd, who currently coaches at UTEP, wasn't available for comment.
The upcoming season needs to be productive and successful for the Trojans, who hope to be free of the drama, injuries and off-court issues that have dogged the program.
A poor record last season can be attributed to the preseason loss of Fontan, who tore his ACL on an August 2011 trip to Brazil. A knee injury on Jan. 26 cut short highly touted 7-foot JC transfer Dewayne Dedmon's season.
Both are back and healthy.
"They look great, really good," O'Neill said. "Jio isn't 100 percent but he doesn't have to be for another month. Dedmon has the hype because of his potential. But he didn't have the experience. Everyone said I said he would be a first-round [NBA draft] pick. He will be. But I never said it would be last year. The guy will be. He played half the year of a JC, three or four high school games or whatever it was. He knows what it's all about now. He'll have a great year."
As for Fontan, O'Neill said he, like Dedmon, is back on track.
"He's doing everything, just not 100 percent," O'Neill said of Fontan. "He could play 35 minutes a game if we were playing tomorrow. He'll be very effective. He just got cleared three weeks ago."
Meanwhile, two players on the team have had to deal with personal tragedy. Tennessee transfer Renaldo Woolridge's father, former NBA veteran Orlando Woolridge, passed away at 52 years old on June 1. And the father of player Evan Smith, Hollywood executive Gavin Smith, remains missing. The 57-year-old Smith was reported missing on May 2.
"[Renaldo] is hanging in there, he's got a lot of personality and is a good player," O'Neill said. "Evan is going to be with us but not playing for medical reasons. He'll help out in the weight room. No one has any clue what happened. It's sad. We've had two tragedies in the last few months.
"We're always going to be faced with challenges," O'Neill said. "Teams deal with them all over the country. We've had a whole year of them. We're used to dealing with them. We'll be fine."
O'Neill needs this team to be better than good this season. The Trojans should see a dramatic improvement from last year's season, in which they won one Pac-12 game. Losing Jones is another obstacle; the Trojans and O'Neill can't afford another one.
The main reason for optimism is the improved health of Fontan and Dedmon and the addition of transfers Terrell and Stewart, who played together at Wake Forest. A lesser known bright spot is the transformation of 6-foot-6 power forward Eric Wise, who transferred to USC from UC Irvine. Wise is listed at 240 pounds by USC, but O'Neill said he's actually at 230, down from 280.
"He has changed his body," O'Neill said. "He's a really skilled kid and he's going to be really good. If we stay healthy, with the depth, size, talent and experience, we'll be good."
USC athletic director Pat Haden has stood by O'Neill. He didn't hire him, but he has been supportive as the Trojans have weathered sanctions, injuries and now academic attrition. The onus is now on the current personnel to, at the very least, be an upper-division Pac-12 team in O'Neill's fourth season.