Turgeon adds Wells, has Terps on track
September, 4, 2012
09/04/12
9:15
PM ET
Maryland is one of the top 15 jobs in the country. The Beltway talent pool is rich, and the ACC provides guaranteed competition against blue-blooded elites North Carolina and Duke (and soon Syracuse).
Former coach Gary Williams resurrected his alma mater and led the Terrapins to back-to-back Final Fours a decade ago, including a national title in 2002. But Williams had to mix and match to find the players who fit his system. Some were elite out of high school (Joe Smith), others were transfers (Steve Francis), some came from outside the continental U.S. (Greivis Vasquez), others were hidden gems that blossomed (Juan Dixon and Steve Blake).
Williams' replacement, Mark Turgeon, has to do it the same way to become an ACC -- and national -- contender. And that's why he was willing to take a chance on Xavier transfer Dez Wells, who was expelled by the school for a violation of the Code of Student Conduct after allegations of a sexual assault. A grand jury in Hamilton County declined to charge Wells.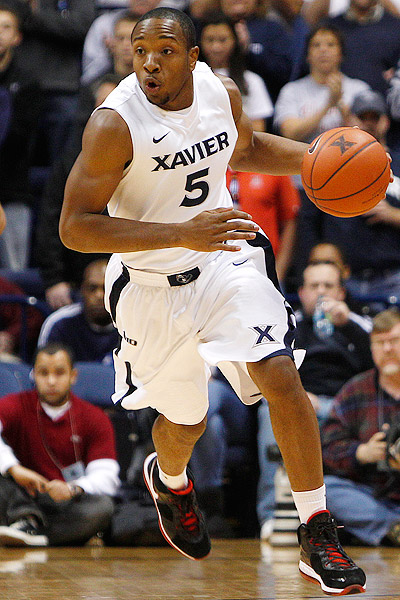 Frank Victores/US PresswireOn Tuesday, former Xavier guard Dezmine Wells announced his transfer to Maryland.
Turgeon couldn't discuss his newest player on Tuesday afternoon since Wells' mother hadn't signed the paperwork yet. But he could speak to his philosophy. Turgeon did research on Wells and trusted his assistant Bino Ransom, who recruited Wells while an assistant at Xavier.
"When it's this late in the game, if there is a good player available, you have to do it and go after him," said Turgeon. "This is a situation where we needed to add talent."
The Terps have Michigan transfer forward Evan Smotrycz sitting out this season, and in all likelihood Wells will be joining him on the bench. Maryland will apply for a waiver with the NCAA for him to play immediately, arguing that he is NCAA eligible but simply not allowed to play at Xavier.
However, it would be a surprise if the NCAA granted the waiver, since it would be creating precedent by allowing a player who was expelled from one university to play at another without sitting out a year in residence.
Rule 14.5.1.2 in the NCAA rulebook details disciplinary suspension:
A student who transfers to any NCAA institution from a collegiate institution while the student is disqualified or suspended from the previous institution for disciplinary reasons (as opposed to academic reasons) must complete one calendar year of residence at the certifying institution. (Revised: 1/14/97 effective 8/1/97)
But Turgeon didn't sign Xavier's top returning scorer to have him for this season. It would be a nice bonus, but it's not a necessity.
Turgeon said he has tried to balance the classes at his previous stops at Wichita State and Texas A&M, adding four-year transfers along the way.
"What we've tried to do is sprinkle in good freshmen with transfers," he said. "It's an avenue I've taken with every program. Is it something we'll do every year? I doubt it."
Turgeon's plan is to always have a scholarship or two open for transfers like Smotrycz and/or Wells.
"At this level you have to do that," he said. "Ideally, you want to keep one open for situations like this. It's a lot easier to keep 10 or 11 players happy on scholarship and redshirt a few more."
The Terrapins needed a slasher, defender and player who would be interchangeable for 2013 -- and Wells was an Atlantic 10 rookie first-team member a year ago, averaging 9.8 points and 4.9 rebounds.
Turgeon said the Class of 2013 isn't deep on the perimeter, and the Terps are realistic as to what they can get to make them better. Having Wells on the court in 2013-14 likely is an upgrade from the high schooler they could grab at that swing position.
Don't sell Maryland short on the recruiting front, though. Turgeon is still trying to land two of the top four prizes in the class in Andrew and Aaron Harrison, a pair of perimeter players who said they will attend the same school. The Harrison twins are likely going to College Park for Midnight Madness on Oct. 12, according to a source. But Maryland will have to beat out Kentucky to land the pair from Texas, which would be a monumental task. Villanova, SMU and Baylor are also in the mix.
Turgeon has landed elite players so far: Nick Faust last year and Shaquille Cleare and Jake Layman this year. Turgeon also brought in an assistant with deep DC-Baltimore ties in Dalonte Hill.
So what will the Terps look like on the court?
Assuming Wells doesn't gain immediate eligibility, UM will have 10 players to use this season. So Turgeon is being careful with his optimistic outlook. He said Cleare and Layman have had very good summers, as has Faust and shooting guard Seth Allen. He said 7-foot-1 center Alex Len has gained a much-needed 20 pounds.
"I like the work habits," said Turgeon, whose Terps began workouts on Tuesday. "The chemistry is really good. It has been a pleasant surprise that we've been better than anticipated."
Does that translate into an upper-division finish in the ACC? The three Triangle schools -- North Carolina, Duke and NC State -- likely will jockey with Florida State for spots 1 through 4.
But Maryland, Miami and Virginia should be in the next tier as teams that can contend for an NCAA tournament bid. And if Wells does get eligible? Look out.
Turgeon took a chance on Wells considering the allegations and the on-court suspension. But adding a quality player from a high-profile school is the norm for him and plenty of others.
Programs like Kentucky, Duke and UNC have all had transfers recently. That's the new norm in order to keep up. Blending the classes with transfers and high school seniors is now expected.
The bottom line is that Turgeon has Maryland relevant and in the news, which isn't easy to do in a conference dominated by a pair of blue-blooded giants.
Williams knew this all too well during his career. Turgeon is following his blueprint as best as possible early on.