Pittsburgh's useful New Zealand connection
September, 5, 2012
09/05/12
9:20
PM ET
A few years ago, Pittsburgh coach Jamie Dixon sent his assistant Tom Herrion to New Zealand to see if
Rob Loe
was worth a scholarship offer.
Loe, who eventually landed at Saint Louis, had interest from others, "but Jamie heard about this young kid down in Wellington,'' Herrion recalled.
The young kid was Steven Adams. And he just may be one of the most intriguing players in college basketball this season, not to mention one of the most physically impressive at 7-foot, 250 pounds.
When he played professionally in New Zealand, Dixon played against two of Steven's brothers, Warren and Ralph, and was teammates with his coach in Wellington, Kenny McFadden. McFadden told Dixon about Adams in 2009, when Dixon was coaching the U.S. U-19 team to a gold medal in New Zealand.
[+] Enlarge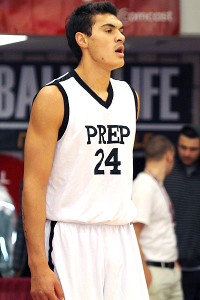 Brendan Nolan/ESPN.comSteven Adams was discovered at Scots College Prep in New Zealand.
So when Herrion got the assignment, he knew this was no junket. He was on the ground for a max of 18 hours, not even long enough to get adjusted to the time zone or rest for jet leg. Herrion walked into a gym in Wellington and knew immediately what to report.
"It was one of the biggest no-brainers,'' said Herrion, now the head coach at Marshall. "He reminded me immediately of those older guys at Kansas, players like Raef LaFrentz. He was physical. He had big shoulders. He had a big frame. It was obviously worth the trip. [Due to jet lag] I don't think I was the same for two weeks after coming back, but it was well worth it.''
"He was a 6-10, 15-year old," Dixon said. "What more do you need to know?"
Adams made a commitment to Pitt in the summer of 2010, and the commitment held.
At just 19 years old, he's already got quite a life story. Adams is the youngest of 18 children. His father passed away of cancer when he was 13. His mother, who is Tongan (his father was of English descent), still lives in their hometown of Rotorua. But the death of his dad left him adrift until older brother Warren sent for him to come to Wellington.
He ended up living with a coach, trainer and guardian in Blossom Cameron and was placed in a school called Scots College Prep. He quickly became a budding star in the country's sports landscape, as detailed here by local New Zealand television.
His family remains athletic as his older sister, Valerie Kassanita Vili-Adams, won her second gold medal in as many Olympics in the shot put. She won the gold in Beijing and was just awarded the gold in London after Belarus' Nadzeya Ostapchuk was stripped of her medal for a failed drug test.
Adams has so many nieces and nephews that he has lost count (he thinks he has 11).
"They're all older then me,'' Adams said. "They were changing my diapers when I was first born. Weird, huh? It shouldn't happen.''
Adams said all but two of his 18 siblings grew up in the same house. He said there was once a family reunion, but only 14 or 15 of the siblings could make it.
"I was the smallest one there,'' said Adams with a laugh. "My sisters are big.''
Even as he grew as a player and matured as a person, the commitment to come to Pittsburgh stuck.
"I came on a visit, sat in the stadium and they were going crazy,'' Adams said of the Petersen Events Center. "I was like holy shizz. It's loud and going crazy here.''
He played for New Zealand junior teams and in January was placed by Pitt at Notre Dame Prep, where he starred and went against Kentucky incoming big man Nerlens Noel. Adams came to the America to get adjusted and more importantly become academically eligible. As a foreigner, it's always easier to become eligible from a U.S. prep school than to rely strictly on the transcripts from another country for initial eligibility.
He spent the last few months playing summer basketball in Pittsburgh and is now enrolled for the fall, working out with the Panthers and loving the experience of being stateside.
"It's fun," Adams said. "It gets pretty wild, but I find it cool. This part of the town, it's a city and campus put together. It's a pretty cool area. There's some green, some forest area. It's a nice little balance.''
[+] Enlarge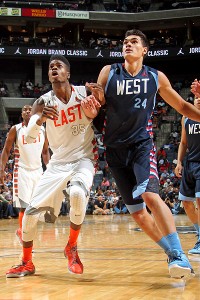 Ned Dishman/Getty ImagesAdams went head to head with
top-ranked Nerlens Noel at the Jordan Brand Classic in April.
Adams is a bit of a character. It doesn't take long to pick up on his quirky personality -- as fellow students in his acting class are no doubt picking up on.
"[I'm having] fun with it,'' Adams said of the course. "Some of the girls in the class don't like to do anything. But I'll have fun with it.''
There's a real connection between Adams and Dixon, who is still remembered in New Zealand and once put up 61 points against Sam Houston State for a Kiwi traveling all-star team.
"He's cool,'' Adams said. "He's pretty funny and cool to hang around with. He's a good coach. He breaks it down and any questions he can answer. I ask a lot of questions of why and when we should do stuff. He always has the answers. He always smiles. Not sure if that's weird, too.''
Adams knows he has to polish his low-post game -- right now he would rather face up than plow through the post. Dixon wouldn't commit to saying Pitt will run its system through its big newcomer.
"He's a very good rebounder, he's a good passer and he's very unselfish,'' Dixon said. "How many teams play through a freshman, though?''
But now that Khem Birch is gone to UNLV, Adams is the focal point inside. He isn't some international man of mystery after all. He is a known commodity who played in plenty of games against elite players in his class over the past year.
The Panthers, who won the CBI last season but missed the NCAA tournament for the first time under Dixon, should be a major factor in their last season in the Big East. They're boosted by the return of Tray Woodall, who is healthy after an injury-plagued season, along with Central Michigan transfer Trey Zeigler, freshman James Robinson and returnees Talib Zanna, Dante Taylor, J.J. Moore and Lamar Patterson.
Dixon is downplaying Adams' potential to dominate during his first season, but it's not out of the question. One thing is for sure: He will be a treat for anyone who covers the team or hangs around this crew.
"Everyone loves him,'' Pitt associate athletic director Greg Hotchkiss said. "He's got a vivacious personality. He's a big guy. And for three-plus years he's been dreaming of coming to Pitt.''
He's there now. And he's not planning on leaving anytime soon.
"I want to get a ring,'' Adams said. "The time will come when [the NBA] will present itself. But I don't give a crap about that. I'm worried right now about getting to the NCAA tournament and a ring.''