Gillispie faces near-impossible task
September, 6, 2012
09/06/12
10:27
AM ET
The start of official practice is still five weeks away, and it's pretty clear Texas Tech coach Billy Gillispie has already lost his team.
Is his job next?
As he sits in a Lubbock University Medical Center hospital room, Gillispie may have already had his coaching fate decided by athletic director Kirby Hocutt and university administration.
If a decision hasn't yet been made, how could Gillispie earn the trust back of his players and the administration after allegations of breaking secondary rules dealing with excessive practice time and putting demands on his players that were too much for them to bear?
The simple answer, in my opinion: He can't.
When Gillispie committed a secondary violation concerning practice time in the winter, he was "issued a reprimand that there would be no tolerance for further disregard for rules," Hocutt said.
[+] Enlarge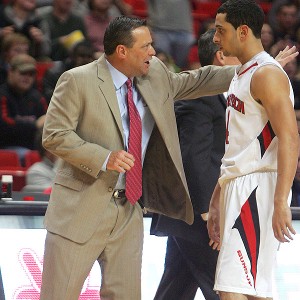 Michael C. Johnson/US PresswireBilly Gillispie is at the center of a firestorm in Lubbock. Will it cost him his job?
That seems pretty cut and dry. But once Gillispie is out of the hospital and can give his side of the story, can he possibly save his job?
"That's a hard question to answer," said Eddie Fogler, a former head coach at South Carolina and Vanderbilt who now heads search firms for schools looking for head coaches.
As Fogler pointed out, Gillispie had similar problems in his past, so it will be hard to create a defense. The recurring theme hurts him.
If he does get a second chance in Lubbock, Gillispie "will have to change how you go about your business if you can, if you want to," Fogler said. "But that change doesn't come easy for a coach who's been around as long as Billy's been doing it."
Fogler said a coach has to get the players to trust him and be willing to work hard for him.
"Getting that mutual trust is hard," Fogler said. "They have to understand what you want, and when they're not doing what they're supposed to do, then you have to hold them accountable."
Fogler said the rules have to be spelled out before practice starts. If there is a policy for tardiness or missing class, he said, the players have to know the consequences up front. They can't have arbitrary punishments.
"You have to have everyone on board," Fogler said. "Most coaches have it written down and get the kids to sign it and agree to it so they know what they're accountable for."
Does Gillispie deserve a fair hearing to respond to the allegations made by past and current players during his brief tenure at Texas Tech?
"Whether it's Billy Gillispie or anybody else, the coach needs to have a chance to answer the charges," said National Association of Basketball Coaches deputy executive director Reggie Minton.
Minton said Gillispie can retain his job only if his superiors support him. He said Gillispie and Hocutt have to meet to see if Hocutt is satisfied with Gillispie's response, something Hocutt said he wants to do once Gillispie gets out of the hospital.
The coach will know within minutes if the athletic director has his back when they meet, Minton said, referencing the forced resignation of Dartmouth coach Terry Dunn.
"The players went in and said they would boycott if he kept the coach on," said Minton. "The AD then let him go right there and then on the spot. But I talked to another AD after the season in the same league who said if it happened he would have thrown the players out of his office."
Former Wake Forest and South Carolina coach Dave Odom said the first step in getting the team back is to ensure the administration is on your side.
"If you go to the administration and they say this team is yours and they're backing you, then you can go forward," he said. "But you can't plow straight into your team and ignore the administration."
Odom said if he were the coach in question, he would work with the upperclassmen in small groups and use a team meeting to try to win back his team.
"You have to air out the differences," Odom said. "You have to have them sit in front of you and tell you what they object to. You have to give them a chance to look you in the face. Then you have to be able to say you've made some mistakes if you've used bad language or been too hard on them. You have to compromise and meet them halfway."
Odom said accepting some responsibility is a must to get the team back. The coach would have to admit his mistakes.
"But he does have to say, 'I am the coach and you are the players, and at some point I'm going to have to make decisions that are best for your team, and you have to trust me in good faith,'" Odom said. "You've got to be able to say, though, that you're not perfect and you made mistakes."
If this were Gillispie's first offense, all of this would be possible. But it's not.
Odom, Minton and Fogler made sage points, convincing arguments that a coach in that sort of situation can get his team back.
The problem is that Gillispie hasn't shown he can change or be trusted to remain in the clear.
Hocutt essentially gave him a second chance already, after a miserable 1-17 Big 12 season in which Gillispie was already pushing too hard with excessive practice hours that broke the rules.
Does he get a third opportunity?
Because of Gillispie's actions, his future is out of his hands.