Robinson balances basketball, politics
September, 7, 2012
09/07/12
11:44
AM ET
Craig Robinson was on a plane Friday morning, heading home from Charlotte, N.C., to Corvallis, Ore., in time to host recruits this weekend.
It has been by far the busiest time since he took over at Oregon State four years ago.
And it doesn't appear it will slow down until March.
[+] Enlarge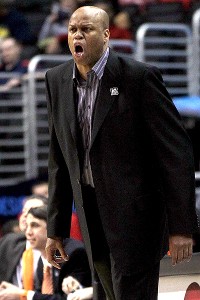 Stephen Dunn/Getty ImagesCraig Robinson is optimistic about the possibilities for his Oregon State Beavers.
Robinson coached the Beavers on a 4-0 trip to Spain that concluded last week. The team and Robinson didn't arrive in Corvallis until Aug. 29.
Two days later, he was on a plane with his wife, two youngest children and oldest son, Avery. (His oldest daughter, Leslie, had to stay behind for high school.) The Robinsons headed east to drop off Avery for his sophomore season at Division III Wesleyan in Middletown, Conn.
Two days after that, the Robinsons were in Charlotte for the Democratic National Convention, where Robinson spoke in front of the DNC about his sister, first lady Michelle Obama.
Thursday night, Robinson and wife Kelly were among the family members on stage at the Time Warner Cable Arena after President Barack Obama accepted the Democratic Party nomination.
"It has been exhausting," said Robinson. "When I get back, we've got an official visit coming in, and then I've got to hit the road recruiting. There has been no break."
Four years ago, Robinson had just gotten the Oregon State job. He spent the summer trying to build the program while actively campaigning for his brother-in-law. His role was much more pronounced in 2008 as a surrogate on the campaign.
He hadn't been as involved this summer during the re-election campaign, due to his scheduling commitments and no need to introduce the Obama family to the public. But his role will now increase, with a slew of appearances wedged in among visits, recruiting, workouts and coaching the Beavers in practice between Oct. 12 and Election Day on Nov. 6.
"I'll go all over the place for the campaign," said Robinson. "There's a lot of stuff to be done."
But Robinson's focus is on the Beavers. For the second consecutive year, he sees a chance for a significant breakthrough.
The Beavers were supposed to do so a year ago, finally shedding the nonconference losses to teams off the national grid.
The Beavers performed well in nonconference play, beating Texas in New Jersey. With the Pac-12's most exciting player in Jared Cunningham, they had a chance heading into the conference. Oregon State beat UCLA but couldn't win the close games again, losing overtime games to Arizona and Stanford and ultimately fading in the league with a five-game skid to finish 7-11 in the Pac-12. That meant another College Basketball Invitational appearance, the third in four years for the Beavers.
Cunningham left for the NBA as a first-round draft pick, but the trip to Spain convinced Robinson that Oregon State has a chance to surprise this season in a wide-open conference where Arizona, UCLA and Stanford should be the top three. Nothing has been a given lately in this league, producing Colorado as Pac-12 tournament champ and the top two regular-season finishers -- Washington and Oregon -- failing to earn an NCAA bid.
"I love this team," said Robinson. "I thought we would take a huge drop in production with Jared leaving, since that's 18 points, but everybody is better."
The Beavers averaged 78.9 points a game in the Pac-12 last season. They averaged 82.8 in the four games in Spain, allowing 66 a contest.
The reason for Robinson's optimism lies with the play of forward Angus Brandt (15.8 ppg, 8.8 rpg on the trip), the renewed leadership of Roberto Nelson (15 ppg) and the evidence that Devon Collier and Eric Moreland have the ability to carry the Beavers.
Collier made 23 of 32 field goals on the trip. Moreland averaged nine points and 9.2 rebounds and had 13 blocks in four games.
"I used to say that this team goes as Jared goes, but it will go as Devon Collier goes," said Robinson. "If he plays well and Eric Moreland plays well, then we'll be a better basketball team. I was really pleased overall by their posture on this trip on and off the court. They showed maturity and leadership and [are] capable of guarding the 2 through 5."
Robinson said the defense must pick up and that was a focus on the trip.
Nelson, who hasn't been as assertive as needed, showed he could be a leader.
"It's clear to me he's one of the leaders of this team, if not the leader," said Robinson. "It's his spot to lose."
Joe Burton still needs to work on his conditioning, but the player who took the biggest leap was Brandt.
"He was confident, and before he was just figuring everything out," said Robinson.
Point guard Ahmad Starks was under control. Robinson said he can be a 16-point, five-assist player this season.
The sleeper on the team didn't make the trip.
The Beavers just added Olaf Schaftenaar, younger brother of former Beavers stretch power forward Roeland Schaftenaar. The 6-9 Dutch freshman was cleared to play and was arriving this week for class. Robinson said he starts out at a higher level than his brother when he arrived in Corvallis.
Oregon State will have a shot to prove itself early in the season when it plays Alabama in the 2K Sports Classic benefiting the Wounded Warrior Project at Madison Square Garden on Nov. 15. Beat Alabama and the team could face Purdue or Villanova for the title to get some early national attention. The Beavers also play Kansas in Kansas City, Mo.
For the first time since Robinson has been at Oregon State, no games are in his hometown of Chicago or in the D.C. area near the White House.
Still, this team can't afford to lose any lower-level games, like its loss to Idaho at home last season. The schedule has a few chances for recognition early before a Pac-12 slate that will determine plenty in the first half, with road trips to UCLA, USC, Cal and Stanford.
"There's no reason why we can't be in the mix," said Robinson, "but I like the fact that we're expected to be down without Jared. I like our chances."