Young Hoyas have high hopes for 2012-13
September, 10, 2012
09/10/12
10:07
PM ET
WASHINGTON D.C. -- The new 18-team Big East needs Georgetown to be exceptional.
The Hoyas have the most name recognition of any of the non-FBS schools. They have shown the ability to create a frenzy in our nation's capital.
They just need to keep winning -- and they know it, too.
"As the league evolves, do I think it's important that we maintain the position as a cornerstone? Yes I do," Georgetown coach John Thompson III said. "Hopefully we're in a position to keep that going."
There hasn't been a serious dip with the Hoyas under JT3, aside from one subpar season in 2009. They have been to a Final Four and compete mostly within the top five of the Big East -- including last season, when fairly low expectations turned into a tie for fourth in the league and a No. 3 seed in the NCAA tournament.
[+] Enlarge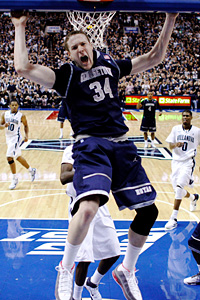 AP Photo/Matt SlocumEven if others don't, Nate Lubick and the Hoyas have high expectations for themselves.
"We had low expectations last year but it's safe to say we exceeded those," Georgetown junior Nate Lubick said. "We continue to spiral upwards and that will happen again."
On paper, that might seem overly optimistic after the losses of Henry Sims, Hollis Thompson and Jason Clark. But on this particular visit to the Georgetown campus, everyone associated with the Hoyas exuded confidence.
They won't be picked ahead of Louisville, Syracuse, Cincinnati, Pitt or maybe even Notre Dame or South Florida, but they expect to compete for a Big East title -- now and in the future.
"You don't want to say there is added weight on our shoulders, but we're going to be good," Lubick said. "We put ourselves in position to be good. With some of the top-level teams leaving, there is some responsibility within this league [for Georgetown]. We don't have the type of football like the others do. We're going to be good and it's very important that we are very good."
Walking into McDonough Gym on campus and seeing the notable NBA players adorning the walls and the crowded trophy cases, it's easy to pick up on the fact expectations are forever here.
"Look at all these trophies," junior Markel Starks said. "It's the aura here. You walk in the door and you've got to win. It's not just about winning games here. You've got to win championships. That's our mindset this year. We have a shot. We have a very good shot. Granted we're young, but from a basketball standpoint we should be very good."
The Hoyas will play a national schedule yet again, starting the season in Jacksonville against Florida on a U.S. naval ship. They'll also face UCLA in Brooklyn with the potential to play Indiana the next day, will host SEC contender Tennessee, play Big 12 sleeper Texas in the Jimmy V Classic at MSG -- all before a Big East slate that ends with a home-and-home against rival Syracuse among the final five games.
Quite an assignment for a team that went from one of the youngest teams in the Big East last season to even younger. With Thompson's early departure, there's not a senior on the roster. And in what Lubick called "an older league built around older guys," that could be a challenge.
But the optimism at Georgetown surrounds the expected breakthrough of sophomore Otto Porter. He was a solid freshman with 9.7 points and 6.8 rebounds a game, one of those players who does a little bit of everything.
Of course, Lubick has to make shots within the offense and Starks needs to be the steady hand at the top of the perimeter. But the key could be the rapid progression of Porter.
"I don't know how that happened, but he's changed the way he's good," Lubick said. "He's a knockdown, doesn't-miss outside shooter. He's added a little Paul Pierce to his game. He's fun to watch and gotten so much better. I don't think too many people will have improved more than him."
JT3 took the hype to an even higher level.
"He's stepped up his level of confidence and effectiveness," Thompson III said. "I can say with confidence that he'll be not just one of the better players in our league, but in the country."
Thompson said this season's freshman class should do what last season's did by exceeding expectations. Lubick and Starks both raved about the play of the incoming freshmen and returning sophomores. They fully expect contributions will come from combo guard D'Vauntes Smith-Rivera, potential Thompson replacement Stephen Domingo (who re-classified to the Class of 2012) and even supposed projects like big men Bradley Hayes and Brandon Bolden.
Starks spoke to the improved play from Mikael Hopkins, Jabril Trawick and Greg Whittington on the wing and up front.
"I think we've done a good job of guys being ready when it's their turn," Thompson III said. "It's not necessarily anything different than what it has been since the beginning [of the Big East in 1979]. Georgetown is a cornerstone in the conference. We don't anticipate any change in that."