Can Harvard recover from cheating mess?
September, 11, 2012
09/11/12
7:13
PM ET
Harvard can afford to lose just senior forward
Kyle Casey
. But point guard
Brandyn Curry
as well?
That could be another story.
If they're both gone from the 2012-13 team, the glory of Harvard's first NCAA tournament appearance since 1946 might end up being a one-hit wonder. The Crimson is still bringing in more talent than any other school in the conference, but not enough to deflect the effect of losing two of its best players right before the season.
That was the consensus among folks around the Ivy League on Tuesday after the SI.com report that includes two men's basketball players in an academic cheating scandal at the country's most prestigious institution. According to Sports Illustrated, Casey will withdraw from school this season, while fellow co-captain Curry -- also part of the scandal -- is still deciding.
A Harvard athletic department spokesperson said Tuesday that the school would have no comment on the report or confirm or deny that Casey and Curry are off the team as they potentially reapply for admission in a year.
[+] Enlarge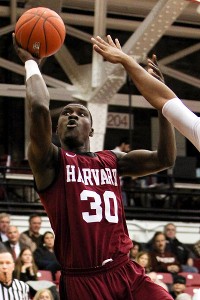 Debby Wong/US PresswireKyle Casey was the leading scorer on the first Harvard team in 65 years to make the NCAA tourney.
If they're both gone for the 2012-13 season, the hit will be severe for the Ivy League favorites.
The Crimson were already losing two valuable seniors (Keith Wright and Oliver McNally) from last season's 26-5 team. Casey is the team's leading scorer and was expected to be the anchor inside, and Curry runs the team at the point.
Harvard does have depth inside, with talented players like Kenyatta Smith and Steve Moundou-Missi. Neither have played significant minutes as freshmen, but the depth on this team (Wesley Saunders, Christian Webster, Jonah Travis, etc.) is still better than most teams in the league. And the Crimson haven't had to rely on one star player the way Princeton had to and will with Ian Hummer.
One source said that Curry's absence means freshman Siyani Chambers, a point guard from Minnesota, would be thrust into the role of leading the Crimson. No one knows if he is up to the challenge in year one. The depth inside, with freshmen recruits Evan Cummins, Mike Hall and Agunwa Okolie, makes the Casey loss somewhat absorbable, but these are newcomers. The Ivy League is an older, veteran league. Taking Casey's leadership out of the frontline means the Crimson will be incredibly young and inexperienced at key positions. If Curry is gone too, then coach Tommy Amaker will have to be even more patient with his playmakers.
The Crimson went to Italy this summer and went 4-0 as they started adjusting to life without Wright and McNally. Now this group will have to find a way to play without Casey and possibly Curry, meaning some of the things worked on overseas won't translate to the start of practice next month.
One source who witnessed the trip said that Saunders was outstanding for the Crimson. Travis made a huge jump, too. But those two players played with Casey and Curry. How will they do without the experience upfront and on the perimeter?
A number of the top players for Harvard were recruited by power-six schools at some point. That bodes well for their development. But this is also a school and place where it's hard to be successful as a freshman.
The Ivy League has improved tremendously recently. Harvard's rise has contributed greatly. As did Cornell's run to the Sweet 16, which gave hope to the rest of the league that Penn and Princeton weren't predestined to dominate every year. Now there is legitimate depth in the league.
One former Ivy coach talked about what a grind the league is these days. The players are intelligent and eat up the scouting report. The gyms are small and everyone is extremely familiar with each team, making it even harder for any team to coast. Harvard learned this the past two seasons in trying to make the tournament. The Crimson lost a last-second tiebreaker game to Princeton in 2011, and only clinched the bid this March when Penn lost to Princeton in the final regular-season game.
One current coach said he would still pick Harvard as the favorite due to its depth. But losing Casey and Curry means it would be a projection based on talent, not on proven production.
No Ivy coaches wanted their names attached to this story. The league and everyone associated with it is very careful not to throw stones at fellow members. But the consensus was that an academic scandal is bad news for all of them. It sullies the reputation of one and hurts the brand for them all.
No one benefits from an academic scandal within the conference, even if it opens up an opportunity to move higher in the standings. The Ivy League needs multiple teams competing for its title and winning key nonconference games. If Harvard can't do that this season, the whole league suffers.
Harvard basketball can recover from this scandal, especially since it's schoolwide and not just limited to the athletic department. Amaker's recruiting has been outstanding and he's got two more good ones already committed for 2013. This shouldn't hurt him going forward. What will hurt is if the Crimson take a step back on the court and can't compete for the title this season.
It's too early to determine whether that will occur. But one thing is for sure: Those highly touted recruiting classes will need to prove their worth -- and a lot earlier than anyone expected.