What's next for Duke in Thomas case?
September, 12, 2012
09/12/12
8:19
PM ET
Duke and the NCAA each told ESPN.com this week that they are working together to get as much information as possible on the Lance Thomas situation. Thomas, a starter on the Blue Devils' 2010 national championship team, is being sued by a New York jeweler for not paying the balance of what he owes after buying $100,000 in custom jewelry that season.
But what remains to be seen is how effective Duke and the NCAA will be in finding out how the then-senior forward was able to make a $30,000 down payment and secure $67,800 in credit for the remaining balance.
Stu Brown, counsel and co-chair of Ice Miller LLP's collegiate sports practice group, has analyzed the suit and what potentially lies ahead. Brown has represented a number of coaches in NCAA infractions enforcement processes and is well versed in the rule book and how the NCAA typically tracks down the information it needs to resolve such cases.
[+] Enlarge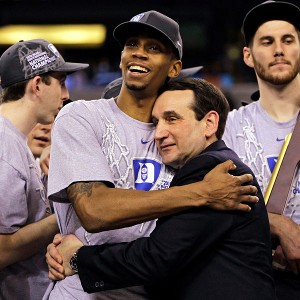 AP Photo/Michael ConroyA lawsuit claiming former Blue Devil Lance Thomas purchased nearly $100,000 in jewelry while playing for Duke's 2010 championship team could take weeks or months to resolve.
Brown laid out a number of key points about the case:
• Duke and the NCAA will need to determine where the $30,000 cash deposit for the jewelry came from. Brown said the explanation could be very simple but -- fair or not -- "in the current climate the investigative presumption is going to be [from an] agent/runner," Brown said. "The NCAA is going to want to see financial documents to verify any exculpatory explanation."
• According to Brown, the second issue the NCAA must consider is whether the remaining $67,000-plus in credit from the store was "linked to Thomas' athletic status or backed by an impermissible third party." Said Brown, "In that regard, did Thomas think he was getting a special deal?" NCAA rules regarding amateurism prohibit athletes from receiving benefits that aren't available to all students.
• Brown expects Duke and the NCAA to work in concert on the investigation so that there is no perception of special privilege being given to the ACC program. The problem -- for both the NCAA and Duke -- is that only two sources can answer the first two questions: Thomas and the jewelry store's owner. What happens if neither of them is willing to speak? Since Thomas is no longer under the NCAA's jurisdiction, he is not required to talk to the organization. And since the NCAA does not have subpoena power, Rafaello & Co. cannot be forced to talk, either.
• Brown said that Duke will need to demonstrate that it is trying to get Thomas, 24, to cooperate. If there are legitimate explanations for how he produced the money, then Thomas' timely cooperation could put the matter to rest quickly. If not, "then the best outcome for Duke is for Thomas and the store to reach a settlement with mutual confidentiality clauses and for neither party to talk with Duke or the NCAA," Brown said.
• The quickest time frame for the matter to be resolved, according to Brown, is eight to 10 weeks -- and only then if "the first round of interviews are agreed to, Thomas has legit explanations, documents are available to support Thomas, no agent issues exist, and the case is essentially dismissed at that point," he said.
• If the owner of Rafaello & Co. does concede that a third party guaranteed payment for Thomas, then the NCAA would initiate an additional investigation and move toward a full-blown committee on infractions hearing and summary disposition. The resolution would then take much longer.
• Brown said that any eligibility issues or potential vacating of wins would be tied to when the violation -- if there was one -- took place. It has been reported that the jewelry was purchased after Duke played Gonzaga on Dec. 19, 2009, in New York. The Blue Devils won 26 games with Thomas in the lineup after the Gonzaga game, including the 2010 national title. This would only be an issue of coach control, however, said Brown, if any members of Duke's staff saw Thomas wearing jewelry in 2010 and didn't question it. Of course, this is all theoretical at this point. The case is far from the point where any sanctions would even be discussed.