Butler has depth to replace Hopkins
September, 13, 2012
09/13/12
11:58
AM ET
Butler's Brad Stevens has coached within minutes of winning two national championship games, but he hasn't had to dismiss one player during his five-year career as a head coach.
Until now.
The decision to dump starting guard Chrishawn Hopkins this week didn't come easily. But according to Stevens it was a necessity because Hopkins violated an unspecified team rule.
[+] Enlarge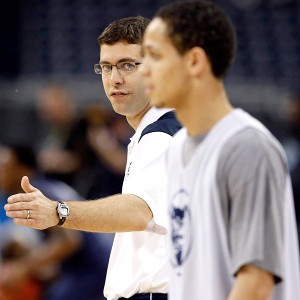 AP Photo/Mark HumphreyCoach Brad Stevens and Butler will be without starting guard Chrishawn Hopkins (right), who was dismissed from the team this week for violating team rules, for their inaugural Atlantic 10 season.
"People refer to all the celebrations and good times in coaching but these are the hard days,'' said Stevens. "If you're going to talk about and live by the standards that you set for the program, then regardless of wins and losses you have to move forward. You have to [take] the importance of the program and the privilege to play seriously. There was an unfortunate situation and now we have to wish Hop the best. It was a difficult thing to do as a head coach.''
Butler failed to make the NCAA tournament last season a year after reaching the 2011 title game, where it fell 53-41 to Connecticut. The Bulldogs went through a transition period last season after losing Matt Howard and Shelvin Mack. They ended up reaching the College Basketball Invitational semifinals before losing to Pitt.
The hope was that Hopkins would be a fixture on the floor for Butler during what should still be an NCAA tournament-caliber season as they move from the Horizon League to the more challenging Atlantic 10 conference.
"He was a very good player and we were looking to him for consistency,'' said Stevens. "But we've got a number of guys under consideration for that spot. We have depth, and there are players who weren't necessarily in the top six who now have an opportunity.''
Stevens said he may go with a bigger wing in place of Hopkins, such as Chase Stigall (who is two inches taller than Hopkins, at 6-3) or "talented freshman" Kellen Dunham, who is 6-5. Or Butler could go with a combination of smaller ballhandlers in 5-11 Alex Barlow and 6-foot Jackson Aldridge as well as 5-11 freshman Chris Harrison-Docks.
Hopkins' departure doesn't change who will handle the ball for Butler. Arkansas transfer Rotnei Clarke will be in control on the perimeter. Clarke is a deft shooter who also can create on the fly.
"Clearly Rotnei will play a lot,'' said Stevens. "He's a very, very, very good player and he's gotten better during his year sitting out. He's down six or seven pounds. He's worked extremely hard on his upper body. He took advantage of this year off as well as anybody I've seen.''
The frontcourt is stable with Andrew Smith and Khyle Marshall. The key will be if the newcomers can help Clarke immediately.
Butler will face Marquette on Nov. 19 in the Maui Invitational, where the Bulldogs will be on the same side of the bracket as North Carolina. Before leaving for Maui, Butler will play a non-conference game against new league foe Xavier. The Musketeers are depleted this season but still a tough out at the Cintas Center.
Butler had little time to finish its home schedule after a late-May decision to leave the Horizon League and join the A-10 a year early, instead of in 2013-14 as originally planned. The move forced the Bulldogs to pick up four games. They were able to schedule Penn and New Orleans at home and will start a home-and-home series at Northwestern on Dec. 8.
Stevens had to be creative in putting together his team's schedule. Now he has to be just as sharp about dealing with a sudden departure from his team. Stevens has handled every challenge so far in his brief career. Losing a rotation player a month before the season begins should pale in comparison to the pressure of winning the conference tournament, earning NCAA tournament bids and surviving five brutal games to reach the championship game.