So far, Ollie looks the part of head coach
September, 17, 2012
09/17/12
11:24
AM ET
Connecticut assistant Karl Hobbs said that new head coach Kevin Ollie took over Friday's staff meeting and continued to look the part during the Huskies' first full team practice on Saturday.
Ollie should. It's his team now, and if he wants to keep the job, he can't waste a single minute.
Hobbs, a former head coach at George Washington, will be on the road recruiting for Ollie along with another former head coach (at Brown and Penn) in Glen Miller. George Blaney, who was the associate head coach under Jim Calhoun, will remain on the staff but won't go on the road. Kevin Freeman, a former Huskies forward and a member of UConn's 1999 NCAA championship team, will be bumped up from a grad assistant role to director of basketball operations.
"[Ollie] set the right tone, the right vision,'' said Hobbs.
[+] Enlarge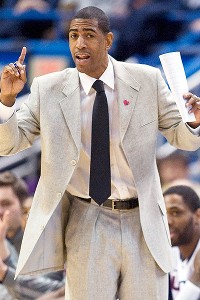 AP Photo/Jessica Hill,Ollie -- a UConn point guard who spent the past two seasons serving as an assistant under Jim Calhoun -- is wasting no time in making his mark on the program as head coach.
Hobbs said Ollie took control of the first staff meeting after Calhoun stepped down following 26 years at the school. Ollie immediately laid out defined roles -- and his expectations -- for each staff member. He may still add another person, someone like former Husky Ricky Moore, to fill Freeman's former role if the funds allow.
But for now, Ollie -- a 39-year-old former UConn point guard who spent the past two seasons serving under Calhoun as an assistant coach -- has his crew intact and is ready to prove, as he has throughout his life, that he deserves the opportunity he has been given.
"Since Coach's hip surgery and accident [in August], I've had to step into that role to a certain extent," said Ollie on Sunday afternoon as he squeezed in watching his daughter's soccer game amid the madness of taking over a program. "But to actually get on the court [as head coach], that was different. I see why Coach stayed around so long. It's a high you can't get nowhere else.''
Ollie's contract runs from Sept. 13, 2012, to April 4, 2013, but he seems unfazed by the lack of a long-term deal. He said on Thursday -- and reiterated again Sunday -- that he fully intends to be UConn's head coach for a decade or more. Hobbs & Co. need him to be successful, too, since their respective jobs are on the line.
If Ollie isn't successful, then an entire limb of the UConn coaching tree could land on the unemployment line. Calhoun will continue to have a say in the process, which could potentially make the whole thing awkward. Would Calhoun really be party to jettisoning his entire former staff? How would that play with the cadre of UConn NBA players who love Ollie and this staff and want to keep coming back to Storrs?
Calhoun isn't planning on going anywhere, either. He will be around as much as possible, at practices, possibly at games and, most important, fundraising for the planned new practice facility that is supposed to be built adjacent to Gampel Pavilion. Ollie specifically has to fundraise for it as well, as detailed in his contract. Ollie also must get his players to do well academically, after the Huskies were banned from the 2013 postseason because of a poor Academic Progress Rate. Ollie can get a bonus for winning the Big East regular-season title. But it is odd that his contract also stipulates that he could be rewarded for winning the Big East tournament since the Huskies aren't allowed to participate in it next March.
Still, Ollie knows he's going to be judged more on how he coaches this team. And that began on Saturday, the first day the NCAA allows teams to practice. He and the Huskies can convene for full practices for one hour a week from now until Oct. 12, when the official practice begins (workouts of select groups of players continue throughout the weeks as well).
Ollie said the energy in practice was tremendous, even with two juniors -- Shabazz Napier (broken foot) and Tyler Olander (high ankle sprain) -- out. He wants the Huskies to be consistent but not predictable.
"We want them to have the same intensity about how you start is also how you finish,'' said Ollie. "I want them to understand how you play at the University of Connecticut and our standard of excellence. I want to put my stamp on this team and what we're going to expect. I can't say [whether] we're going to win or lose, but I want us to be prepared and focused.''
Ollie also introduced some of the principles of his defense during that first hour.
"I thought we made our point,'' said Ollie. "I want to make sure they know their roles. Recruiting will be important this year, but at the end of the day, I'm not going to be evaluated by bringing in a top-10 recruit as much as on how our guys play, the way we play and the [team's] togetherness. We have to make sure that we understand and define our roles.''
Ollie needs Napier and Olander to be healthy as soon as practice starts in earnest. The team's numbers and experience are limited. Still, the Huskies have enough talent to be an intriguing team, even when they start the season on Nov. 9 against Michigan State at Ramstein Air Base in Germany. Ollie will play quick and push the pace behind a healthy Napier, Ryan Boatright and scoring wing Omar Calhoun. He has a finishing forward in DeAndre Daniels, but the Huskies need Olander to be the strongman inside to have a chance against comparable teams. The bench is inexperienced, untested and thin.
"Every day is going to be the same energy, but every day is going to be a challenge,'' Ollie said. "I just want everyone to unconditionally love each other. We had a good start. But we have a long way to go, trust me.''