After Gillispie, what's next at Texas Tech?
September, 21, 2012
09/21/12
6:13
AM ET
After Billy Gillispie's resignation Thursday night, a number of coaches with Texas Tech and Big 12 ties told ESPN.com the Red Raiders are facing a two-to-three-year setback in recruiting and even lengthier rebuilding period than they were already facing.
"This isn't UCLA or Indiana or Arizona, where you can bounce right back," said a coach with Texas ties who didn't want to use his name. "It's going to be extremely tough to do at a place like Texas Tech that is now at the bottom of the Big 12."
That's why athletic director Kirby Hocutt is facing one of the most important decisions of his career.
[+] Enlarge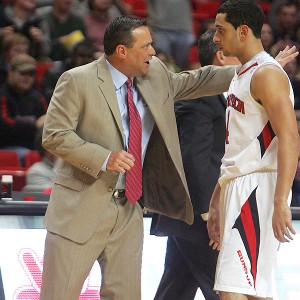 Michael C. Johnson/US PresswireAfter the resignation of Billy Gillispie, TTU AD Kirby Hocutt has a huge decision on his hands.
The interim coach must be someone who has a connection to West Texas, to Texas Tech and is committed to selling the Red Raiders. This can't be about just coaching a TTU team that is coming off a 1-17 Big 12 season.
Texas Tech spokesperson Blayne Beal said Thursday the university is open to going outside the program for an interim coach and isn't married to handing the job over to assistant Chris Walker, who has been the de facto head coach during Gillispie's medical leave the past few weeks.
One source said the Tech administration may be leery of hiring someone from Gillispie's staff in light of the allegations from the players of a demanding coaching style and excessive practice time. According to a source with knowledge of the situation, former TTU athletic director Gerald Myers could also be consulted as to which direction to turn in the immediate future.
"You've got to know the people," said one coach with West Texas ties. "You've got to be creative. You've got to have a niche recruiting wise. The people in West Texas have to feel you. They want to know you.
"Who's going to go there and play if you can't really sell it over the next seven months. If you can't, then it will set them back years."
If Walker isn't the interim choice, then the options are limited for Hocutt. But there are a few that could make sense.
The easy solution would be for Hocutt to grab North Texas assistant Rob Evans, a former head coach at Ole Miss and Arizona State. An assistant most recently at Arkansas and TCU, Evans is now working with his cousin, new UNT head coach Tony Benford.
Evans was also a former assistant to Myers at Texas Tech and recruited Benford to play for the Red Raiders in the early 1980s. Benford won't and can't go back to his alma mater at this point in the year after moving from the Marquette staff to the Mean Green head job this spring.
But barring a disaster at UNT, Benford would have to listen after the season. The Mean Green have a shot to win the Sun Belt with star forward Tony Mitchell returning, so Benford could be a hot commodity anyway. In the meantime, Evans would be a stabilizing presence for the season until either Benford or someone with strong ties can be found.
On the other hand, if Hocutt wants to hire a permanent coach now, two names come to mind -- one who would definitely take the job and another who would have to listen, even if it would put him in an awkward position.
[+] Enlarge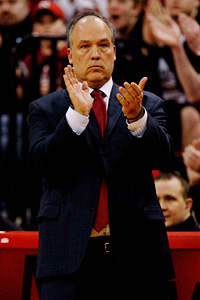 Bruce Thorson/US PRESSWIRECould Texas native Doc Sadler be the answer in Lubbock?
The latter is at Kansas these days. Doc Sadler succeeded his good friend Gillispie at UTEP before landing a head-coaching job at Nebraska, where he was let go this spring. KU coach Bill Self, another friend of Gillispie's, added Sadler to his staff as the director of basketball operations.
Sadler could come in to a league that he knows extremely well after coaching in the Big 12 at Nebraska. He also understands West Texas as a longtime junior college coach who mined the area and had to recruit it again at UTEP.
The other name that immediately comes to mind? Former New Mexico State coach Reggie Theus, who was also a head coach with the Sacramento Kings and an assistant with the Minnesota Timberwolves. Theus would give the Red Raiders a name, like Sadler, and infuse energy in the program after a troubled season.
If Hocutt sticks with Walker and the current staff, then he hasn't solved the long-term problem. Two returning players told ESPN.com weeks ago that they weren't sure they wanted to play for the assistants. So it will be up to Hocutt to assess whether or not the program is poisoned. And if he determines the assistants can sell and stabilize the program for this season, will others buy in?
Bringing in Evans would give the Red Raiders instant credibility in the state and region and give them someone who would rep Tech even if he knew he wouldn't land the job full-time. Sadler and Theus, meanwhile, could be long-term solutions.
Regardless of his choice, Hocutt has to act quickly. All of these coaches would answer the phone if he dials them up Friday. The onus is on Hocutt to make the right choice now for the future of the program.
If he whiffs, the Red Raiders may fall too far behind in the Big 12 and end up being banished to the basement for quite some time.